I am pretty sure we have finally crossed over into full on summer weather – which means that it's time to stow away the long sleeves and tights and find some new shirts and shorts. We were recently sent a few items from Mizuno's Alpha Series – the Alpha Vent Tee and Alpha 2 in 1 Shorts.
I am a big fan of this tee. It fit true to size – not too tight nor too loose – and is super lightweight. It has all that you would want in a running shirt, including the necessities of being moisture wicking and having flatlock (non-chafing) seams. The design and look are pretty simple with a slight bit of flashiness on the upper right of the shirt.  It comes in four colors:
Black / Lunar (grey) – pictured
Blue / Black
Yellow / Black
Red / Castlerock (grey)
---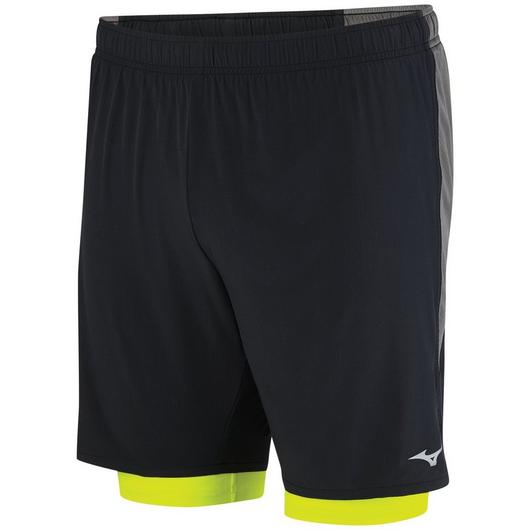 I found the shorts to fit a little big, and if I could do it over, I'd go with a medium (I usually wear a large). Not everyone loves long liners in their running shorts, but for those of us (like me) who are very comfortable with wearing compression shorts under my main pair, these are a great option.
There is a pocket on the back that is perfect for a gel pack or two, as well as an inside pocket for valuables like an ID or some cash. There is also a nice infinity drawcord to make sizing the way you like it (assuming you have the right size shorts to begin with.
It comes in four colors:
Black / Yellow – pictured
Blue / Black
Black
Blue / Yellow
Lunar (grey) / Black
I will say again that I'm a big fan of Mizuno stuff and this stuff, especially the tee, will be seeing regular rotation this summer.
Company: Mizuno (Facebook)
Products and Price:
---
Thank you to Mizuno for providing us with sample items Please read our transparency page for info on how we do our reviews.