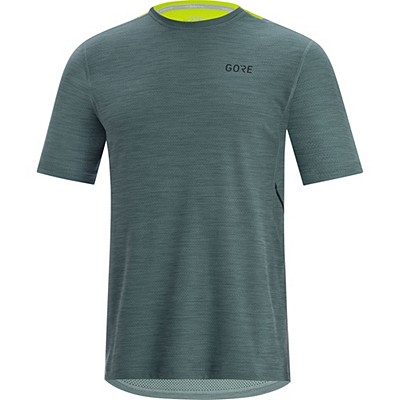 When I used to think of GORE, my first thoughts don't always go to their running collection. Instead, I would think about their GORE-TEX stuff and commitment to waterproof and windproof gear that we need as outdoorsmen and outdoorswomen in the Pacific NW. But over the past few year, GORE started sending us some stuff from their running collection and we have been pretty impressed ever since.
The R3 Shirt weights in at only 4.1 ounces and is made of 100% polyester. It is very simple in its look with most of the color options being a single muted color (aside from the red), and a few having a small separate colored panel on the top of the back. But hot damn, if I don't love the Nordic Blue/Citrus Green color scheme.
Additionally, there are a few reflective accents and it does a really good job at moisture-wicking, which shouldn't be all that surprising. My first run was a 16+ mile run in mild temperatures, and held up great with moisture, as well as zero chafing areas to complain about. I foresee this getting much usage on the roads and in my home (i.e. garage) gym in the short term, and in races in the future.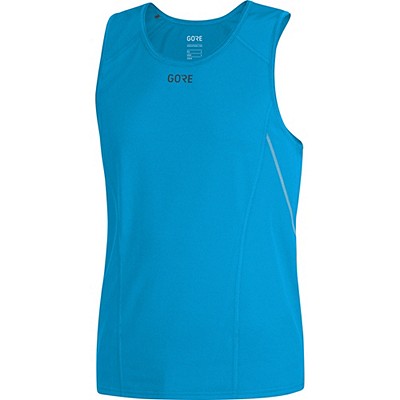 The R5 Sleeveless Top is a warm weather/summer top designed for those days when sleeves may just feel a little too much (say, 75 degrees+). It is 100% polyester and fits a little slimmer than the R3 shirt, but again not overwhelmingly so. I also found that the arm opening is ideal – it's neither too droopy or too tight. It's just a nice middle ground that is comfortable.
It's surprisingly a tiny bit heavier than the R3, even without sleeves, but I believe this is due to the mesh inserts that are designed to keep things moving even when the temperature rises. I first tried this on those recent few days that were pushing mid 70's in the late afternoon. Physically, I was a little slower and exhausted due to not being used to the temperature, but that wasn't due to the singlet – it did a very admirable job with no constriction or chafing. This trend has continued with additional wears as well.
As far as the look goes, there are 5 color options and they are all solid in nature – white, neon yellow, blue, red, citrus green. There's nothing fancy to write home about, but that's alright with me.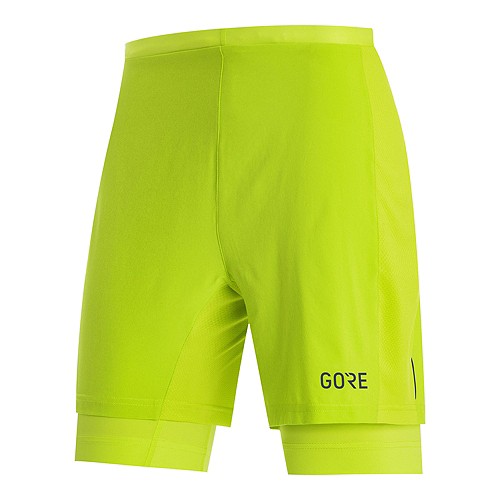 Lastly, the R5 2 in1 Shorts come in 4 different colors, with my sample pair achieving the most robustly vibrant than any of the others (see picture above). It actually pairs perfectly with the aforementioned Nordic Blue/Citrus Green in the R3 shirt, if matching is your thing. Otherwise, it's a pair that won't cause you to go unnoticed though there are other simpler color schemes as well.
These fit well and true to size. Even with someone with generally larger thighs than most runners (I'm 6'2 and 195 pounds), I did not feel like the lightweight tight was constricting at all. I was also very pleasantly surprised that, so far, I haven't experienced that sagging in the tights that has led to chafing spots in other pairs. I am hoping that it keeps going this way!
It's hard to imagine how these shorts, even complete with the tights and a back pocket, can still only weigh in under 5 ounces. That's some modern construction right there. Obviously, the outer is very breathable and light – providing coverage without weighing a runner down. The 4.9 inch inseam with the tights underneath are a sweet spot for 2-in-1 shorts, at least according to yours truly.
Given the success that I found these pieces of apparel, I continue to be impressed with the ever expanding Gore Running apparel catalog.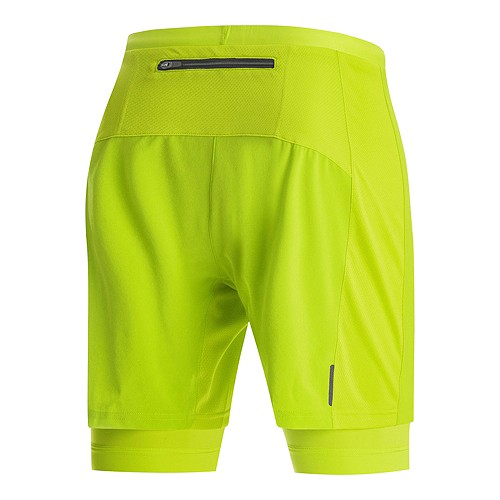 ---
Products and Price:
More about GORE:
We strive to push the boundaries of fabric technology, through a never-ending process of improvement.

You can see our commitment to this process in the engineering of our prototypes, right through to thoughtful details in the end product. Once we have developed a product as far as it will go, we just keep on going.

People are at the core of this evolution. Every GORE® product is the result of integral partnerships.

We collaborate with professional athletes to research, to develop and to test function-first apparel that sets new standards in comfort and protection.

We innovate so that you can experiment more. So that you can take on the elements, push your performance, and challenge your limits.

Together, we embrace our shared commitment to continuously improve,

TOGETHER WE #ALWAYSEVOLVE
---
Thank you to GORE for providing us with samples. Please read our transparency page for info on how we do our reviews.