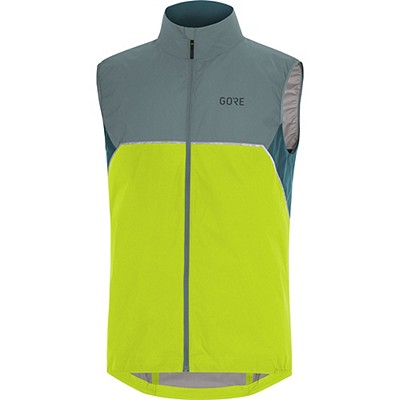 When I used to think of GORE, my first thoughts don't always go to their running collection. Instead, I would think about their GORE-TEX stuff and commitment to waterproof and windproof gear that we need as outdoorsmen and outdoorswomen in the Pacific NW. But over the past few year, GORE started sending us some stuff from their running collection and we have been pretty impressed ever since.
When we received a shipment from GORE a few weeks ago, I thought that the summer gear was going to be first up for testing. At that point, we had a few nicely warm and sunny periods of weather. However, over the past week or so, the weather has been more mixed – with periods of rain interspersed with cooler temperatures and even some wind as well. As a result, we tabled the summer reviews and delved into two items that are great for the often mixed weather we are accustomed to here in Oregon.
The R7 Partial Vest weighs in at a minuscule 3.4 ounces is made utilizing Gore's WINDSTOPPER product technology. I have put this to use a few times and even me, as a non vest-wearer, really appreciated it AND have found it very useful. The vest fits a little on the tighter side, but I didn't find it constricting (though if you are in a middle ground size-wise, you may want to consider going a size up, possibly dependent on what you plan to wear under it. The tighter fit is by design obviously, as runners wouldn't want too much excess space for wind to find it's way into. It has a longer cut in the back, which is nice so that it doesn't creep up on those long runs. In fact, I remember being absolutely surprised after my first run that there was no creeping – something that has happened with frequency in some of my old jackets.
When I first tested this out, I was running on the quiet paved path between Rickreall and Monmouth, where there is often a cross wind which can necessitate some irregular body heat even when it's sunny. I decided to give it a try and was impressed not only by how it kept my regulated (and I ran a crazy consistent and relatively fast pace for me – 7:30/mi – over the entirety of my 8+ mile run), but also with their design features – such as a high collar with a full-length zipper to keep the wind out, as well as a back zip pocket that was perfect for my car key and other small items. It also has some stretch panels on the back, which absolutely kept things more breathable. There have been times on my runs in the vest where cooler windy temperature has given was to sun breaks, and thus relative heat, and still I haven't felt overheated. I also haven't run in downpours, but I have dodged a few sprinkling minutes and the fabric, while not waterproof, is water-resistant and held up nicely.
There are currently only a few color designs, including black/grey and blue/citrus in addition to the Nordic Blue/Citrus Green that I LOVE.
As someone who doesn't run in vests, call me converted – at least with this one.
Product Details
Full length zip with underflap and zipper garage
High collar to protect from wind
Reflective details
Seam placement designed to work with backpack
Waist hem with elastic inserts on sides
Back zip pocket
---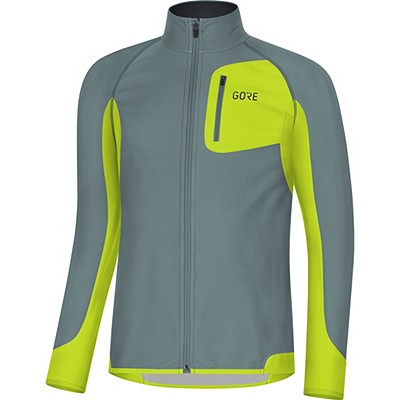 The R3 Partial GORE WINDSTOPPER Shirt looks similar to the Vest, but is constructed a little different. Obviously in addition to adding sleeves, it is designed to be a little thicker and substantive than a lightweight vest. It can/should be worn as a standalone piece and weighs in at 8.8 ounces – really solid for a top with some top-notch qualities for navigating weather. It is completely windproof, water-resistant, and offers the opportunity to utilize on those cool Oregon days that stay chilly and windy.
Much like the vest, it is a full-zip with a high collar, so you can keep your body heat in check. It has a pocket on the chest with a zipper and has some details which are reflective – making it great for early or late runs. While it also fits on the tighter side for obvious reasons, Gore seems to have it down with how much snugness is too much, and how much is idea. I never feel constricted in this, and I found out after a few runs that they built in inserts at the waist so that the top has a little more "give" – allowing for a greater range of motion. The sides are also designed without seams to provide some more flexibility as well.
I have found this top to be a nice middle ground between an insulated cold-weather running top and a standard long-sleeve tech shirt. It has the technology for temperature control (that a standard race top doesn't have), yet not all the complexities and weight of a cold-weather long sleeve option (which can sometimes be just too much). The  R3 shirt has more color designs, including a handful that are currently on sale, but -again – I am a big fan of the Nordic Blue/Citrus Green.
Product Details
Folded elastic at sleeve hem
Front chest pocket with zip
Full zip for temperature control
High collar with brushed fabric for extra warmth and comfort
Reflective details
Seam-free sides
Stretch inserts at waist
---
Products and Price:
More about GORE:
We strive to push the boundaries of fabric technology, through a never-ending process of improvement.

You can see our commitment to this process in the engineering of our prototypes, right through to thoughtful details in the end product. Once we have developed a product as far as it will go, we just keep on going.

People are at the core of this evolution. Every GORE® product is the result of integral partnerships.

We collaborate with professional athletes to research, to develop and to test function-first apparel that sets new standards in comfort and protection.

We innovate so that you can experiment more. So that you can take on the elements, push your performance, and challenge your limits.

Together, we embrace our shared commitment to continuously improve,

TOGETHER WE #ALWAYSEVOLVE
---
Thank you to GORE for providing us with samples. Please read our transparency page for info on how we do our reviews.