Under Armour has recently released a couple new headphones in a partnership with JBL – the Under Armour Sport Wireless React (which is a below ear headphone) and the Sport Wireless Pivot (above ear) – that are designed with the active person in mind. Therefore, they are focusing on comfort (to keep buds from falling out during working out) and features that we would love. Let's get into it:
Comfort:
Though these may not be "truly" wireless (they have the cord between the two buds), but they are hardly noticeable. The cord between them is fabric, so it appears less restrictive than the rubbery covering many standard headphone cords have. They are super lightweight and they fit me right out of the box (though they do come with other Sport Flex Fit Ear Tip sizes). I utilized these both at the gym and on runs, and experienced no discomfort, nor did they fall out when shaking my head from side to side (as a test, not because I actually run that way!). They do stick out of the ears a little further than a typical in-ear bud, but I'm chalking this up to JBL needing a tiny bit more space to provide some solid audio quality.
Sound:
I have mentioned it before when using headphones, that I don't need impeccable sound to come through. If I can be provided a non-tinny and relatively bass-forward sound profile – I am satisfied. The partnership with JBL is ideal, as they have been in the sound market for quite some time. The sound is fantastic – complete with strong voice and the driving bass profile that us runners really appreciate. These puppies pack a very solid punch.
I know that some people don't want to use headphones because it makes them less aware of their surroundings. This is absolutely true and a valid concern. However, these headphones are created with "Bionic Hearing" technology that essentially allows you to hear your surroundings (with AmbientAware) and still listen to music at the same time. It's also great to utilize in a running group or when taking a stroll with a friend, as TalkThru quiets the music and amplifies speech by just touching a button – making it so that quick conversations with a running partner can be easily made.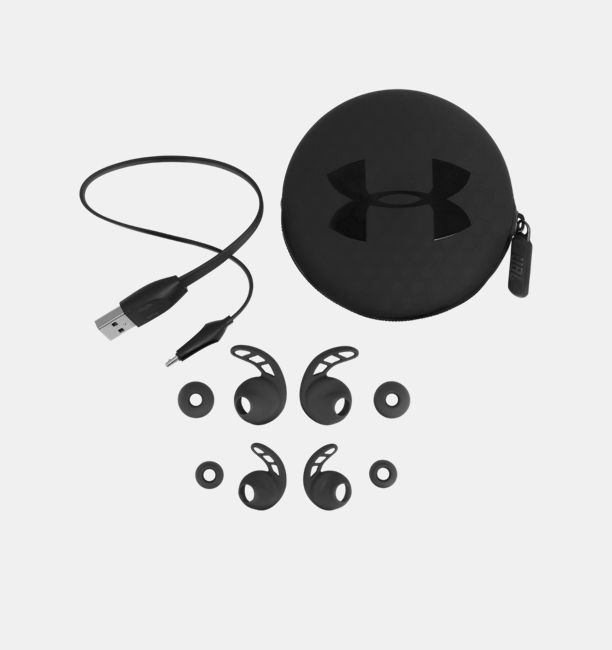 Other cool specs:
These have 9 hour batter life, making it that you could essentially get in almost a week's worth of workouts without needing to charge them. This makes it great in scenarios where you forget a charger on a work trip, or just don't have the ability to charge after every workout. And who wants to be tied to a wall outlet when they could be working out anyways?
Under Armour also describes these as "storm proof" – which is definitely necessary here in the PNW. It has IPX7 sweat and waterproof aluminum earbuds, as well as a fabric cable, to keep the music coming even when drowning in whatever liquid presents itself.
Each headphones purchase comes with a 12-month premium subscription to MayMyRun, so if you already use MMR for tracking, or if you are looking for an opportunity to start, these may be a perfect marriage for you.
Overall, I was pleasantly surprised with these headphones. The sound was great and they fit fantastic for a runner. I swore I'd never go back to wired headphones of any kind, but the Under Armour Sport Wireless React sort of have me eating my words. These are a really solid pair for those in the market.
---
Product: Under Armour Sport Wireless React ($129)
Specs:
Easy-to-connect Bluetooth technology delivers cable-free, zero-distraction performance

JBL® Charged Sound for bold sound tuned for sport with rich bass to crush your workout

Bionic Hearing, a unique JBL sound & mic technology allows athletes to still hear surroundings with Talk-Thru & Ambient Aware

Talk-Thru technology drops music down & turns on speech-optimized, noise-cancelling mics so you can easily talk between sets without removing your headphones

Ambient Aware technology allows you to continue to listen to your music during your workout, but still be aware of your surroundings

UA Stormproof waterproof technology with an IPX7 rating for ultimate water & sweat protection during your toughest workouts

Winged ear tips that are easy to use for maximum security

Magnetic aluminum earbuds for convenient portability

Up to 9-hours of battery life from a 2-hour charge

Bluetooth® wireless

4-button mic controller

Durable fabric cable with shirt clip & cable cinch for added security

Includes: 3 sizes of ear tips, 3 winged ear tip enhancers, zippered carrying case & charging cable
---
Thank you to Under Armour for providing us with sample trial pair. Please read our transparency page for info on how we do our reviews.