What Run Oregon is Wearing: Columbia Montrail F.T.K. Short Sleeve Shirt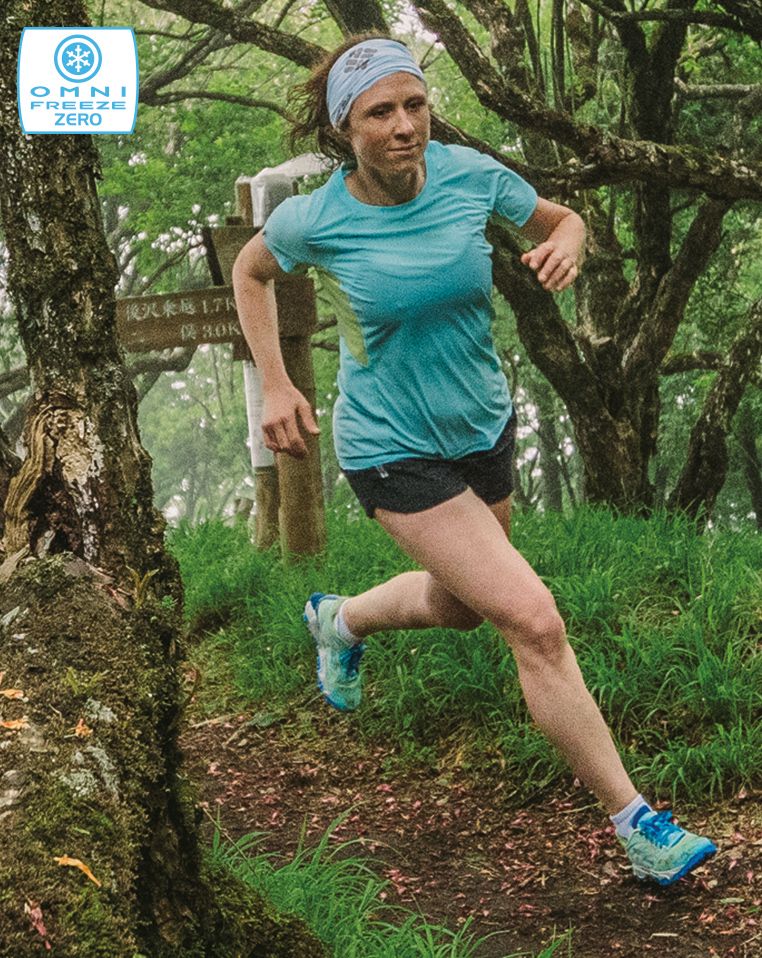 Here in Oregon, the weather report changes by the hour and those of us who are active outside need to prepare for anything. Columbia Sportswear is a brand that is well known because they make such great gear for the sun and snow and all the rain in between. Columbia Montrail has some really awesome options for trail running and the Omni garments are a welcome addition the warm weather that is finally coming around the next corner. Read more about the initial impressions on the Omni Technology here.
A few of the bloggers here at Run Oregon had the chance to test the F.K.T. (Fastest Known Time) Short Sleeve shirt and were happy to get out on a sunny day to give it a spin. I was personally very curious to see how the Omni-Shade Sun Deflector would work to keep me from overheating since I typically run in sleeveless tanks in the summer and this shirt has short sleeves as well as UPF 50 sun protection. I also wanted to know if the Omni-Wick feature would help keep me dry since I am so on the go most days that I don't have time to shower or change immediately after a run and find myself getting cold after my body temperature drops and I'm stuck in a cold, wet running shirt.
Nikki's impressions: I always want to be honest in my running reviews, so I'll just say this to get it out of the way: I didn't love the look of this shirt when I first received it. There was nothing at all wrong with it, but the style was definitely not one I would personally take off the rack at a running store and consider buying, as it looked to me more like something a cyclist would wear. The shirt has a quarter zip down the front, and I typically avoid zippers on my running tops and bras because you never know if they will itch or chafe. Also, I typically run in long sleeve tech shirts in the winter and tank tops in the summer, so it's rare that I will gravitate toward a short sleeve shirt. That being said, I'm always up to try new gear, especially running apparel, and one of the many things I've learned while working for Run Oregon is that you can't ever judge a book by it's cover.
The material of this shirt is very lightweight and breathable. When I put it on for the first time, it felt comfortable and soft. None of the seams rubbed me anywhere, and the zipper was not noticeable at all, which I found to be a great sign. It hit my body in the right places and I felt ready to rock it as soon as I had it on.
When I tested this shirt for the first time, it was just beginning to get warm outside and I could feel the sun on me from the road. And here's the amazing thing .. I didn't get any hotter than I would in a tank top. Even better, I didn't feel the sun scorching my shoulders like I would in a sleeveless running shirt. I made it through 7 miles without feeling overheated, and I honestly didn't think about the shirt at all which is the mark of a good product when running.
When I was done with my run, the shirt was not sweaty or wet and I had a few errands to do over the next few hours that didn't allow time to change. I didn't smell like I'd run 7 miles in the sun and I wasn't chilled like I so often am after my temperature goes down before I can change.
This shirt was like magic. I look forward to wearing it more as the weather allows.
 Alexa's impressions:
When I first received this shirt I was intrigued by the material and structure of it. Like Nikki said, it is very different than something I would typically wear on a run. Mostly because I prefer the cool comfort of a tank top. I also tend away from zippers for reasons of rubbing and general comfortableness. But that made me even more curious to try it out. When I first put it on and came downstairs about to embark on my run, my husband looked at me oddly and asked if I was taking up biking. I think the zipper through him off. But, in the world of running, performance is king. So, I wanted to see if this shirt would take the crown.
As Nikki did, I took it out on a rare warm Spring day. I knew I was going to get hot and I worried about the zipper, but surprisingly, the zipper never bothered me at all. The shirt stayed cool and dry. Nothing chafed or rubbed at all. One of the biggest thing that bothers me with running tops is when they slowly start to ride up or roll under on themselves. This shirt hung loose and stayed down the whole time. I appreciated its comfort and effectiveness in the performance aspect of the run.
---
Company: Columbia Montrail (Facebook)
Products & Price:
F.T.K. Short Sleeve Shirt ($75)

Omni-Freeze ZERO™ sweat-activated super cooling
Omni-Wick™
Omni-Shade™ Sun Deflector
Omni-Shade™ UPF 50 sun protection
Thank you to Columbia Montrail for providing us with a sample pack. Please read our transparency page for info on how we do our reviews.