New Omni-Technology from Columbia Montrail in 2018!
We are definitely in the thick of running season right now – and while the weather has been pretty cool, we know that warm months are ahead of us. It's time to start some planning now for your spring and summer running wardrobe.
Columbia Montrail has some new technology hitting some of their items. Their "Omni" garments (Omni-Shade, Omni-Freeze ZERO, and Omni-Wick) are very interesting and above my pay scale in understanding the specifics. However, in a nutshell, certain pieces (Omni-Shade) have small, sun-deflecting dots applied to the outside to deflect sunlight away from the body. They block UVA and UVB rays in an effort to assisting with the prevention of sunburn and long-term skin damage – things your normal tech shirts won't do. It has even earned the Skin Cancer Foundation's Seal of Recommendation. Here are a little more specifics as to how this came about:
Our technicians were focused on the idea that if the sun's UVA rays were deflected away from the body, it had the potential to keep the fabric cooler. We first tried to flip our Omni-Heat Reflective aluminum dots to the outside, but those dots simply absorbed the infrared wave lengths of the sun and increased the temp of the fabric. We knew we needed to find a reflector that did not conduct heat, and we found it in a substance called titanium dioxide— a durable yet reflective compound that is also used in sun block. These dots actively deflect some of the sun's heat to keep the product cooler, and the Omni-Shade fabric helps block damaging UV rays from reaching your skin through its tight weave construction.
Really cool and innovative stuff right there.
Additionally, adding in the Omni-Freeze ZERO (which reacts with sweat to lower temperature of the material) and Omni-Wick (which pulls moisture away from the body allowing sweat and liquid to evaporate quickly), creates a really solid 1-2-3 punch of cool wear for the warm temperatures ahead.
We tried out a couple items from their new Omni-line – the F.K.T Short Sleeve Shirt and Bajada Tight.
---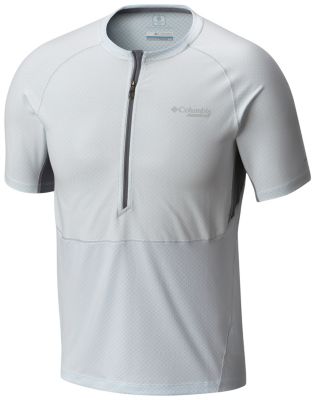 I wore the F.K.T Short Sleeve Shirt while travelling to Mississippi and New Orleans a few weeks back. This trip to Gulf Coast, sunshine-laden states were the perfect testing grounds for this technology. The FKT (short for Fastest Known Time) is a half-zip short-sleeved tee that features all three of the Omni-technologies.
It comes in a few basic color options – white and fission (electric green). I found that it fit pretty true to size and didn't seem restrictive at all. The material (89% polyester / 11% elastane) is both soft and stretchy, and despite the woven technology (mentioned above), it is lighter than I expected. I like the half-zip option, as my run 8 mile run on the Mississippi beach sidewalk – with ZERO shade – necessitated a little bit more heat-release in the form of bearing my chest hair to the world.
I will say that, even though my runs over the week were warm, I felt these kept me running longer than I would have otherwise. It is easy to become weighed down with sweat and overwhelmed by high temperatures, but this top really seemed to keep me moving forward. It's not like I was completely cooled off, but I felt the difference in my performance compared to my past experiences with running in the heat.
---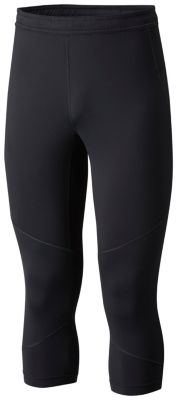 It has only been recent that I have started sampling running pants. I have been a shorts-only runner for essentially my whole life, but have slowly converted to appreciating well-made running pants/tights. I recently tried out the Bajada, a 3/4 ankle tight option from Columbia Montrail.
These tights feature Omni-Wick technology – something I felt during my recent training runs. Part of my problem with running in pants and tights is feeling sweaty and wet from too much moisture on my lower half. I was surprised by just how comfortable they ended up being – a great marriage of comfort and warmth, yet with moisture-wicking technology.
There was enough stretch over the knees that allowed my running motion to feel normal and unrestricted. In addition, the Bajada's have an adjustable draw cord waist, security pocket that zips, and reflection on the thigh and the back of the leg. I think the Bajada's have won me over and I keep going back to these when the weather necessitates a little warmth, but my body wants to puts in more miles than I typically would in cooler temperatures.
---
Company: Columbia Montrail (Facebook)
Items:
Thank you to Columbia Montrail for providing us with samples. Please read our transparency page for info on how we do our reviews.