I don't know about you, but its imperative to have at least one (or more) good running jackets in your closet. We recently tried out a few jackets from GORE.
Matt: A few weeks ago I ran in the Corvallis Half Marathon, a crazy spring Oregon race complete with rain and wind to the max. I had been wearing the GORE Windstopper Light Hooded Jacket for a bit and was happy to have it with me on race day. It comes in four different color variations – green, red, blue, and black – and has some great features:
Napoleon pocket with zip closure, usable as stow-away pocket
Lightweight, packable fabric
GORE® WINDSTOPPER® Product: totally windproof, extremely breathable and water-repellent
Reflective details at front, back and side
Neon details on sleeves
Elastic hem
Zip tags for easy opening
Front zip with semi-lock slider
Close-fitting hood
I think the style is great. It's funky enough to give it a little character without going overboard. It has been great for my windy runs – keeping me insulated more that normal. It is water-repellant, but not the most waterproof of jackets I own. However, it holds up admirably in light precipitation. It is very lightweight and I appreciate that I can zip it into its own stow-away pocket for when those windy Oregon runs give way to sunshine from one minute to the next.
The jacket is a slimmer fit, so be prepared if that is not your style. I didn't find it too constricting, but depending on how you prefer your outer layers to fit, just be aware.  I also found that, while the arms were a great length, the body of the jacket was relatively short in length on my torso. It fit right to my waist – which is mostly fine, but when swinging my arms consistently when running, it caused it to lift up a bit to the lower stomach. I am relatively tall (6'2), so this may not be an issue for you.
Overall, it is clear that this is a really nice jacket. I would personally consider sizing up in the future for length purposes, but I'd definitely recommend checking it out if you are seeking a lightweight hooded jacket to get you through the next few years of Oregon weather.
---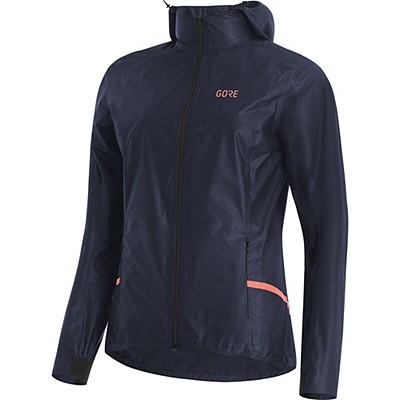 Annette: If you are on the hunt for a super light, high quality, waterproof jacket; look no further! I am currently in love with the GORE R7 Women GORE-TEX ShakeDry Hooded Jacket. It is available in Storm Blue and Lava Grey with a multitude of desirable features:
Napoleon pocket with zip closure, usable as stow-away pocket
Face fabric wetting out allows to quickly flap the surface dry
Revolutionary membrane construction eliminates face fabric preventing a chilling effect
Reflective transfers for higher visibility and safety
Minimal pack volume
GORE-TEX® Active Jacket with new SHAKEDRY™ product technology
Feminine cut
Weight 117 gram (Size L)
Lightweight, extremely breathable, waterproof and windproof
Adjustable hood
Elastic hem
Zip tags for easy opening
Front zip
Close-fitting hood
Pre-shaped elbows
I have worn this jacket for everything from running in the rain to running errands in the rain. For a waterproof jacket, this is the most breathable jacket I've worn. It is great for running in rainy 40-50 degree days. Like all waterproof jackets, as the temperature rises, it can get too warm quickly. But, because this jacket is so light, it doesn't get as hot and steamy inside as others I have worn. It is also effective as a windproof jacket and can keep you comfortable in cooler temperatures. Once this jacket gets wet, as the name implies, you can easily just shake it dry, as the rain just beads up on the outside of the jacket. The close-fitting hood is a great feature, as it helps keep your hood on your head if it is windy. And, you can always adjust the tightness of the hood if needed.
When running errands in this jacket, I found that I could easily fold it up and stuff in my bag or purse and then pull it out later and it didn't even look like I had stuffed it in my bag. No wrinkles! And, did I mention that it's super cute? It's one of those jackets that I debate about whether it should be a running jacket or an everyday jacket. Either way, it is a quality, good-looking jacket that will keep you dry.
I would recommend going up a size for this jacket. I typically wear a medium, but the large fit perfectly and still looks fitted without being too snug to comfortably move in. The GORE-TEX ShakeDry Hooded Jacket is a quality product that I would definitely recommend if you are going to be outdoors in the spring/fall in the Pacific Northwest.
---
Company: GORE (Facebook)
Products and Price:
GORE RUNNING WEAR® is your reliable and innovative source for high-tech trail and urban running apparel. We enable you to focus on what you love to do – running. All products are engineered and designed in such a way, that they work perfectly together within an integrated Outfit System. Their function, fit and design enhances your performance and comfort.

To get the best possible result for everybody we combine carefully the right fabrics. We combine the latest innovations from the GORE-TEX® and WINDSTOPPER® product ranges with hand selected GORE® Selected fabrics, which are handpicked for their excellence in compression, moisture management, cooling and venting or fit. All engineered and combined together to achieve the best feel, fit and performance and always considering the . . .  runner's body in motion
---
Thank you to Gore for providing us with sample jackets. Please read our transparency page for info on how we do our reviews.