It typically takes a hot day for me to run in shorts, as most chafe my thighs and ride up my "power thighs." It's not exactly warm here in March, but lucky for me I can wear summer gear due to COVID19 forcing me to run on the treadmill more. It's shorts and tank top weather in the comfort of my own home, and it's also turned out to be the perfect opportunity to test out the UA Qualifier ISO Chill tank top and the UA Qualifier Speedpocket 2-in-1 shorts.
I've been a fan of Under Armour ever since I tried a pair of their trail shoes a few years back, and since then I've found that they have many great products to offer the running community. Their ColdGear line is my go-to fave in the winter, and I was absolutely stoked to get a chance to test out some of their Heatgear, which is designed to help you regulate your body temperature to stay cool and dry.
The UA Qualifier ISO Chill tank is very lightweight and cool to the touch. The style is mostly open in the back with thin T-strap construction for maximum cooling. The straps stay up on your shoulders no matter how fast you're running, which is a huge plus. The tank also has anti-odor properties, which is a huge plus if you'll be wearing this in the heat of the summer. There is even a small pocket for storing gels.
The shirt is comfortable and I didn't find that it got heavy as I started to sweat. The tag on this shirt told me that the "ribbon-shaped nylon fibers disperse heat, while titanium dioxide- the stuff in sunscreen-pulls away heat." When I was done with my 6 miler on the treadmill which I ran at a decent clip, it was drenched with sweat but I didn't feel especially hot while I was running. And bonus points go to this shirt because it didn't smell and it dried quickly.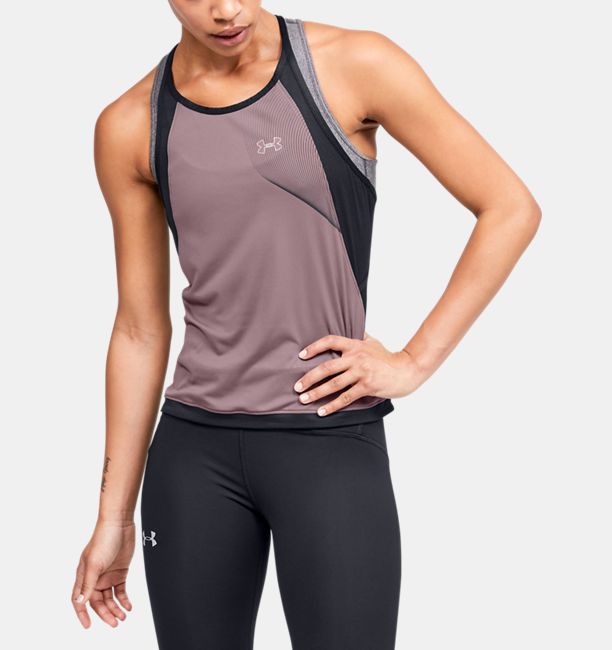 I got this tank in a size medium, and it was a good fit and very flattering, though I'd say the style runs a tad on the small side if you are between sizes. Keep in mind that the fit is described as "next-to-skin without the squeeze." If you like things more on the looser side, size up. But I personally loved that it stayed close to my body the whole run.
I immediately liked the style of the UA Qualifier Speedpocket 2-in-1 shorts because there are built-in compression shorts inside. Remember the 80's when people wore bicycle shorts under regular shorts? I loved that style because again, chafing. I don't typically like wearing short shorts (these have a 2.5" inseam, which is typically very short for my taste,) but having the compression liner made me feel a little better about that. The compression liner did ride up some during my run but the shorts never once felt uncomfortable. I didn't feel any rub and I finished with all my skin still intact.
The shorts have a stash pocket like many athletic garments do these days, but I really liked the placement and style on these, as it was a long skinny pocket in the front of the shorts that is water-resistant. I really don't like sweating all over my cell phone while I run, and I wish more clothing companies would consider this when designing pockets on running gear. In addition to the inner pocket, there's a zip center back pocket.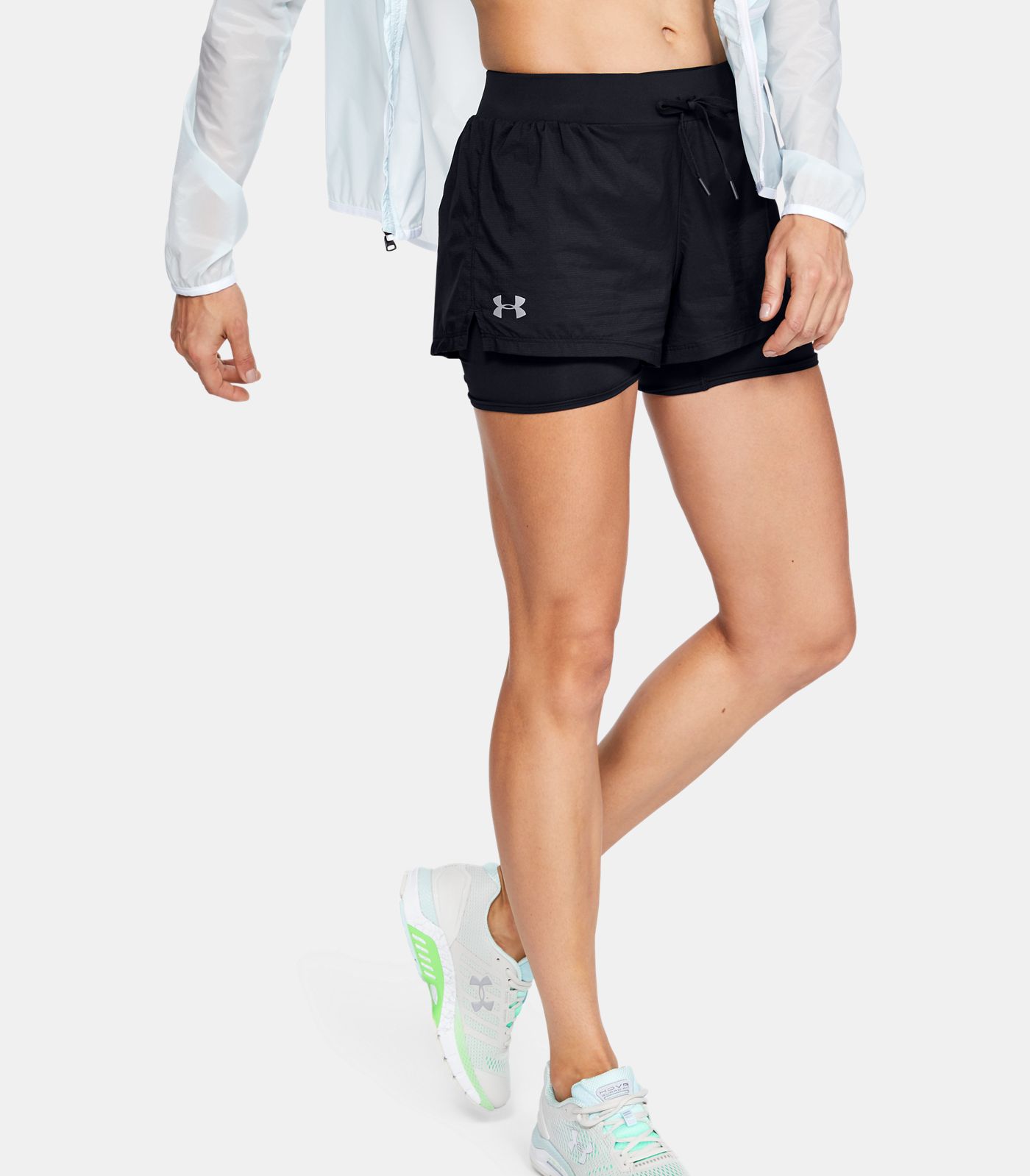 The compression panels offer some ventilation with mesh side panels and the 4-way stretch means that the shorts move with you. As with the tank top, the shorts wick away moisture, dry quickly, and contain anti-odor technology.  I stayed cool and dry.
I received the shorts in a size medium and I would have probably sized up in these if I had tried them on in a store. The medium size fit, but I like a little more room for my hips and booty. I do think this amounts to personal preference a bit as well.
I can now confirm that Under Armour's  Heatgear is as impressive as the Coldgear. Bring on the summer!!
---
Company:

Products & Price:
More about Under Armour:
OUR VALUES DEFINE US. UNITE US.

These beliefs are the red thread that connects everyone at Under Armour—to the brand, our customers, athletes, and teammates. Never just words on a page or splashed across a screen, our values are rallying cries. Reminding us why we're here, fueling everything we do.

LOVE ATHLETES. Make things that make them legendary. Athletes are our consumers, from the best of the best to the ones just getting started. The reason we get up every morning is to make things they can't live without. They want to go beyond the next level and we're going to take them there.
STAND FOR EQUALITY. United we win. The power of sport is fueled by every race, nationality, gender, orientation, and creed you can imagine all over the world. We're proud advocates for equality, justice, and opportunity for all. Together we will be a force for good.
FIGHT ON TOGETHER. Adversity fuels victory. We will fight for each other and the communities we represent as a team. And we'll never quit, because we know adversity only makes us stronger, and strength leads to victory that is oh so sweet.
CREATE FEARLESSLY. Dare to lead. Never follow. We've never been good at follow the leader. From day one, we've had the courage to defy convention, think boldly, and dictate the tempo. We don't chase culture, we create it. And we're not going to stop now. We're just getting started.
ALWAYS CONNECT. Live at the center of the consumer's life. All day, every day. Our connection to the athletes we serve is what sets us apart. Face to face, digitally, in competition, and in training, Under Armour shows up wherever athletes live, work, and play. And we show up big.
STAY TRUE. Completely honest. Perfectly imperfect. The only way we know how to be is transparent. You see our triumphs and our shortcomings. That's okay because our willingness to show our imperfections helps us learn and grow as a team.
THINK BEYOND. Better athletes in a better world. Here's the future we want to see: the best performance imaginable on the cleanest Earth possible. That's why we're working to create innovations that fix the problems athletes don't even know they have in the most ethical, efficient, and sustainable ways we can. This planet is our home field. It's the only one we've got…and we're going to protect it.
CELEBRATE THE WINDS. Take time to take pride. We're a brand built on what's next. But it's the victories—big, small, and everything in between—that bring us together as a team. We're never afraid to celebrate our accomplishments and have a little fun. Because at Under Armour, every win is a team win.
---
Thank you to Under Armour for providing us with sample items. Please read our transparency page for info on how we do our reviews.