Last year I reviewed Under Armour's HOVR Infinite shoes, a comfortable shoes that syncs with a smartphone to showcase running data via Bluetooth and the MapMyRun app. They are a really nice pair of shoes that I have used not only for running, but also for cross training and even a few times as a casual-wear shoe given it's neutral muted color and simple look. The UA HOVR Machina was just recently released, and is an expansion on the capabilities that a "smart shoe" can provide.
First and foremost, the impressive tech is the addition of not only running data – but real time running data and coaching. If you have it set up to do so (and if you get these, there's probably no reason why you shouldn't) it will give you notifications letting you know how your cadence is changing over the course of your run, or other tips on improving your form so you stay in an the ideal range. While I am not necessarily in need of professional feedback like this, it was very interesting, and positive, to feel like I could actually make changes mid run and know the exact moment to do so. It's a pretty cool option that I could see definitely helping someone stay on track when pushing for a PR or a BQ.
I am not typically a MapMyRun user, but I have enjoyed it when trying these out. However, if you are a hardcore Strava or other running tracker app user you may be less interested in this feature. However, MMR is necessary for the feedback, so make the call accordingly.
The other cool tech is in the Machina's construction itself. They showcase a new carbon-filled propulsion plate that is said to provide a more powerful push, and thus, making you faster as a result.
There is also a noticeable cushion – evidently immediately when slipping them on. I could tell that they had boosted this from the Infinites (20% more according to UA). Even with these changes, I did not receive any blistering or foot discomfort – it was just "plug and play" and all was good to go from the very first run. I really enjoy how plush the feel is and I did feel I had a little spring in my step – perhaps a combo of the propulsion plate and the cushion?
As for the look – they are fine, but not the most sleek and fashionable on the surface. I'm usually one who is all about the ability to utilize running shoes in different settings (i.e. running and travel/casual), but the Black/Halo Grey/Red combo seemed a little "dad" shoe-y. But hey, I'm a father of three, so whatever. The more colorful versions look as if they may scream a little more "running". However, 1) looks are subjective and 2) if a shoe is comfortable and provides me with all my running necessities I don't give a rip what it looks like!
The Machinas run about $150 – placing it in the higher echelon of running shoes – but not exorbitantly high. It's a bit above average, but that price for "smart shoes" isn't all that bad when you think about it. I see these as being able to keep my feet happy for hundreds of miles, and, really, what more could you ask for?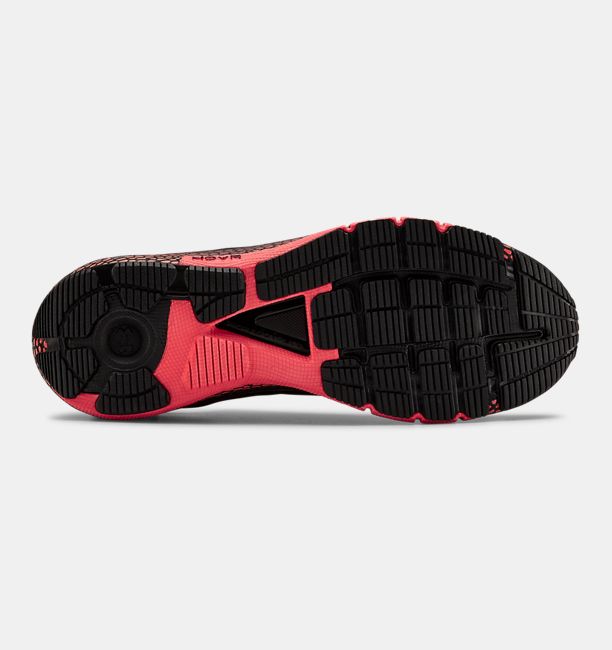 Details:
Shoe: UA HOVR Machina ($150)
Specs:
Offset: 8mm
Weight: 10.4 oz
Engineered mesh upper
Sprint spike-inspired Pebax® speed plate for increased return & more powerful push-offs
Solid rubber outsole covers high impact zones for greater durability with less weight
Carbon rubber pods under the heel deliver greater traction & durability at high-impact strike zones
External heel counter for added stability & a locked-in feel
UA HOVR™ technology provides 'zero gravity feel' to maintain energy return that helps eliminate impact
Compression mesh Energy Web contains & molds UA HOVR™ foam to give back the energy you put in
---
Thank you to Under Armour for providing us with a sample pair. Please read our transparency page for info on how we do our reviews.