Race Preview: 2018 Corvallis Clinic Run For The Health Of It 5k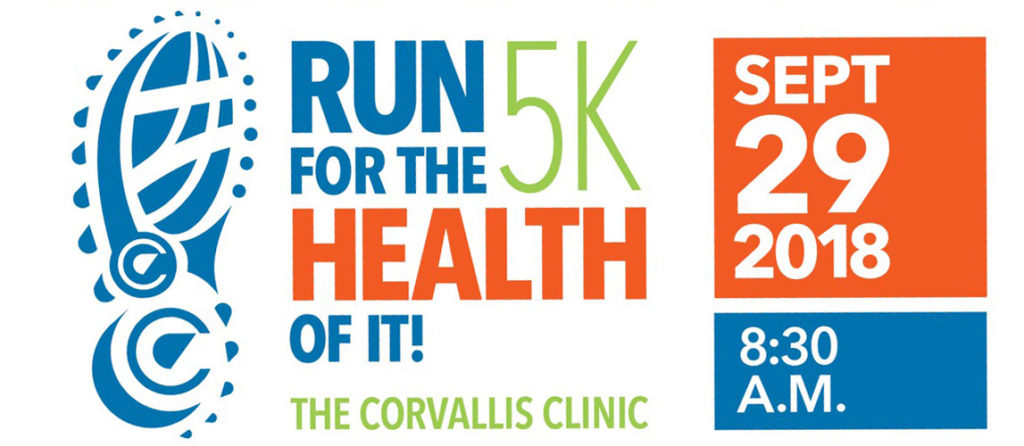 You're already running for your health, so why not celebrate it with the Inaugural 2018 Corvallis Clinic Run For The Health Of It 5k on Saturday September 29th?
This race will benefit Local Youth Sports Programs and will take place at The Corvallis Clinic. Park at the Aumann Building and then head to the Asbury Building where the 5k will start and finish. This race is described as a "well-marked moderately difficult course" and will mostly be on asphalt with a portion on gravel.
In addition to this race, there will be FREE race prep workshops leading up to race day! These workshops, also held at the Asbury Building of The Corvallis Clinic, will offer you a 20 minute presentation where you will learn all sorts of valuable tips to help your performance. This will be followed by 60 minutes of practice in the principles you just learned with the experts. Don't forget to wear your workout clothes! Find out more about the race prep workshops and register here.
The entry fee for the race is only $30 for adults and $25 for ages 12 & under and 65 & over. A race shirt will be included in the cost, as well as chip timing and finish-line food, so this is a great deal. If you opt to wait until race day to register, expect to pay an additional $5. You can pick up your race packet on Friday Sept 28th from 3:00PM-6:00PM at the Asbury Building's main entrance, or you can wait for race day from 7:00AM-8:00AM.
Unfortunately, roller skates/blades, boards, bicycles, or strollers will not be allowed on the course on race day.
Details:
What: 2018 Corvallis Clinic Run For the Health Of It! 5k
When: Saturday, September 29th, 2018 at 8:30AM
Where: Corvallis Clinic, Asbury Building, (3680 NW Samaritan Dr, Corvallis.) Parking will be available at the Aumann Building, (444 NW Elks Drive, Corvallis)
Register: Here
Registration Cost: $30 for adults, $25 for ages 12 & under and 65 & over. Add $5 on race day.