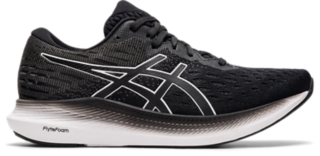 My go-to shoes for over a decade were ASICS. I started in them and wore nothing but newer versions of the same model for many years. But after having my second baby (and did you know childbirth shifts your alignment and even your stride sometimes?) and wearing one pair a LOT too long, I found myself with a niggling in my middle toe and I decided to expand my horizons and try other brands. A little variety is not a bad thing, and in the process, I found a lot of good shoes.  However, I've still always had a soft spot for ASICS. After all, they were my first love in running.  I was thrilled when Run Oregon gave me the chance to try out the new women's EvoRide 2.
The EvoRide 2 is a nice standard shoe with fairly minimal cushioning and neutral support. These are meant for everything  .. Tempo runs or long easy runs, races or kicking around town in.  They are great for both neutral and supinated runners who want to conserve on energy and get their run on without any fuss.
Let's talk ASICS technology. What makes them special? The EvoRide has what's called a "METARIDE™ shoe philosophy," meaning it's goal is to lesson the overall load with it's curved sole. This helps improve running efficiency and decreases fatigue, which will aid a runner in a longer ride. The shock-absorbent lading zone insures a more comfortable journey as well. The midsole incorporates FLYTEFOAM® Technology, which makes the shoes feel light on your feet, and the stiff forefoot of the GUIDESOLE™ Technology reduces ankle flexion. Finally, the AHARPLUS™ technology improves the durability of the shoe, with strategically positioned contact areas.
The second in the EvoRide series has a focus on preserving the forward rolling motion while also reducing the overall weight of the shoe. It provides a softer cushion underfoot and the engineered mesh upper (made with recycled materials, Go EARTH!) has a nice multi-directional stretch so it can flex with the foot as well as improve airflow.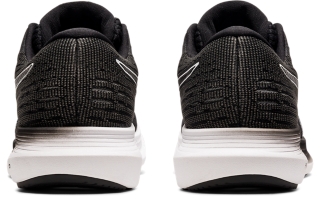 What I loved immediately about the EvoRide 2 was the anatomically shaped toe box. Some running shoes don't hit my feet in the right spots, and having a wider toebox myself means that's where I feel ill-fitting shoes the most. That was not the case with the ASICS. The first time I put the ASICS on, they felt a little stiff and "hugged" my foot more than some of my others. This was right before my first 6 mile  post-snowstorm run and I wasn't sure how it would go. But as soon as I took off, the shoes became an extension of my feet and it felt great to be out in them! These shoes felt much lighter on my feet than many of my others, and though I'm used to a lot of cushion from many other brands, the EvoRide 2 were not uncomfortable in the least. In fact, I felt much less weighed down than usual. The ASICS felt fresh on my feet for my entire run. I took them out the next day, and the next. These are the shoes I'm reaching for now.
ASICS, I think I need you back in my life. You never really forget your first love.
---
Company:
Products & Price:
Specs (from website):
Surface: Road
Heel Drop: 5mm
Weight: 192 g/6.8 oz
Support: Neutral
Cushion: Regular
More about ASICS:
Kihachiro Onitsuka founded ASICS in 1949 to realize his desire to nurture the youth of Japan through sports and contribute to the development of society. Our founding philosophy of "Anima Sana In Corpore Sano (A Sound Mind in a Sound Body)" represents our wish that people all over the world will live healthful and happy lives in both body and mind.

Health consciousness is growing all over the world, and the very definition of sports is changing. Also, with the development of digital and other new technologies, there are novel ways to enjoy sports. Next year's Olympic and Paralympic Games Tokyo 2020* will also be a tailwind for sports in Japan.

In a society in which people with different values enjoy sports and live more enriching lifestyles, ASICS will use its intelligent technology to contribute to realizing an environment in which people will feel more familiar with sports.

This year marks 70 years since ASICS' founding. The social significance of sports is growing more than ever in modern society. Sports are an important element in living longer and more healthful lives, in feeling more fulfilled, and in crossing national and cultural boundaries to bring the world together.

Our mission―in the past, today, and into the future―is to contribute to a healthful and sustainable society and to bring joy to the people of the world through sports. We will keep working toward our goal.

*ASICS is Olympic and Paralympic Games Tokyo 2020 Gold Partner (Sporting Goods)
Thank you to ASICS for providing us with a sample. Please read our transparency page for info on how we do our reviews.