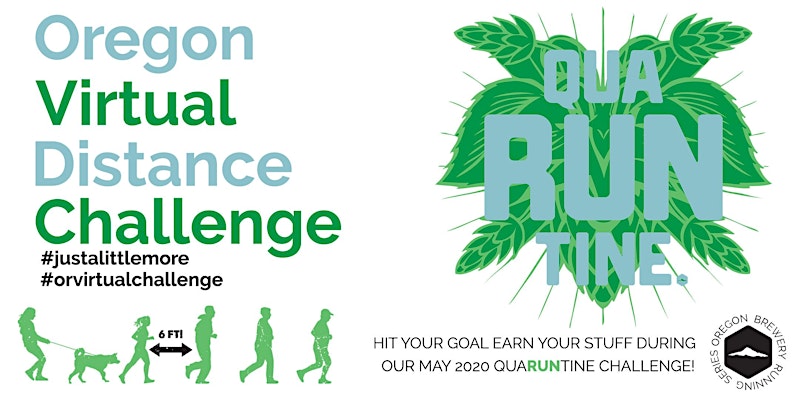 With the April Virtual Distance Challenge nearing its end, and since social distancing guidelines and group gathering bans are still in place, Oregon Brewery Running Series is announcing its May 2020 QuaRUNtine Virtual Distance Challenge, which will run May 1-31. If you are not familiar with virtual racing, it usually means that you sign up for an event, run the distance on your own, and then receive the race swag after you complete the distance. Sometimes you are asked to submit your time, sometimes it is run on the honor system. While Virtual Races don't have the same race day atmosphere as in-person events, its flexibility opens the event up to those who could otherwise not participate.
The May challenge works about the same as the April challenge did, with a different twist to the mileage goals: Instead of OBRS setting the goal for you, you will choose your goal distance during registration, and you will earn swag based on percentage of completion of the goal. The goal distances range from 50 miles to 150 miles, so that you can properly challenge yourself!
You will still log your miles through Strava, periodically submit a mile tracking form to OBRS, and at the end of the month you get your swag based on your actual vs goal miles percentage. As the month progresses, the leaderboard is updated, participants are encouraged to participate in online happy hour meetups, interact on Facebook and Instagram, and each week there will be a coupon for a takeout order from a local brewpub.
To get started, register for this event on Eventbrite, Join the club on Strava* (it's Free) to verify your miles, submit your miles (more details on that in an email after you register), then win great prizes! A portion of the proceeds go directly to the #EmergeStronger Community Challenge, part of the Oregon Food Bank.
THE PRIZES:

(Mileage totals are counted from May 1-31, 2020)

25% of goal: Wooden Coaster
50% of goal: Socks
100% of goal: Free run entry or t-shirt!
120%+: Beer Delivery from participating breweries!

* Swag and Merch items will be mailed within a few weeks of you hitting your mileage levels.