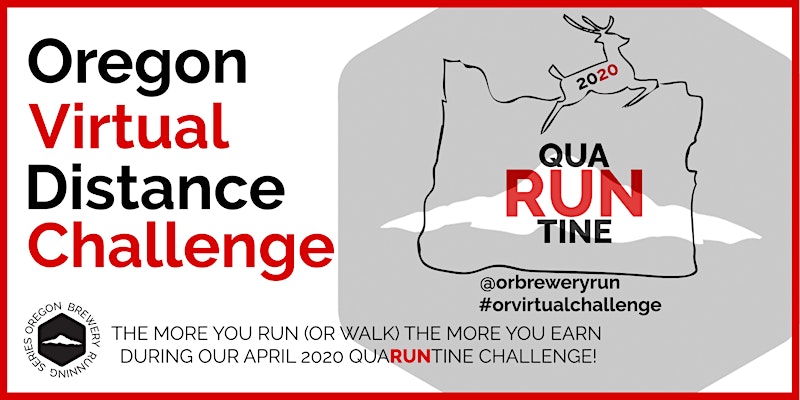 With current restrictions in place against group gatherings, races have to be canceled, and race organizers have the option of postponing or changing their event to a "virtual" run. If you are not familiar with virtual racing, it usually means that you sign up for an event, run the distance on your own, and then receive the race swag after you complete the distance. Sometimes you are asked to submit your time, sometimes it is run on the honor system.
Oregon Brewery Running Series is holding its QuaRUNtine Virtual Distance Challenge throughout the month of April. The premise is easy: Throughout the month of April, log your miles through Strava, submit a mile tracking form to OBRS, and as you reach benchmarks you earn race swag. As the month progresses, participants are encouraged to participate in online meetups, concerts, and happy hour. Each week there will be a $5 off coupon for a takeout order from a local brewpub.
To get started, register for this event on Eventbrite, Join the club on Strava* (it's Free) to verify your miles, submit your miles (more details on that in an email after you register), then win great prizes! 10% of proceeds go directly to the Oregon Community Foundations: Covid-19 Relief Fund
THE PRIZES:

(Mileage totals are counted from April 1-30, 2020)

10 miles – SWAG – quaRUNtine Pint Glass *
25 miles – MERCH – quaRUNtine T-Shirt (unisex Next Level shirt) *
50 miles – EVENT – 1 free BRS 5k event entry (any future 2020 event)
100+ miles – BEER – 1 free growler + fill at any 2020 BRS event that you attend

* Swag and Merch items will be mailed within a few weeks of you hitting your mileage levels.