It is pretty strange to be a runner who is watching the weather in hopes of a rainy day. But that was exactly my conundrum after receiving a pair of UA HOVR Infinite 3 Storm shoes. These babies were made for challenging puddles. I mean there is literally a paragraph on the shoe about being created for the exact weather we have so often in the Pacific Northwest.
"This product is designed with water-resistant technology to keep you drier in wet weather. One less excuse. The only way is through."
These shoes are made from a thin yet strong material that felt secure from the first steps. And the design itself (beyond the paragraph) looked ready for water. Reflectors marked the back of both shoes, small droplet-like images covered the toes, and the shades of white and gray wouldn't show water or dirt like just one color.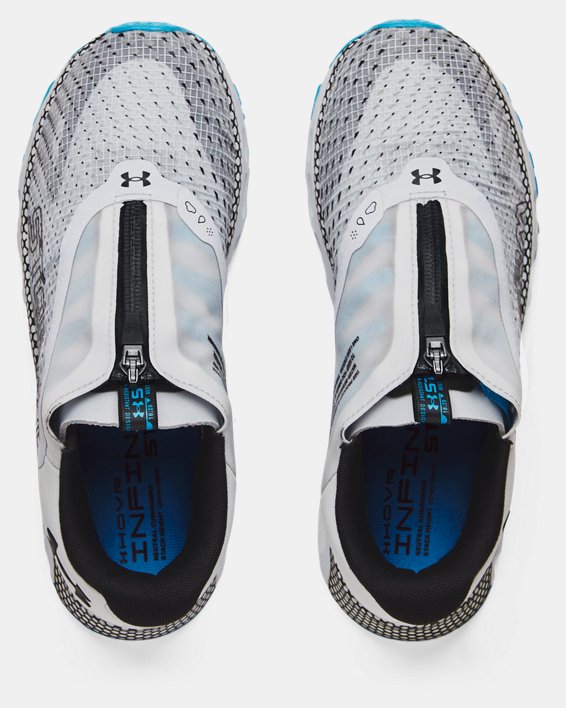 I took my new shoes out for several runs, including one with lots of clouds pouring down, and appreciated how they kept my socks dry much longer than other shoes I've experienced. Yes, the water did eventually make it in, but by then it was hard to tell what was rain and what was sweat…I mean glory. The shoes I received had laces, which differs from the version online with a zipper closure. Maybe the different model keeps the rain out even longer.
The only piece of these shoes I had a bit of struggle with was the high coverage on the heel. I think this construction is to allow for the Bluetooth technology. I ended up with taller socks than normal to avoid rub against my heel and ankle. For those who utilize more tech than I do in their training, the tech capability is just amazing. For this simpler runner, I am just excited to head through more puddles this spring.
Here's a few more details from Under Armour about their shoes:
NEUTRAL: For runners who need flexibility, cushioning & versatility
UA Storm technology treated upper repels water without sacrificing breathability
Offset: 8mm
Weight: 8.62 oz.
Lace type: Stretch elastic
UA HOVR Infinite 3 Storm Running Shoes
Available in Halo Gray / Black
$109.99
Size 5-12 (currently limited availability)
Thank you to Under Armour for providing us with samples. Please read our transparency page for info on how we do our reviews.