I'm sure it's something we all realize when the warm weather hits – we need to stay protected from the sun. As runners, we are mostly hitting the streets and trails outside, and Oregon is about as beautiful a place in the country to do so. When my dad first was diagnosed with cancer 9 years ago, there was a small epiphany that I needed to be better about this. But, I was 26 at the time and though I had a child, I was still youthfully invincible. Now at 35, with my dad's cancer recently returning, it has again hit home that I actually need to be serious about this. As a result, I am going to be highlighting some items over the summer that assist in protecting us from the sun – this time with a hoody from Mountain Hardwear.
As the weather seems to be turning into milder temperatures and cloudier skies, this may be our final post covering great long-sleeved, sun protection items.  The best part about these items is that, while they were great in the summer, will continue to come in handy in the Oregon fall and winter as baselayers and chilly-temp tops. It's a 2-for-1!
The Shade Lite Hoody, while perhaps designed with rockclimbing or camping in mind, can absolutely convert to a long-sleeved running top. It comes equipped with UPF 50+ material and mesh panels to encourage breathability. It is super light, making it a great standalone top even in casual settings. In the few warmer (dare I say hot?) days last week, I was impressed by the cooling. The temperatures were new for the year, sure, but I felt as normal as I could in long-sleeves.
The Shade Lite also has high-fitted tight hood for protection as well. I think it's supposed to be more for under a rockclimbing helmet, so it sits pretty high up on the neck and fits snug on the head – but I actually didn't mind it.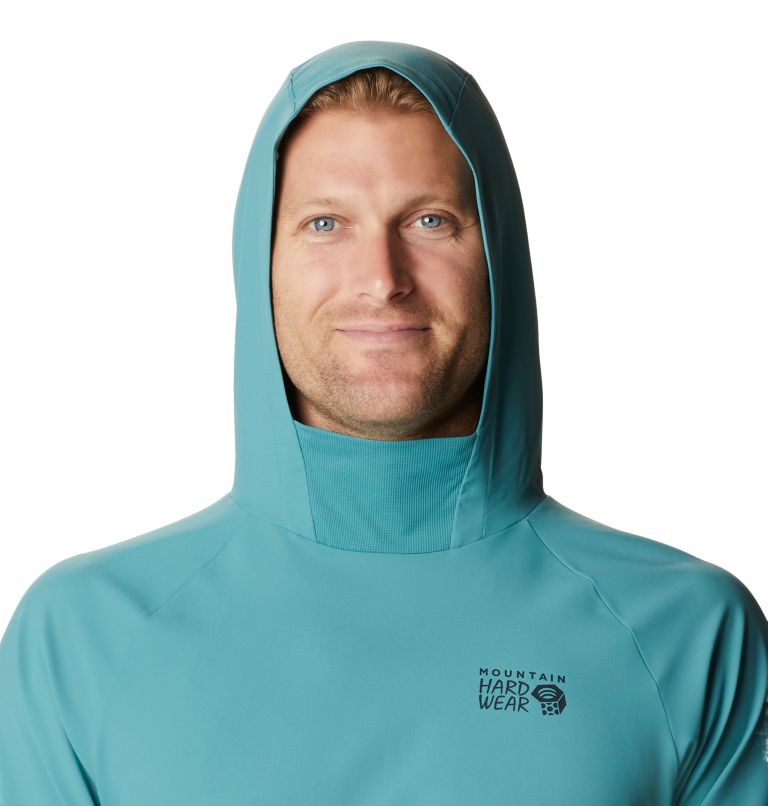 It has a pocket that your shirt can stuff inside of – making it a great option in those settings where "Oregon weather" is in full effect and you never know what you are gonna get. You can pack it when the weather is warm and carry in your hand or pack, and then easily pull it out when it inevitably starts to rain.gr
There is also an additional pass through pocket that can allow for grabbing for an energy gel or water in your hip pack without much effort.
To be honest, the feel of this shirt is quite top notch. The Polyester stretch textured knit is super comfortable and the arm length (always a challenge with my longer limbs) felt really on point. It has enough tech in it to wear on workouts, yet is simplistic enough to even double as a out-and-about casual hoody as well. 
She hoody comes in four colors:
Washed Turq (reviewed)
Fogbank
Wet Stone
Dark Clay
RECOMMENDED!
Company: Mountain Hardwear (Facebook)
Products:
More about Mountain Hardwear:
Performance means products purposefully designed, form following function, using the highest quality materials and technologies. Performance means providing users with better physical and emotional experiences through fit, weather protection, temperature regulation and moisture management.

We believe everyone who enjoys the outdoors is an outdoor athlete. From 8,000 meter climbers to weekend day-hikers, we all aspire to better physical experiences in the outdoors.

Living boldly means daring to be different, leaning into life and pursuing new challenges and opportunities to experience the world more richly, to know your self more completely, and to savor the satisfaction of living life to the fullest.
---
Thank you to Mountain Hardwear for providing us with some a sample item. Please read our transparency page for info on how we do our reviews.