After what felt like an endless winter, it was so much fun to put on a bright short-sleeved top for a run in the sunshine. Crosstrail came in dark aqua and the Tech T arrives in a similar aquamarine. Both tops had me feeling ready for a run on the sand. For their first runs, however, it was the final long training runs on Springwater before my spring ultra race. The bright colors helped me feel extra safe running and crossing streets in SE Portland.
Both tops fit true to size and did well with the sweat of the long sunshine-miles. I really liked how the sleeves were long enough to provide coverage from arm chafe, but not as long as men's styles with the cuffs hanging into my armpits. And both made it through the wash with the same brightness they came out of the package.
If I was to pick just one, I would go for the Tech T W. Not only is it a bit cheaper, but I liked that it was a bit looser around my waist and better for air flow
Matt: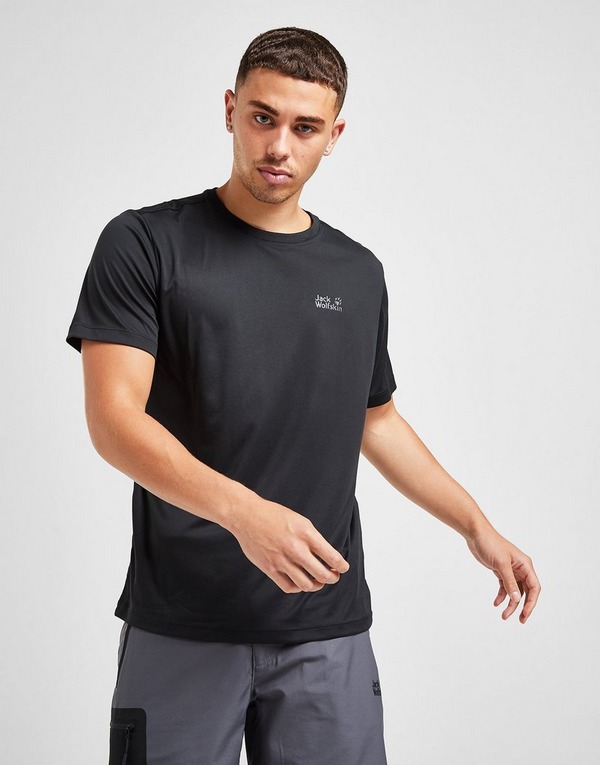 I found the Tech T to be a "runners" shirt. Not just one for running – but one that a run I g purist can appreciate.
The look is about as simple as simple comes. No accents (outside of the small company logo on the upper chest), no pockets, no frills – just a shirt to pull out and go for a run in. In a running world that is constantly pushing the edges of striving for the dramatic (which I appreciate), it's also nice to just say "&@$& it"and go run.
That's not to say that the shirt isn't made well or doesn't have the necessary qualities (it sure does- as Meg mentioned above), but it's simple by design as well. And at a price point that is generally lower than options of similar quality (under $25), it can play a vital role in your running closet.
The Narrows T (available in both men's & women's sizing is a top that tends more towards the stretchy side than a structured cotton shop. It has the qualities a running tee should have (light and moisture-wicking), but it also has a few cool additions as well.
This tee come with UPF 40+ UV protection (UPF 40+) and is made from "Hydrapore Ecosphere". This fancy phrasing is actually , Jack Wolfskin's proprietary 100% recycled material fabric that stays soft and fresh. Super cool. The look is also pretty stylish in a subdued way with some side accents to keep things interesting.
Products:
More about Jack Wolfskin:
For almost 40 years, our name and pawprint have been a symbol of our trailblazing spirit and regard for nature—a reference to the independent, free wolves that roam the wilderness in Jack London's novel The Call of the Wild.

Since 1981, we've been leading the pack with our innovative, eco-conscious technologies, commitment to social responsibility, and forward-thinking designs.

Today, it remains our mission to create on-trend, enduring gear and clothing so all can experience the benefits of the outdoors.

If you haven't seen our pawprint before, it's because we just made our newest den in North America. We'll see you in the wild—wherever that is for you.
---
Thank you to Jack Wolfskin for providing us with samples. Please read our transparency page for info on how we do our reviews.