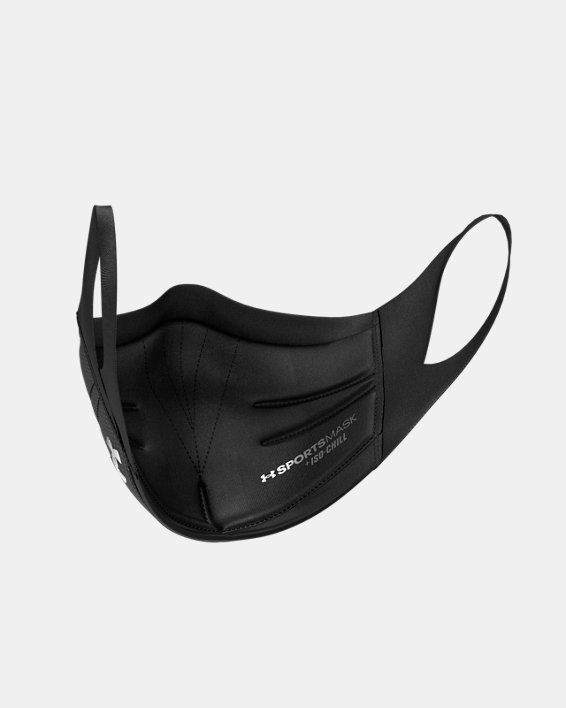 In this Covid-19 era, do you run with a mask or not? A few months ago, a study of cases in China found that out of over 300 clusters of cases, only one (involving a total of 2 cases) occurred as a result of outdoor transmission. It seems extremely unlikely that you could catch or transmit the novel coronavirus just from passing by someone else on the street. Of course, it's still imperative to follow the CDC's guidance on appropriate precautions, which for running means wearing a mask if feasible, and if not, maintaining physical distance from others.
Since the "shelter at home" order was implemented in mid-March, I've been doing nearly all of my running on the local streets, crossing to the other side if I'm going to pass someone else. Therefore, I haven't been wearing a mask. However, when the opportunity arose to try Under Armour's Sportsmask, I jumped at it.
I tested this mask on three separate occasions, twice on mild easy runs on the streets, and once on a short tempo run on the track on a cool morning.
Fit: The Sportsmask is a typical facemask with loops in the back that hook around your ears. The M/L size fit my head securely without feeling too tight. The loops had enough stretch that they didn't make my ears feel sore, as sometimes happens with cloth masks that I wear for work.
Airflow: To my surprise, the Sportsmask didn't seem to inhibit airflow at all. I think is because the mask doesn't have a wire to mold the top of the mask to the shape of your nose. As a result, there is a bit of a gap between the top of the mask and the area under the eyes. That's good insofar as it makes it easy to breathe while wearing the mask, but it would seem to make the mask slightly less effective at keeping droplets away. Also, that gap channels exhalations straight up, fogging sunglasses (though to be fair, this is an issue with regular masks too).
Comfort: I think this is unavoidable, but humidity seemed to build up as the run went on. It wasn't like being in a sauna, more like the mist from a hot shower. On a fall morning, it wasn't too bad. I might feel differently about it on a hot summer day.
Features:
Made with high-performance UA materials, designed to be worn all day & when playing sports
Structured design sits up off the face & lips for added comfort & breathability
Water-resistant outer shell features smooth, breathable spacer fabric
Anti-microbial treatment on the inside layer to help keep mask fresh
Polyurethane open-cell foam lets air through but makes it hard for moisture & sweat to pass
UA Iso-Chill fabric on interior lining & ear loops feels cool to the touch for as long as you wear it
Fabric is soft & smooth for next to face comfort & moves moisture from your mouth to the insert layer
Built-in UPF 50+ sun protection
Retail price: $30, with a variety of colors
Available here
Run Oregon sometimes receives gear to test. We post our honest impressions with the intention of helping you determine if a product will be right for you. Learn more about how Run Oregon conducts reviews through our transparency page.