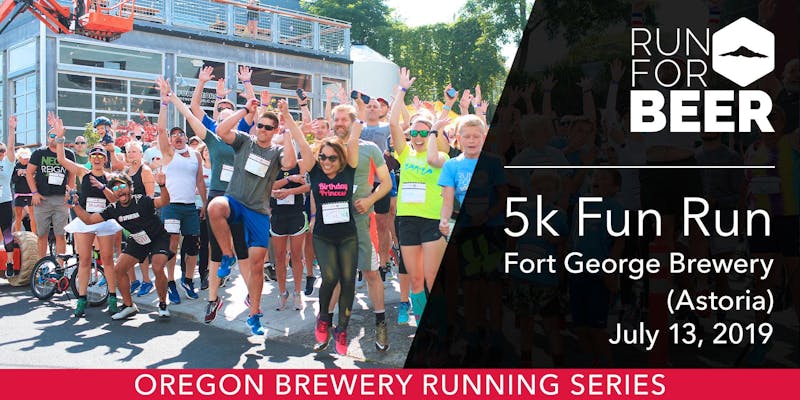 I love beer. After now having visited over 500 different breweries, it's fair to say I have sampled a lot of beer (follow me on Untappd). From post-race pints and run club meeting locations, to beer miles and relays, running and the kegged nectar seem to go hand-in-hand in Oregon. Our Kegs and Legs feature is where beer & cider drinking runners like me can go to find some new favorite beverages. Check out previous posts here!
Coming up THIS WEEKEND is race number 14 of the 2019 Oregon Brewery Running Series – held at Fort George Brewing in Astoria. It's probably easiest to just harken back to last year's post about this fantastic brewery:
Fort George is one of my all-time favorite breweries. I don't know exactly how to pinpoint things, but the history of the building goes well beyond the 11 years it has been housed by the brewery. The Lovell Building was built way back in 1921 to house an automotive company, as well as an arcade and theater. It remained an auto repair shop until the 90's before becoming vacant and sadly neglected. Thanks to some progressive movement, the building has been revitalized and houses the Blue Scorcher Bakery in addition to the brewery. The atmosphere really is an amazing combination of old and new, blending the craft beer movement in a setting that feels like everyone should be wearing Gatsby-era suits and Fedoras.

The Astoria brewery scene is pretty dang incredible and absolutely worth a trip out. In addition to Fort George, there are also great options such as Buoy, Astoria Brewing, Rogue-Astoria, Hondo's (small and underrated), as well as newer ones like Reach Break and Reveille Cider. But Fort George is sort of the centralizing figure in the close-knit Astoria beer scene.
Last year, we checked out the annual summer release of their 3-Way IPA, which has generally been one of my favorite beers. This year Ft. George collaborated with Cloudburst Brewing from Seattle and Ruse Brewing in PDX.
One really cool component is that the beer itself will have some different flavor profiles, even from batch to batch. This is due to the fact that the dominant dry hop will rotate throughout 3-Way IPA season. Check the bottom of the can to see which one you are trying out. But not matter which hop it is, this is a nice marriage of the fruitiness from the haze craze variety and the standard PNW IPA bitterness. It is really quite enjoyable and another feather in Fort George's 3-Way IPA cap.
The 3-Way series is only available through the summer, so the Brewery Running Series event is a perfect opportunity to do just that!