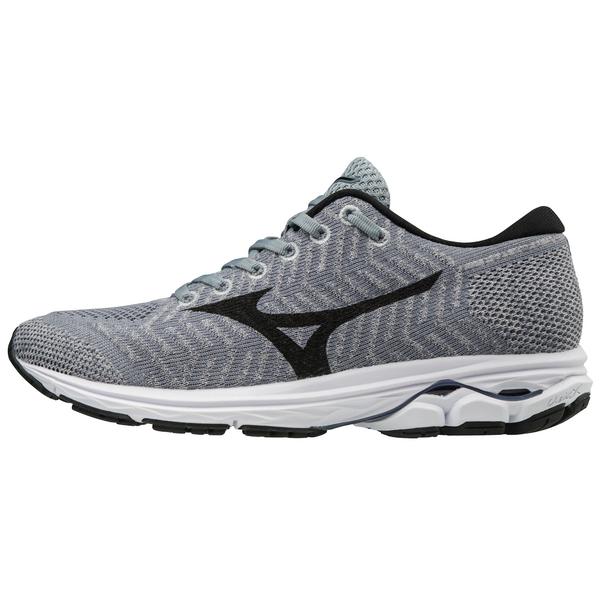 I haven't worn the Mizuno regularly for about 7 years, but I had some idea what to expect as they used to be my go-to shoe. I just managed to snag a spot wear-testing another brand, so I was sort of set in terms of running shoes. What I wasn't expecting was the mix of cushion and stability I got from the Waveknit R2. Read on to learn more about what is my current go-to:
What I liked about the shoe is that they fit the way you want running shoes to fit – they have a nice fit and I felt they ran true to size (I wear an 8.5 in almost all brands of running shoes, and these fit great). As with most my shoes, I did not lace them very tightly, but the laces were long enough for me to double knot. I'm one of those runners that gets scolded when trying on new shoes because I don't untie my shoes – I just slip them on and off, because I have them laced so tightly and lace-lock all the time.
I'm going to try to explain something and hope that it comes across the way I want it to. You know when you were just starting out running, or maybe before you were a runner, and you'd try on a pair of "running shoes" and be like, "Yes. These are comfy." … do you know that feeling? Like the shoes are so comfortable (especially compared to the Reebok Princess or Air Force One you had been wearing) and you thought, "All sneakers from now on will be running shoes."
This is the Waveknit R2.
Every. Time. You. Put. Them. On.
I wore them for everything from a quick 3-miler to an 8-mile "long run" and wore them for daily tasks on a regular basis (at least three times a week). I put around 100 miles on my Waveknits R2's and have not noticed any breakdown of the cushion yet. Every time I put them on, I think, "This is just right." Never do I think, "Oh, they are losing the magic. They rub funny. My toe's starting to wear through." Nope. I just think, "I'm so glad I'm wearing jeans to work today so I can wear these shoes."
You can try these on at any local running store to see if they're the right shoe for you. If you need a support shoe and enjoy a cushioned ride without losing out on flexibility in the mid-foot, these may just be your new favorite. The evaluation and recommendation of a person trained in finding you the right running shoe has a more valid opinion than mine, hands down … but maybe just ask them if these would work for you!