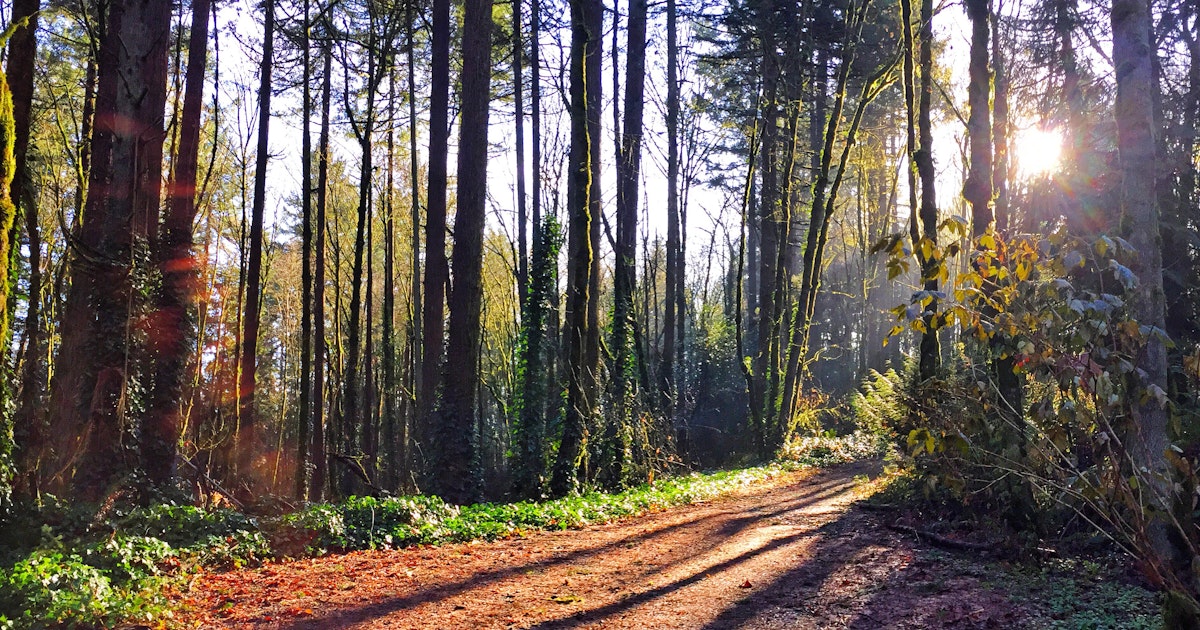 I'm always lost. If I'm not lost, I'm on my way to becoming lost. GPS capabilities on a cell phone is the BEST invention EVER for people like me. I'm that person who needs to use it for places I've been to before .. Like, several times. It's embarrassing but I'm the first to admit I get lost in my own neighborhood and NO ONE would EVER want to ask me for directions to anywhere.
That being said, I'm venturing into trail running and it's obviously a bit of a problem because .. Well, see above. In addition to being terrible with directions, I have anxieties about being lost or going places I've never been before in case I get lost. I love the beauty of trails and forests and all the gorgeous scenery. I actually love running on trails, but not out there alone. I think it's obvious why. However, I'm training for a 50k and I finally decided to put my big girl panties on and venture out alone on a day that no one else wanted to join me.
I didn't go too far. Tryon Creek State Park seemed like the best option for me because it's close to where I live and I always thought it seemed pretty well marked. My thought was that even if I got off course, the nature center was really not too far away from any of the trails, and that was to be my home base. The trails are super short, but I found one suggested trail online that was supposed to be about 6 miles long on the outer loop. I wanted to get close to 20 miles in that day, so I thought I could attempt to run this route 3 times.
As soon as I got to Tryon Creek, I was immediately unable to find the first trail I was supposed to start from. Of course. After wandering around for a few minutes, I decided to forgo my plan and to just take off exploring. I figured I could do a short warm up loop around the trails. That turned into about 4 miles and several accidental loops and deliberate out and backs before I found myself back at the nature center. I again set off for the 6 mile loop I had intended when I got there and this time, I found the trail I was supposed to be on. But alas, it turned out to just loop me around in small circles and did not take me where the turn by turn directions were supposed to, so I again forged my own route. This time, I took a deep breath and told myself it was an adventure. The organized planner inside of me let it go, so I tossed aside the map and directions and just took off. After one more long loop, everything felt right and I suddenly had the confidence to keep going without a plan.
The first loop I had set out on had made me slightly frustrated. I spent a lot of that loop wondering why it was so hard to find my way around and lamenting that the signage at many of the turns should have been a bit more informative. I started thinking about all the trail runs I had done in my life and how easy it was to go in the wrong direction or to get completely turned around. I thought about how trails never seemed well marked and how even armed with directions, you can still get so lost. A few weeks ago, a group of us got so turned around that a really nice man and his dog gave us a ride back to our cars so we wouldn't have to run the extra 7 miles we were off by at the end of our already long trail run.
However, after that first 4 mile "warm up" when I finally decided to chuck the directions for good after getting so off track again, the real life lesson for me began. People tell you all the time that life is a journey, and that the destination isn't as important as how you got there. Trail running is the perfect example of that. Once I caved and stopped worrying so much about where the next turn was, I was really able to look around and see the beauty of the trails, inhale the air in my lungs, feel the ache in my legs, and to taste the freedom of the woods all around me. And then, I didn't feel lost anymore at all and there was some peace that I'm not used to feeling when I'm outside of my comfort zone.
Ironically, it was when the confidence came flooding into me that I suddenly had no doubts about which direction to turn, and I started to figure out where I was out there. Who knew? Once I had my bearings, I repeated a few loops, but this time intentionally.
Towards the end of the run, I encountered a snail on a bike path who appeared to be attempting to make it to the other side. After I passed him, I couldn't stop thinking about him. I was about 15 miles into my run, so perhaps this was just my idle mind, but when I turned back around, I was obsessed with finding him again. I was thinking about how that path was a long and treacherous journey for him, and how he had no plan other than to go where he needed to go to get to where he needed to be. I thought that if that snail could do it, why couldn't I? I eventually found the snail again, and he'd managed to reach the other side of the path in the 20 minutes it had taken me to return. He was almost there and so was I, as the parking lot wasn't too far ahead.
I ran 16.25 miles that day, not the 20 I had hoped to, but not bad either. I did it alone and I did it without dying in the woods by myself. It's not so bad to go out there without a plan sometimes. Maybe I should remember that when I'm doing other things too. Life doesn't always come with a GPS to back me up. It's really just about putting one foot in front of the other.