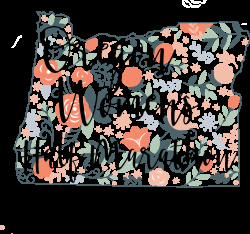 Have you heard that the Portland Marathon got canceled this year? If you're a runner, this is probably not the first time you've heard this, but maybe you're looking to do another race in October. Look no further than the 2018 Oregon Women's Half Marathon & 5k on October 7th, which is scheduled to be on the same day as that OTHER race would've been.
If you are a man and you're reading this, you don't have to stop here and move on. The purpose of this race is empower women, not to exclude men. That takes everyone, man or women, so men are  welcome to register for this race as well. There will be men's shirt size options as well as age group awards for men just as there would be at any other race.  And it's going to be a fun one, so pay attention.
This Eugene event, hosted by Pink Buffalo Racing, is now in it's second year and it begins and ends at the beautiful Noble Estate Winery. The race will be chip timed with results by Eclectic Edge Racing and will be well supported.  GU, Gatorade, water, and snacks will be available on the half course and water stations will be provided for the 5k participants. The course is new this year, and you can view it along with the description here. Runners will follow the Fern Ridge Path and there is a new countryside road section. You'll spot all sorts of wildlife and farm life while running this race. Play some "I Spy" and find horses, cows, eagles, goats, and herons while you're out there.
All half marathon participants will be greeted with a finisher medallion when the race is over. The first female and male to finish in both of the distances will get a champion shirt from Eclectic Edge Racing and medallions will go to age group winners 3 deep in each category. All participants can celebrate victory with a mimosa/beer at Noble Estate Winery or Viking Braggot Brewery and can nosh at the Bagel Bar or on some fresh fruit.
There will be a course time limit of 4 hours for the half marathon, and 2 hours for the 5k. Enjoy the race, you've got time!
Details:
What: 2018 Oregon Women's Half Marathon & 5k
When: Sunday, October 7th, 2018 at 9:00AM
Where: Noble Estate Winery Urban Tasting Room (560 Commercial St, Eugene)
Register: Here or mail in printable entry form to Pink Buffalo Productions, PO Box 5404, Eugene OR 97405 (must be post-marked by Oct 1 and waiver must be signed.)
Registration Cost: Half Marathon is $50 through July 30th, $60 from July 31-Oct 6, and $70 on race day. 5k is $25 through Oct 6th and $30 on race day. Ages 60+ and 17 & under deduct $5. Must be 15 years or older to participate in half marathon.
Packet Pick-Up: Sunday Oct 7 from 7:30AM-8:45AM at Noble Estate Urban (560 Commercial St, Eugene, OR 97402) A few extra race shirts will be available at packet pick up but sell out quickly, so if you didn't order a shirt but want one, get there early!
In 2012, Piper Ruiz opened Pink Buffalo Racing. She and her team produce running and walking events in Oregon. In addition to Pink Buffalo race management, Piper has been involved in the production of over 400 events during her career as a timer and announcer with Eclectic Edge Racing since 2011.