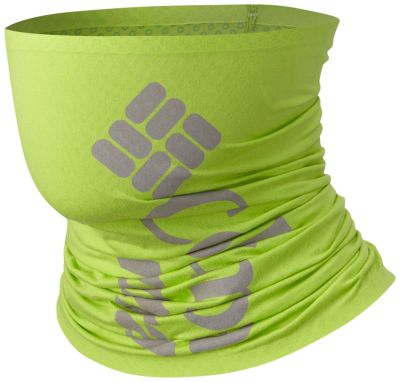 When Columbia and Montrail partnered up in 2006 it might have spelled the end to an iconic trail running brand and yet, the two companies have managed to put out some very high quality shoes and gear over the years that holds up to the abuse of the trails and the climate changes that often accompany the life of a trail runner.
Given the winters in Central Oregon, it is wise to have a few key pieces in your stash of gear for the wind and the cold that are certain to hit you mid run, when you're on the northwest side of Gray Butte and the snow starts coming down at a 45 degree angle (been there). One item that is a must have is a solid neck gaiter than can be used around the mouth and ears, or lowered to simply provide an extra layer of warmth around your neck. The new Montrail Gaiter not only provides the warmth I need but also protects exposed skin from the sun in summer or winter by offering superior UV protection.
Matt chimed in that these neck gaiters can also be multifunctional and worn as a headband – which is what he has been doing for the past few weeks. It fits snugly, and even if it is not made for this, it does the job quite well.
Want to learn a little bit more about their Omni-Freeze, Omni-Wick, and Omni-Shade technology (of which this gaiter has)? Watch these short videos:
Colors: 
White
Fission (green/yellow)
Fabric: 
89% Polyester, 11% Elastane
Cost: $30.00; from the Columbia/Montrail website or on Amazon
---
Thank you to Columbia Montrail for providing us with samples. Please read our transparency page for info on how we do our reviews.