Annette:
My first impression of the Air Lady Shorts was that they are super cute! The bright blue color with the contrasting wide waistband made them stand out immediately. When I tried them on I was a little concerned because these shorts fit differently than most of my running shorts. They were quite fitted. I usually go with a looser fit to avoid bunching, riding up, and chafing. Despite the tighter fit, the fabric is extremely light and stretchy, so the shorts were really comfortable. The liner in the Air Lady Shorts was thicker than most running shorts, but still stretchy and very comfortable. I felt like they were closer to an actual panty and less like a complimentary under layer. If you prefer going commando, these shorts allow you to do that and still feel like you have comfortable running underwear on. The shorts have a zip pocket in back for stashing small items and the waistband is soft and doesn't cut in to your sides.
I have to admit, I felt a little self-conscious wearing tighter shorts than usual on my run, but they were so comfortable I soon forgot about them. They inside liner stayed put throughout my run, which is a big win. The shorts rode up between my legs a little and I was distracted by that at first, but once I settled in to my run, my shorts seemed to settle into place as well. I had no complaints about how they felt and performed at all. My only complaint was that the beautiful blue color was not a good choice for someone who sweats like I do when running. When I finished my run, I realized that I looked like I had wet my pants. I am super bummed, because these shorts are so cute and comfortable, but unfortunately, they will not be for my running. I will save them for casual wear when I won't be working up a sweat. I would recommend going with black instead of blue if you sweat like me. As for comfort and performance, these shorts are great!
The Air Lady Tank Top is a more fitted tank, so I went with a larger size than I usually wear. I highly recommend going a size up, as even in a larger size, the tank is still a little more fitted than I usually wear. The fabric is light and extremely soft and comfortable – perfect for running on a summer day. The tank has a built-in shelf bra but it offered no support, so I opted for a sports bra underneath. The mid-back pocket is a nice bonus, as not a lot of tops have that option. It is perfect for carrying gels or other light items. Despite the seams from the feminine cut, I didn't have any issues with discomfort or rubbing. Overall the tank was great for running or even biking. The back of the tank top has a slightly longer tail for those of you that prefer extra length. And, the contrasting colors added a bit of flair to the tank as well. This is a good addition to my summer running tops.
The Essential Socks are probably my favorite item. I'm a sucker for a good running sock and these fit the bill. They have a left and right structure, allowing for a better fit and there are no annoying seams. They were extremely comfortable when I slipped them on and they stayed in place from the start. I would have preferred a slightly lower sock, but I just folded down the tops and they stayed put during my entire run. The biggest thing I noticed about these socks during my run was that I didn't notice my socks during my run. In fact, I didn't think about them at all until I took them off later. I realize that it may sound strange, but the fact that I didn't even notice my socks is the best compliment I can give a running sock. I mean, who wants to think about their socks while they run? Not me! So, thank you, Gore, for making a sock I don't even notice on the run. I love it!
---
Matt: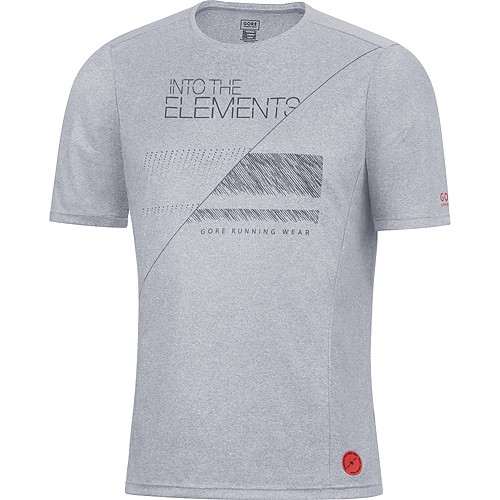 I guess that my impressions of the 96 Essential Elements Shirt is less of a review and more of a style piece. Obviously, being made out of 100% polyester, it is designed for running. And also obviously, I don't need to spend paragraphs talking about running tops; I'm sure you all are familiar with them. I just absolutely love the design and feel it fits perfectly here in Oregon. We are constantly running "into the elements", whether they be rain, sun, wind, or a mixture of all three (and more). We are running into the hills, mountains, beaches, forests, and high deserts. I feel this shirt just fits the sensibilities of a PNW runner, of which I am proud to be one.
---
Company: Gore (Facebook)
Products and Price:
GORE RUNNING WEAR® is your reliable and innovative source for high-tech trail and urban running apparel. We enable you to focus on what you love to do – running. All products are engineered and designed in such a way, that they work perfectly together within an integrated Outfit System. Their function, fit and design enhances your performance and comfort.

To get the best possible result for everybody we combine carefully the right fabrics. We combine the latest innovations from the GORE-TEX® and WINDSTOPPER® product ranges with hand selected GORE® Selected fabrics, which are handpicked for their excellence in compression, moisture management, cooling and venting or fit. All engineered and combined together to achieve the best feel, fit and performance and always considering the . . .  runner's body in motion
---
Thank you to Gore for providing us with samples. Please read our transparency page for info on how we do our reviews.