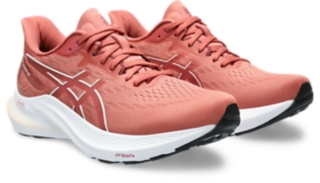 What do you do when your stylish new shoes are a little too big? Wear thicker socks. And since the winter frost is right around the corner, thick socks will be just great in my new pair of ASICS GT-2000 12.
My new pair is styled in the Tarmac/Pure silver colors, which I feel it just the right style for teaching my college students. The colors are simple enough to not attract attention, while still being nice if someone does notice the spark of silver. According to the website, they come with a "3D Guidance System." I'm not 100% what that means but as an often-lost runner, I'm hoping they will help with an upcoming trip to the East Coast where I'll be trying to find new routes (and then the hotel again).
I mentioned already that the shoes came a bit larger than my normal experience with size 9. The thicker socks helped keep my feet in place. I would also recommend socks with some fabric at the ankles (vs. no show) because the cover on the heel is high up for stability. Rubbing right against my ankle was unpleasant so I made a few adjustments before my next time out.
The GT-2000 12 shoe was designed for stability and to help what I would call normal runners who are trying to get in some miles each week. The ASICS website highlighted that the shoe includes a smooth heel-to-toe transition through "wider basenets and an increased heel bevel and forefoot flare." At least 50% of the shoe's upper material is made with recycled content, and all of the shoe is considered vegan friendly.
Details:
Weight: 8.3oz
Stack: 35mm /27mm
Drop: 8mm
---
Thank you to Asics for providing us with a sample pair. Please read our transparency page for info on how we do our reviews.