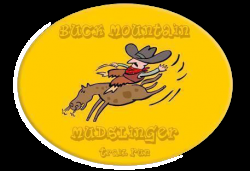 Silver Falls State Park is always a scenic treat, and Run Wild Adventures put on a great race, so come on out to Silverton for the annual 2023 Buck Mountain Mudslinger Trail Run on February 25th this year.
This 6.6 mile trail running adventure is a challenging single and double track trek around the Silver Falls Howard Creek horse area. Runners will take off on the Buck Mountain Loop and Smooth Creek Trails, and if you're thinking 6.6 miles is easy peasy, please note that this humbling race has some significant elevation gain and loss. Keep in mind also that this race is in February, so mud, as the name of the race implies, is HIGHLY likely and this will surely be very messy. There might even be some snow .. It's been known to happen, so prepare accordingly. If you love getting dirty on the trails like some of us do, this is the race for you!!
The course will be well marked with white flour and yellow cones, and possibly flags dependent on weather conditions. It's a walker-friendly course, though warm food at the end can't be guarenteed. Check out the course map here and the elevation chart here.
After you finish the race, stick around for awards, prizes, music, and some hot coffee and food as well as a beer garden for some well-earned refreshments. Expect a hot soup or chili/stew option, some fruit, and some Great Harvest Bread with Peanut Butter. There will also be Silver Falls Coffee and hot chocolate to warm you up! Because there's a western them to this event, there's even an award for best dressed Cowboy and Cowgirl .. Yee haw!!
Camping and lodging at the park is available on a first come, first serve basis if you want to make more of a weekend of the race. Check that out here.
Register for this race now, as this race has been known to sell out early and Run Wild likes to limit the participants on the trail to avoid congestion.
Details:
When: February 25th, 2022 at 9:00AM
Where: Silver Falls State Park at the Howard Creek Horse Camp (20024 Silver Fall Hwy SE, Silverton)
Cost: $40
Register: Here 
Packet Pick-Up: Race morning from 7:30 to 9:30AM