We have been (and will continue to be) reviewing a variety of newly released running shoes here at Run Oregon. The Saucony Endorphin Pro 3 was released a month ago and we have been putting it to the test.
The Saucony brand was one of my first real running shoe companies I purchased actual running-specific shoes from years ago. They were lightweight, felt like I was running on air, and priced reasonably compared to other brands on the market. In assisting in formulating this running blog, we have had opportunities to try out multiple pairs over the years, but in going back through our reviews, I realized that I had not been one of these reviewers. So when this shoe came available for review, I figured it was high time to reconnect with the brand.
Looks:
It's not too often that media sample colors of shoes are vibrant. It's also not that often that men's shoes come in pink. But thanks to the Endorphin Pro 3, that's no longer true. And we LOVE IT! These shoes come in three colorways (along with a black and white version), and boy are we glad we received the pink. It's really just so different that I can't help but think they are awesome.
Construction:
First of all, the Endoprhin line of Saucony is highly touted. We recently reviewed the Endoprhin Speed 2, a return to Saucony for us, and loved it. The Pro 3 is the top elite shoe in this line and it doesn't disappoint. The PWRRUN PB cushioning is stacked high and provides a ton of cushion while the S-curve carbon plate provides some forward momentum to keep you moving quick. Actually the height is at the legal limit of stack height for professional runners – so you are literally getting all you can ask for. With the high height, there maaaaay be a little drop in stability, but I felt comfortable the entire time at my pace (~8 min/mi)
Seriously, this is an amazingly constructed shoe.
In the Speed 2, the upper was modified for added mono mesh breathability and this seems to also be the case in the Pro 3. The tongue is thin but has stayed put in all of our runs in this. While we have put in a lot of really great miles in this – the thing I will remember is just pulling it out of the box and – the next day – just saying "let's put in 11 miles and see what happens". Well, what happened was a super comfortable and supported run at a pace I was thrilled with.
The outsole is made from XT-900 rubber outsole and the traction was top notch as well. Even with all of that – these shoes weigh in under 8 ounces for most sizes.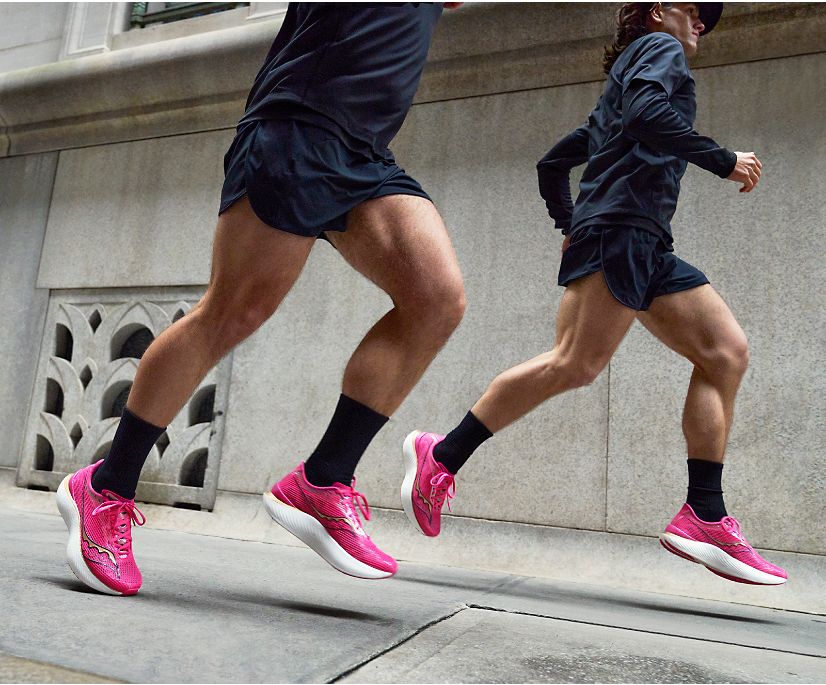 Nerdy Tech Specs:
SPEEDROLL Technology propels you forward effortlessly
Toe the start line with a max stack of high-performance PWRRUNPB foam cushioning
S-curve carbon-fiber plate gives you the perfect amount of spring and pop
Stay comfortable with a lightweight breathable mesh upper
FORMFIT design hugs every part of your foot for a personalized fit and feel
XT-900 outsole grips the road better
Overall:
The Endorphin Pro 3 is an amazingly top-notch racing shoe. It's super light and with a ton of positive qualities along the way. The heel sits sorta high on the back, but I have yet to experience any blister issues yet.
The price is on the steep side, but that's the case with all elite racing shoes nowadays. The colorway may get all the comments (rightfully so – it's beautiful) but the tech really shines here. I love it.
Products & Price:
Endorphin Pro 3 | $225

Weight: Men 7.9oz (M10.5)
Offset: 8mm
Stack Height: 39.5mm heel/31.5mm forefoot
---
Thank you to Saucony for providing us with test shoes. Please read our transparency page for info on how we do our reviews.