There are many corners a runner can cut when it comes to workout gear – cheaper shirts, uglier shorts, and maybe even some inexpensive accessories. But not the shoes. Never the shoes.
While shoes are obviously important as it pertains to those you wear when running, it's perhaps overlooked to have a good pair for other workouts as well. I would venture that for most of us, the majority of our workouts are on the treadmill, streets, or trails. But I also know there are many out there who work out in other ways as well – be that weightlifting, plyometrics, or some other form of training. Read here for why strength training is so important for runners and the benefits of plyometrics for runners.
Thus, if you have been alternating your workouts, or are looking to do more of that, having a pair of shoes that can hold up to the different needs are important – and that's what the UnderArmour HOVR Apex 3 Training Shoe is all about.
UA HOVR Apex 3 Training Shoes
You may have heard of the UA HOVR system before, and that's with good reason – Under Armour uses this same HOVR foam in many of their similarly-named running shoes. It is designed to reduce impact, return energy, and help propel you forward – attributes great for both running AND for other forms of exercise as well.
Looks: The Apex3, to me, almost looks like a hybrid of a running shoe and a basketball shoe. It's definitely got some visual structure and heft to it. Usually running shoes attempt to keep as many extemporaneous things off of the shoes to cut weight, but in a non-running medium, having a little extra is not a bad thing. The most noticeable visual is probably the hardened strap construction that runs along the sides and underneath the foot, meeting at both sides of the laces. This is provides support and heel stability while still allowing the front of the foot to be able to move freely.
The second main visual is the color scheme. We reviewed the Black/Radar Blue version, and it is definitely the most understated and basic color scheme of the four available. While we really enjoy how this one looks (probably the most like a lifting/cross training shoe), we absolutely love the other three – and are obsessed with the White/High-Vis Yellow version.
Construction: 
Responsive UA HOVR™ cushioning reduces impact, returns energy, and helps propel you forward
UA HOVR™ foam is contained within firmer EVA midsole for perfect balance of comfort & performance
Lightweight mesh upper with 3D print for unrivaled protection & durability
Strap construction provides superior support, unlocking forefoot movement & stabilizes the heel
UA TriBase™ maximizes ground contact, promotes natural motion & provides flexibility to grip during lifts
It is very evident that UA makes a great shoe. I have fallen in love with their running shoes over the past few years (which seemingly came out of nowhere) and I feel that their knowledge in both the running and team-sports lane makes this construction pretty top notch.
I found the upper to be very flexible, which is both nice and necessary when exerting yourself (and your feet) during explosive exercises. It has proven to be breathable as well.
The toebox does have a rubber buffer that extends from the bottom up the toe for protection. While this is good for protection, I found this to be a little narrower than expected and think some plyometric exercises could potentially lead to scuffing on the sides of the protector. Overall this isn't a huge deal overall, and it is probably lessened or diminished if you are solely utilizing these indoors or in your garage, but is still worth note an consideration.
Fit: I will note that buyers should not expect a lightweight shoe – as we runners are usually accustomed to attaining. The Apex 3 weighs in around 13.5 ounces for males and 9.3 ounces for females (and more as the sizes get bigger), so it's not going to be the airiest thing you have worn on your feet. However, this weight is not daunting when it comes to cross-training and I have not felt like my feet have been sluggish as a result. They are actually a bit lighter than the previous version of the Apex.
The combo of the HOVR midsole and Tribase sole really provide the support and stability necessary when working out. Last year, I utilized running shoes to lift in and, honestly, this was the first time I realized that they are not up to the task. I felt wobbly and unsupported during certain exercises, which makes sense considering that we are talking about two different fitness needs. During balance lifting (think single leg dead lifts) or explosive lateral movements (i.e. plyometric skaters), I just felt like I didn't have the right grip or structure to do them as intended. The construction of the midsole and the outer really have put this to bed and I feel 100% more confident in doing those same exercises.
The hardened strap on the sides feels like it locks the foot in place to provide that stabilization, yet hasn't felt constricting. I will note that these plastic straps are embedded directly with their own eyeholes to utilize when lacing. While I haven't noticed it yet, I anticipate – just from its general construction – that this may cause fraying on the laces in the future. Replacing laces isn't the worst or most costly fix, but it is important to note that you may need to eventually plan for this.
Overall: I have loved these shoes as I re-ramped up my commitment to cross training this year. These shoes could probbbbbably handle some shorter runs in a pinch (say up to 3 miles or so) considering that the HOVR midsole is available in their running shoes as well. However, their lane is definitely specifically for more stationary and explosive cardio options. Along that line, I feel they would be perfect for workouts with a combo of the two – think Bootcamps (via the Peloton app perhaps), CrossFit or CrossFit-type scenarios, or just alternating between multiple types in one day.
I can't wait to continue using these in my home gym this year and maybe I will finally defeat those deadlifts I have been struggling with.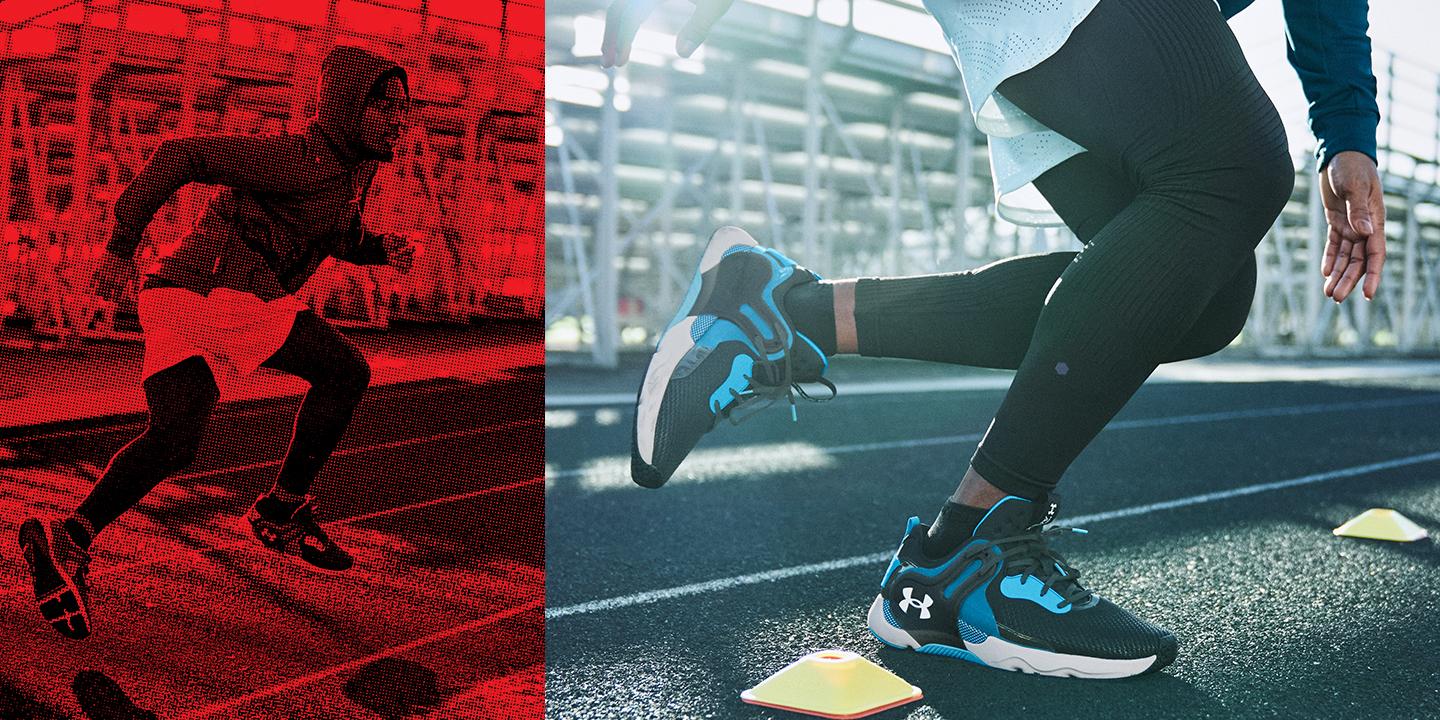 Company: Under Armour
Products & Price:
Specs:
Offset: 8mm (32 mm heel / 24 mm forefoot )
Weight: Men's 10: 13.5 oz / Women's 7: 9.3 oz
More about Under Armour HOVR Apex 3:
The UA HOVR™ Apex 3 gives you cushioning with incredible energy return for explosive movements. Then adds in a durable layering system and a flexible outsole to help stabilize every forward, backward, and side-to-side burst.
---
Thank you to Under Armour for providing us with a sample pair. Please read our transparency page for info on how we do our reviews.