True runner confession: I had never run in PUMA shoes before a few weeks ago. It's not that I didn't like them. Quite the contrary, I've always thought PUMA shoes looked pretty sweet in style. They just weren't really on my radar for running.
Well, PUMA has announced that they have revamped their running shoes considerably. They are working with new foam and technology that ensures that they won't stay off the running radar any longer.
I received a shiny new pair of the PUMA Deviate Nitro SP Women's Running Sneakers. Maybe this isn't something a true runner should care about, but it's worth mentioning that these shoes were really cool looking right out of the box. They are white and shimmery in a way, with pretty rainbow colors threading thru them. The material is somewhat transparent throughout most of the shoe, so much so that you can actually see what color socks you are wearing. What this really means is that the shoes are as light as a feather on. These are definitely NOT on the clunky list of running shoes. In addition to the shoes looking cool, there are reflective elements of the shoe to help with visibility no matter what time of day you want to tackle your run.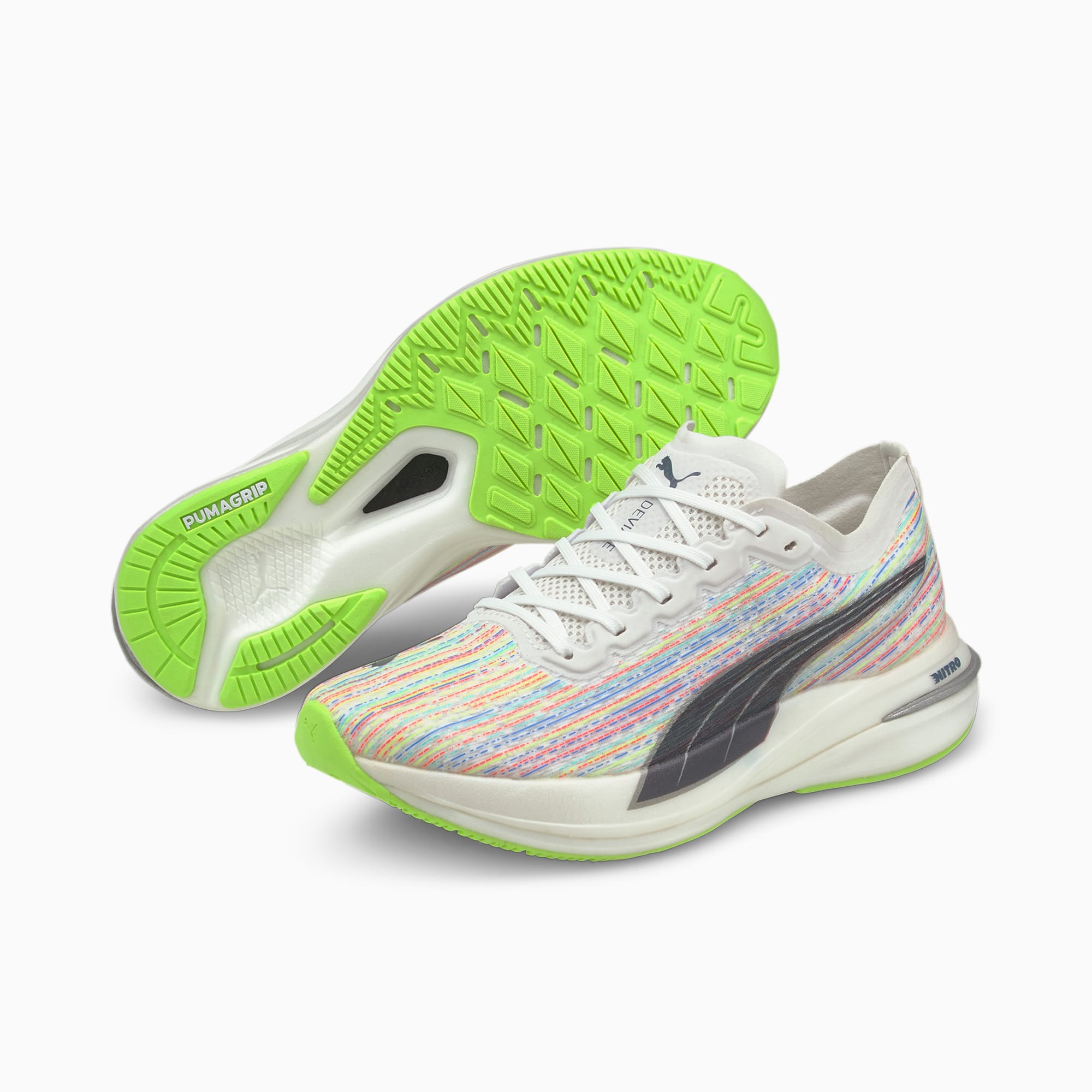 As for the legit specs on these shoes, PUMA is using an innovative plate design, called the INNOPLATE, which is the carbon fiber propulsion system meant to propel you forward with every stride you take. PUMA also brings runners their NITRO FOAM technology in the midsole, which provides premium cushioning and a high responsiveness despite the shoes being such a lightweight style. Finally, the PUMAGRIP is a durable rubber compound meant to handle all surface traction, and the COOLADAPT is the cooling technology all runners appreciate this time of year.
I took the Deviates out for several runs of 6 miles or less, and I was surprised by how supportive they were despite the lightweight look and feel. I don't typically gravitate towards any sort of minimalist shoe, as I do not have a lightweight body style or stride. I am very much a middle of the pack runner and I'm not getting many calls to the podium at races. I will say that the Deviates will likely never be on my short list of contenders for my double digit long run days. However, the Deviates will work wonderfully for all my midweek running, so that's my plan for the future. I can also confirm that I have gotten compliments on them every single time I've worn them. These shoes will get worn at the track as well as off, because they are comfortable and cute too. They make me look way more stylish than I am.
Company:
Products & Price:
Specs (from website):
Low boot
New running last on upper based on industry-best fit metrics and testing
Upper executed in breathable engineered mesh
NITRO FOAM in midsole for superior responsiveness and cushioning in a lightweight package
INNOPLATE acts as a level for maximum energy transfer at toe-off
Durable PUMAGRIP rubber compound outsole provides all-surface traction
Heel spoiler: visibility and stability thanks to TPU heel piece
Reflective branding ensures you're seen day or night
PUMA Formstrip on lateral side
PUMA Cat Logo on medial toe and tongue
More about PUMA:
THIS IS PUMA

Sport has the power to transform and empower us. As one of the world's leading sports brands, it's only natural that we want to stand on the same playing field as the fastest athletes on the planet. To achieve that, the PUMA brand is based on the very values that make an excellent athlete.

BE BRAVE

We're never afraid to take risks. We trust our instincts to make unexpected choices that push sport forward.

BE CONFIDENT

Whatever we do, we do with conviction. We make strong statements, we are bold and we believe in ourselves.

BE DETERMINED

Nothing comes between us and realizing our dreams. We believe success is an endless pursuit to improve ourselves and how we play.

BE JOYFUL

We live to play the game. For us, sport is more than winning at all costs. We revel in the pure joy of sport competition and play.
Thank you to PUMA for providing us with a sample pair. Please read our transparency page for info on how we do our reviews.