If you have been following us this month, you have probably seen some of our features of new footwear from Merrell as a part of celebrating Trail Running Month. In this post, we are featuring a couple new shoes that fall on both sides of their spectrum – the Agility Peak 4 and the Moab Flight.
Matt's Thoughts: The Agility Peak 4 is a more rugged trail shoe – designed for, as the descriptor suggests, more complex terrain. It has a Vibram MegaGrip outsole to aim to tackle on these sorts of surfaces in no matter the weather. It has a toe cap (as with rugged trails comes rock kicking) and a rock plate for protection as well. It is definitely a solidly constructed shoe that keeps your feet ready and protected.
Though Merrell does an admirable job at trying to keep the upper minimalistic with a mesh lining and FloatPro Foam midsole, note that these may feel like they fall on the heavier side. As a heavier runner (usually 190-200 lbs.), the midsole provides a really solid cushion and reminded me allllmost like a Hoka feel. 11 ounces in a trail shoe is definitely not that heavy, but its construction and commitment to foot safety had me feeling like these were hiking shoes on a diet.
Now, I will also state that that's not actually even a bad thing. Due to a sore knee that has plagued me on downhills since the Backcountry Half 20-miler in early August, I haven't had the opportunity to take these out on any significant trails, but I was able to tackle some relatively flat trails at Willamette Mission Park that came adorned with some rocks and stones. The Agility Peak 4's handled these really well and I feel that they will be up to the task when my body is fully healed.
I also anticipate these taking the place of my actual hiking shoes over time as well as they are a nice middle ground between the two activities. And they look flashy as hell too (though there are some more streamlined colors as well).

---
Nikki's Thoughts: I was initially surprised to hear that the Agility Peak felt like a heavier shoe, but it makes sense considering that the Moab Flight is considered a "light trail" shoe when compared to other styles that Merrell has to offer. My go-to trail shoes before the Merrells came to me were Hokas, so it's possible that I'm just used to shoes of a certain weight, and these fit the bill. The Moab Flight, despite it's "light descriptor" created a fit that has been made to now cover more distance than ever, so a 15 miler on Wildwood was a good place for me to start. I wouldn't necessarily do that with new shoes, but Merrell is a trusted brand and I took a gamble.
The gamble paid off. My feet stayed fresh for the duration of my first trail run in the Moab Flights, and they hugged the trail hills well. These shoes have a protective cushioning underfoot to give you comfort and the right amount of give. The FloatPro Foam midsole that Matt mentioned above makes a trail runner feel light on their feet and the footbed has removable EVA with a 50% recycled top sheet.
I had no stumbles or falls on the trail in these, despite feeling a bit wiped out after about 10 miles. If I'd received these shoes a week earlier, I wouldn't have hesitated to take them on a weekend hiking trip at Goat Rocks in WA. These shoes would perform well for all terrain, no matter how long you're on your feet. They have a mesh lining which is very breathable and the mesh upper is made with 70% recycled materials.
I'll wear a pair of Merrells on the trails any day, all day.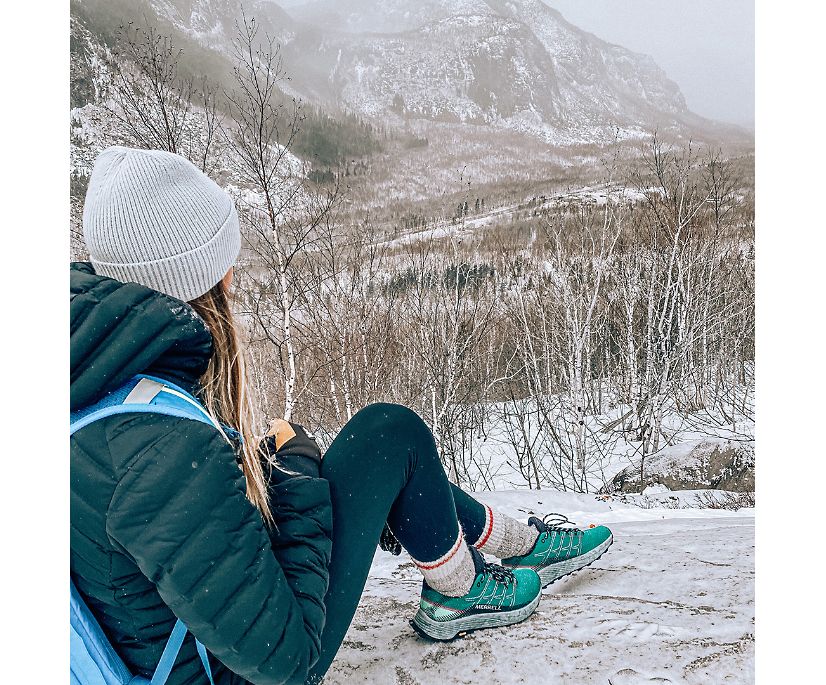 ---
Products & Price:
Merrell (Facebook | Instagram)
More about Merrell:
WHO WE ARE: Merrell exists to share the simple power of being outside. We believe the trail is for everyone. Our goal is to provide thoughtfully designed, rigorously tested products that over-deliver on performance, versatility, and durability.

OUR PURPOSE: At Merrell, we believe in sharing the simple power of being outside. No matter who you are, where you came from, who you love or how you move — Everyone should be welcome in the outdoors and wherever life takes us. We strive to inspire everyone because, together, we can help protect the trail we love.
Thank you to Merrell for providing us with sample pairs. Please read our transparency page for info on how we do our reviews.