Every year, they have a collection of running pieces that showcase a different part of the world in the colors options, designs, and artistic creation. This year they are launching their Phillippines collection, which is described as such:
Each Janji collection is informed by our adventures — our spring '20 season takes cues from the archipelagic beauty of the Philippines. A neutral earth and sea palette is punctuated by bursts of near-electric colors and nature-inspired prints for super tropic vibes.
These designs are available in a variety of tops, shorts, and pants for both females and males.
The first design is their sweet Midnight Plaid – a style I was drawn to right off the bat. "Riffing on the urban grid, the wildly colorful jeepney taxis found throughout the Philippines, and the Sampaguita flower, or Philippine Jasmine, our Midnight Plaid Print + H20 Vine Racer Graphic is a fresh spin on a heritage textile that makes an unexpected and vibrant run kit." I was sent a pair of their 5″ AFO Middle Short in this style.
The AVO Middle Short are your pretty standard running short if you're just looking at them from the outside (although I do think these are pretty stylish). The difference is what's on the inside. These have been updated a little for 2020 and feature an interior brief liner pocket, with a little bungee for keys, and a redesign of the back pocket – a smart move. I have worn Janji shorts before and my main gripe was that back pocket not being flexible enough.
My favorite thing about these shorts is the inside liner. Some running shorts use a mesh liner, which is nothing new, but after long runs I have found that chafing can become an issue for me. Their liner is a moisture-wicking brief style which was closer to more of a tech shirt feel rather than a mesh swimsuit feeling liner. This worked wonders in reducing chafing and surprisingly stayed much drier than I initially expected it to.
The outer is a breath of fresh air (quite literally) when compared to some of the more traditional running shorts which don't breathe nearly as well. The woven AFO construction is flexible and breathable enough to keep you cool and dry in even some of your hardest runs. I should also mention that these are some of the lightest shorts I've worn as well, weighing in at under 4 ounces. .
Janji has a few other themed designs in the Philippines collection as well – Flora Laguna, Apo Reef and Eagle Ray – in addition to multiple new single-color items.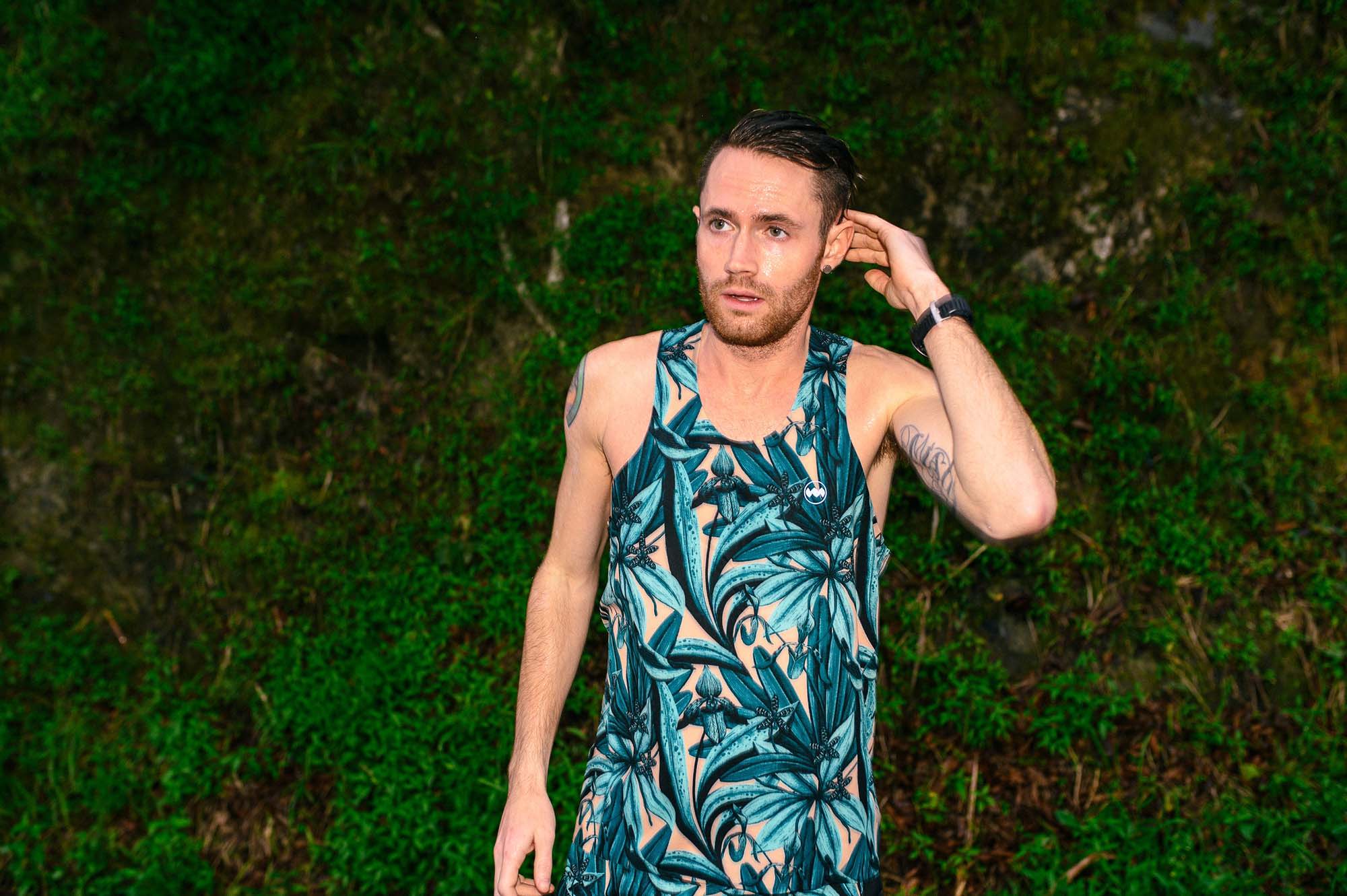 The Flora Laguna Singlet style was created a Manila graphic illustrator Raxenne Maniquiz. She specializes in drawing the flora and fauna native to the Philippines. Her inspiration comes from "a deep fascination for the peculiarity of different species" so much so that she has actually been contacted by botanists and biologists to collaborate on research papers.
Inspired by the Orchidaceae, or orchid family, and including three different species endemic to the Philippines, as well as the Cebu Flowerpecker bird, this print is an homage to the strange and endearing beauty of the flora and fauna of this world.
Janji singlets may in fact be the lightest tops I've ever worn – weighing in at about a mere 2 ounces. Due to its stretchy, lightweight, breathable, and moisture-wicking AFO (AirFlatOut) fabric. – it seriously feels like it's not even there. I have lost some weight since my last time checking out these tops and now I would actually recommend sizing down from what I am used to (currently 6'1 and 190 pounds would equal a Medium now). This continues to be a mesmerizing top, as it feels and looks like it is cut from a singular piece of fabric – due to the bonded seams around the arms and neck areas. And that means less (if any) chafing as a result.
I have continued to wear this when running in the garage the past few weeks, but haven't found the weather solid enough yet for outdoor running (but soon!). The design and weight make it a perfect tank to take on a relay or tropical/warm weather "runcation" due to the lack of space and weight it takes up. It is once again HIGHLY recommended  – not to mention that the purchase will assist with the amazing local work they are doing).
Lastly, we were sent Janji's TT Short, a linerless option that sits a little longer (6″) and, I feel, makes a nice crossover short that can transition between running and casual wear. It's a little heavier than the AFO running shorts, but just barely (4.7 ounces). It has the features for anytime a run is in order (breathable, wind and water resistant with a DWR finish, fast drying, reflective qualities) while maintaining everyday wear qualities like pockets and a streamlined, single-color design. There are some small 2″ splits on the sides which may give it away that these are actually designed for running, but honestly what's stopping you from using in either setting?
These shorts are super comfortable with an elastic waistband to keep things at the right tightness. In my testing on runs and out-and-about, I have never had any issues with fit or comfort. Even on a relatively warm (80 degree) day a while ago, the shorts didn't glom onto me, even when having a rousing backyard volleyball game with my girls.
Overall, Janji has nailed it with their new Philippines collection, and their TT shorts are a welcome addition as well. The price and quality are definitely there and I am happy to add these to my rotation. You can feel good knowing that 5% of the proceeds from your purchase go back to their selected nonprofit organization to fund clean water projects and they collaborate with local artists in the collection designs.
---
Company: Janji
Products: 
5″ AFO Middle Short ($64)

AirFlatOut (AFO) Woven: 88% recycled polyester, 12% elastane
Performance Brief Liner: 94% polyester, 6% spandex
AFO Singlet ($60)

AirFlatOut (AFO) Woven: 88% Recycled Polyester, 12% elastane
2oz (M's size Medium)
TT Short ($72)

Transit Tech (TT) Soft-shell: 88% Polyester, 12% spandex
Weight: 4.7oz (M's size M)
---
Thank you to Janji for providing us with sample items. Please read our transparency page for info on how we do our reviews.