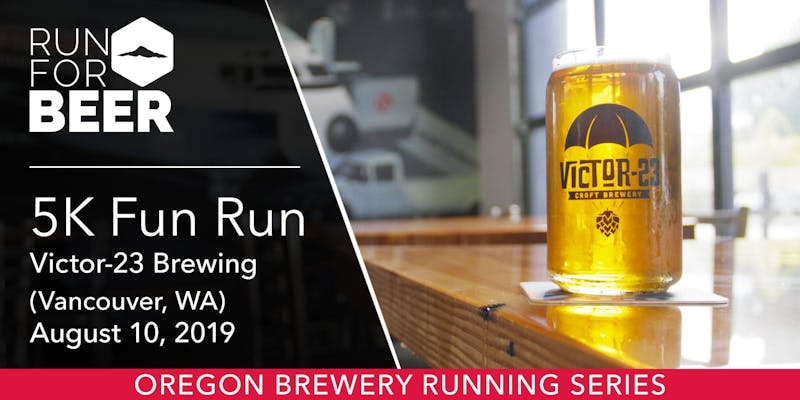 One thing that I love about the Oregon Brewery Running Series this year is their expansion to new breweries in the region. While there are plenty of breweries who have been a host for years now, OBS has ran, or is running, in Cannon Beach, Bend, and Boardman this year.  While there have been races in Vancouver before, this weekend's event at Victor-23 Brewing is new – and may be a brewery you have yet to try out. Here's some background on this brewery's name:
"Victor-23is a neighborhood craft brewery and pub that embraces the adventurous history of the Pacific Northwest. On a stormy evening in November 1971, a man known as D.B. Cooper hijacked a Boeing 727 flying from Portland to Seattle. In Seattle, D.B. released all the passengers once the plane was refueled and he was given 2 parachutes and $200,000 in cash. The plane soon departed and the pilot was directed to fly south on the Victor-23 airway. Somewhere in Southwest Washington, DB Cooper lowered the rear stairway and parachuted to an uncertain fate. Our brewery celebrates this unsolved crime and invites you to ponder the case over a cold pint of Skyjacker IPA, Flight 305 Amber, Jet Fuel Imperial IPA, or Schaffner Pilsner."
While the location may be new, the format for the Brewery Series events stay the same. This is not an exact "5k" distance and it's a fun run, so there are no chips for timing. The tentative route has not yet been posted, but the RD mentioned a significant portion on the scenic (and shaded) Burnt Creek Trail. Be sure to remember your ID if you're over 21 and would like an adult beverage, and get to the race 30 minutes early so you have plenty of time to park and get checked in. This is a smaller brewery, so parking may be limited.
And as always, 10% of the proceeds will help support Oregon Brewery Running Series nonprofit partners, the Oregon Brewshed Alliance, Dollar For Portland, and Life Vest Inside.
2019 Oregon Brewery Running Series 5k Fun Run/Walk – Victor-23 Brewing
When: Saturday, August 10th at 11:00AM
Where: Victor-23 Brewing
Cost: $30 without shirt, $40 with shirt
Register: Here