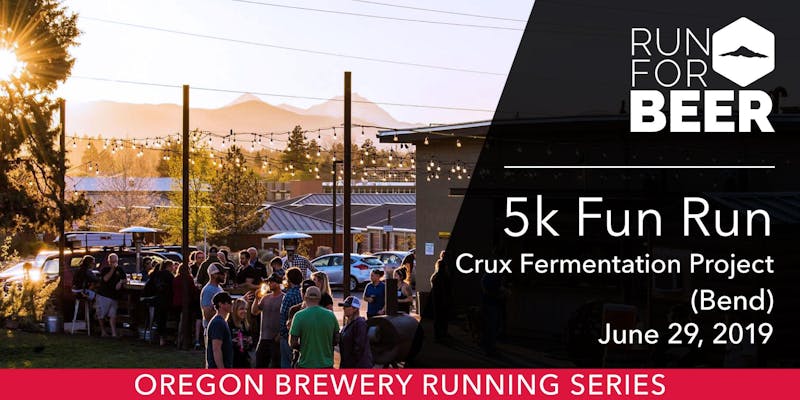 The summer version of the Oregon Brewery Running Series is expanding outside of the PDX area and is moving into some other great beer and running areas. Coming up on June 29, 2019 they are heading to Bend for their event at Crux Fermentation Project – a fantastic brewery near the Old Mill District.
While the city may be new, the format for the Brewery Series events stay the same. This is not an exact "5k" distance and it's a fun run, so there are no chips. The tentative route has been posted, and it will not disappoint. It will run through the Old Mill area, along the Deschutes River, and over through Drake Park and back. Seriously, this is a very solid route for a 5k. And then you get to stick around Crux afterwards – they have a newly renovated outdoor area that should be second to none. Be sure to remember your ID if you're over 21 and would like an adult beverage, and get to the race 30 minutes early so you have plenty of time to park and get checked in.
With the fact that the race starts at 11am, this may be one of the few Bend races that you can actually make as a day trip and not have to wake up at a ridiculous hour.
And as always, 10% of the proceeds will help support Oregon Brewery Running Series nonprofit partners, the Oregon Brewshed Alliance, Dollar For Portland, and Life Vest Inside.
2019 Oregon Brewery Running Series 5k Fun Run/Walk – Crux Fermentation Project
When: Saturday, June 29th at 11:00AM
Where: Crux Fermentation Project
Cost: $30 without shirt, $40 with shirt
Register: Here