I remember the "good old days" where you didn't need a watch to get out the door for a run. Someday maybe I'll tell my kids about the days when you needed an uncomfortable chest strap to track your heart rate, a clunky pedometer to track steps, or a hugely awkward GPS watch to track your milage. Now we have the technology to get all three and more in one simple, slick watch. And you can even track your sleep patterns, get email and text messages, and have it babysit your children. Okay, kidding about that last one, but seriously, we've come a long way on the technology front for running gear and accessories. Because there are SO many overwhelming options out there, I was really eager to check out Suunto and their take on GPS watches. The Suunto Spartan Trainer Wrist HR Watch seemed like a great place to start.
The Suunto Spartan collection is not only sleek and lightweight, but it utilizes technology called Movescount. The Movescount service allows you to track everything you'd need after a run.. your speed, distance, route, calories. There's a whole community on Movescount where you can create a sports diary and share activities as well. You can also connect your info to Sports Tracker, Strava, Preva, or TrainingPeaks.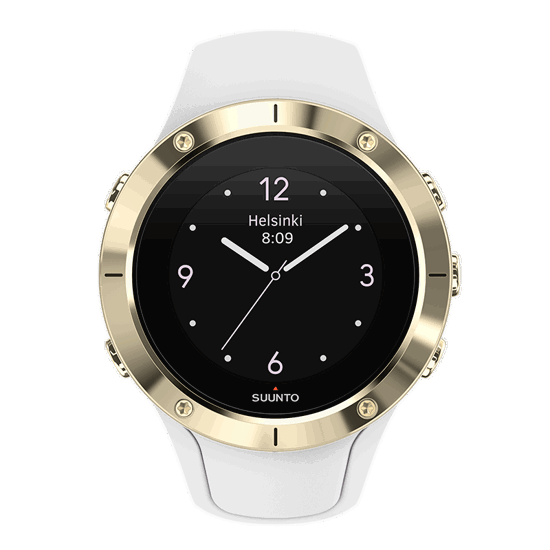 I like to "run light" and have gotten used to a pretty small GPS watch (about the size of a Fitbit) so I wasn't sure how big the Suunto Trainer would be in reality when I initially saw it on the website. Turns out that I shouldn't have worried. The heavy years of GPS watches seem to be a distant memory, at least where the Suunto Spartan is concerned. The watch is not a hindrance at all on my wrist and it's extremely lightweight. It's very easy to forget you are wearing a watch, which is saying something because I hate wearing anything all day (even my wedding ring ends up off a lot .. Sorry, hubby!)
When I saw the instruction book that came with the watch, I was scared there would be too many things in there that required a lot of set up, but it turns out most of the book was filled with just the minimal instructions in multiple languages. This company is in Finland, and they ship all over the world.  Setting up the watch was fairly easy, once you remembered which button was for what. In all fairness, there are only 4 buttons so it shouldn't be too hard to figure out on the fly, even if you are a bit technologically challenged like I am.
The biggest test for me, of course, was how it was going to perform out on a run. My regular GPS watch works great, but only once it finds a signal. I'm one of those runners you will see standing outside in my driveway with my wrist up to the sky, thinking maybe, just maybe, that will help the watch locate the signal. There are days I can't track my milage at all or days I've kept friends waiting for all those bars to show up on my watch. You won't get any of that with the Suunto Trainer. A couple clicks and off you go. If you want to check your progress and you're running in the dark, (like I often am in the morning,) there's a button you can press for the backlight to come on. The watch is quiet in the notifications when you reach milestones and it tracks all the metrics you'd need for any run.
After your run, you can plug the watch into your computer for all the stats you can handle on your run on Movescount. You can download the Movescount app for your phone also. Geek out! The watch is perfect for people who love stats!!
My other watch is constantly beeping at me during the day and I can't figure out how to turn most of those notification settings off. As mentioned, I could use some lessons in technology training, but the Suunto is nice and not at all disruptive in every day use. It tracks your heartrate from your wrist and your steps and calories are counted too, and all automatically. The watch comes in a few color options and is very durable, so it's great as an every day watch as well as a trainer.
Overall, I have really enjoyed getting to test this watch. I would probably prefer a bit more instruction in the guide that came with it regarding it's capabilities and how to tap into those features, but I am one of those people who does well with instructions. I realize there are a lot of people who never even take the instructions out of the box. Also, they are a waste-conscious company and all the paper it would take to explain all the features would be considerable. Like anything, it just takes getting used to a new thing, like when you get a new phone or computer. The learning curve is really not terrible.
I'm looking forward to giving this watch a whirl next weekend on my 50k. I have a feeling I won't be waving my wrist in the air out there on the trails.
---
Company:
Suunto  – Find them on Facebook here
Products & Price:
Suunto Spartan Trainer Wrist HR Watch ($329)  – Find it on Amazon here
Specs (from website):
Battery life 10h in training model (up to 30h with power saving options)
GPS tracking with speed, pace and distance
Ready for all your sports: swimming, running, cycling, gym, hiking, and more
Convenient wrist-based heart rate
Compact size and optimal fit for sports and daily wear
More about Suunto:
Suunto was born in Finland more than 80 years ago, when championship-level orienteer and keen outdoor enthusiast Tuomas Vohlonen invented the mass production method for the liquid filled compass.

Since then, Suunto has been at the forefront of innovation, hand crafting premium sports watches, instruments and dive computers that have been tested in the world's harshest conditions. From the beginning of time, man has explored. All that has changed are the tools.

The word "Suunto" comes from the Finnish word meaning "direction". Suunto is pronounced "Soon-toh".
Thank you to Suunto for providing us with a sample pack. Please read our transparency page for info on how we do our reviews.