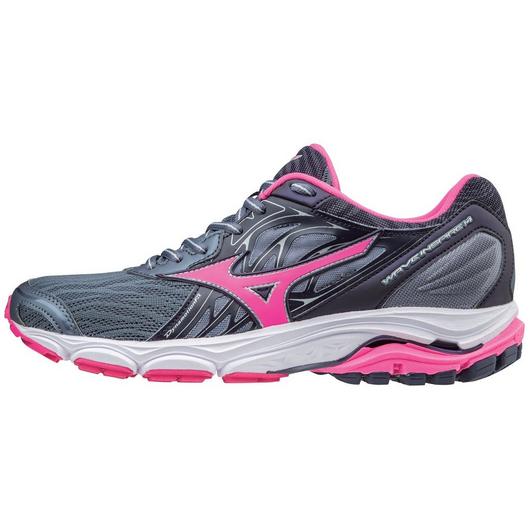 After spending the last two years running in more minimal shoes, it was a good experience to mix it up with the thicker (but still surprisingly light) Mizuno Wave Inspire 14. I've been using them for the past month during my shorter training runs as a break from my regular shoes and regular experience.
Many of the reviews I read online about these shoes highlighted their sturdyness and support. Those comments had me worried that I was about to add heavy weights to my feet and then try to make it around the neighborhood. While the shoes are very well-supported through cushioning in the soles and heels, I did not notice a signifcant weight difference that my other equipment. And that extra height was a great thing when some Pacific Northwest storms hit and I had some extra distance between me and the bottom of puddles.
I know you are not supposed to choose your shoe based on visuals. However, after not being able to look directly at my last pair of shoes (they were bright Barbie-pink), it was a bonus that the "Folkstone Gray and Pink Glo" shoes were bright enough to make me feel like a runner but chill enough to match my running clothes. Side note to shoe designers: Shoes can look nice and be comfortable. Mizuno proves it.
Overall, I will definitely be keeping these shoes in the rotation. They gave different muscles a workout than my other pairs and had me feeling pretty stylish in SE PDX.
Company: Mizuno
Product: Wave Inspire 14
Price: $130 (men's and women's)
Why: "From first to last step, runners seeking guidance will find a smooth and supportive ride in the latest version of this category leader. Our new cloudwave technology combined with our traditional Wave "Fan Shaped" support design delivers the cushioned, responsive, and stable ride."
---
Thank you to Mizuno for providing us with a sample pair. Please read our transparency page for info on how we do our reviews.