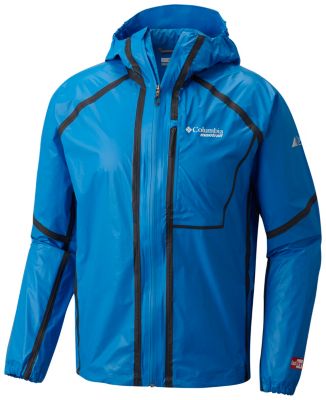 If there is one item of running apparel that every PNW runner needs, it's a solid running jacket. While we may take to the treadmills for a few runs, I know most runners are going to brave the rain when they can – there's just no way around it. I can tell you that some of my most rewarding runs have been the ones where I braved downpours and lived to tell the tale! Columbia sent us a few pairs of their new shell – the Outdry EX Caldorado.
This shell comes in two colors for both men and women – a royal blue and a bright neon yellow (called "Fission"). It has some really great qualities going for it, including some that are right in a runner's wheelhouse. First of all, the fit is quite nice. It probably fits a teeny-tiny bit small, but not enough (for me at least) to size up. I wear Large running apparel and the Large of the Outdry fit me quite well.
While this isn't one of those uber-light and thin jackets – there is a little substance to it. It just feels tougher and more resistant than other options I own (which do fine). That being said, it is still super lightweight all things considered, but don't expect some "barely-there" jacket. The hood is adjustable and has a slimmer cut than I am used to and I found it to actually work quite well even in wind. It's also pretty dang warm for a running jacket. The cuffs have elastic and the hem has a drawstring that can really keep your heat in if necessary. There are also vents under the arms for air flow and reflective on both sides for those dark and stormy nights on the road. The chest pocket has also got a lot of usage for my phone when I have forgotten my running belt.
I really like this jacket. I found it to be a really good sweet spot between providing water protection and being lightweight. I'm not 100% sure if it would be my primary choice for light and sporadic rain, but it's definitely getting grabbed when the steady Oregon rain is in full effect.
Want to learn more about OutDry?
---
Nikki: Even as a pretty experienced Oregon runner, I find the Spring and early Fall to be challenging. The weather is not as cold as it was in the winter, but it's a wet season and it's difficult at times to answer the age-old question of "what do I wear for my long run?" A good Spring jacket in the Pacific NW has to meet two criteria for me: 1. I need to stay warm but not overheat, and 2. I need to stay dry. The Outdry EX Caldorado Shell met both of these criteria for me when I ventured out on a particularly rainy morning run. The material is very lightweight, (though "swooshier" than some weather-proof jackets, if that's a real word) but it kept me completely dry from the rain. I never felt too hot, so the ventilation did a great job of not trapping me into a personal steam box of my own sweat. And though I'd recommend wearing a long-sleeved shirt underneath, as it is meant to be a "shell" rather than a winter jacket, I did not feel cold while wearing it except when starting, which is pretty typical of me and probably most runners trying to warm-up.
I typically wear a size small top, and the small jacket was perfect. As Matt mentioned, it might run more on the smaller than the larger size, but I don't think it would be an issue unless you plan to wear a lot of thick layers. I did really like the way that it hung on my body and the adjustable hood is nice. It's also super cute as well as functional, so  if you are looking for something aesthetically pleasing, you can't go wrong. I definitely plan to keep this jacket handy for all of my wet runs until the summer gets here.
---
Alexa: Growing up and running in the Pacific Northwest my whole 
life, I am pretty used to being soaking wet from rain, but as I started training longer distances, I found that being wet for 20 plus miles isn't healthy, comfortable or fun. However, most jackets make you super hot and sticky quickly. So, you have two options, run soaking wet or run hot and sweaty. I had tried one shell jacket in the past and found that it clung to my skin and got heavy with the rain, I wasn't sold.
Luckily, I was given the opportunity to try the Outdry EX Caldorado Shell. When it first arrived, I was very pleasantly surprised by the look of it. It is cute and is a nice color. It is bright but not overwhelmingly bright. Now, the goal was to see if it was cute and functional, which is rare. I took it out for a spin in our gorgeous Spring rainy season here in Portland. When I started the run, it was cold out and the rain hadn't quite started yet but I knew it was on the way. Like Nikki said, upon first putting on the jacket over my tank top, the fabric is a bit chilly, but I knew that would change quickly. As I got into the run, the rain started to come down, light at first and getting heavier and heavier over time. The jacket repelled the rain, keeping me dry and comfy. The weight of the rain didn't weigh the jacket down on me at all. It stayed flowing off my body. The top of the jacket has a high collar option, which is nice to zip over the bottom of your face as the rain pelts down. As I finished my run, I took off the jacket and looked at the little beads of water on it that it kept from soaking my body. I was damp from sweat but dry from rain. It was comfortable, effective, and did it's job as a shell perfectly.
---
Items:
Specs (from Columbia Website): 
OutDry™ waterproof/breathable fully seam sealed
Non PFC OutDry Extreme Membrane
Attached
Adjustable hood
Underarm venting
Zippered chest pocket
Elastic cuffs
Drawcord adjustable hem
Packable into chest pocket
100% nylon ripstop
---
Thank you to Columbia for providing us with sample items. Please read our transparency page for info on how we do our reviews.