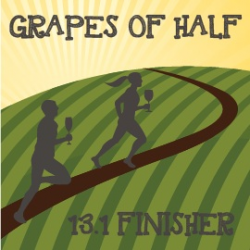 Wine Country in Oregon has become something to behold. People come from near and far to explore the gorgeous wineries and drink the delectable wines that the Pacific Northwest has to offer. And lucky for those of us who run, we get the opportunity to do races like the Grapes of Half, which is in the South Willamette Valley wine country and features some simply magnificent vineyard and pastoral views.
This year, Pink Buffalo Racing will host the 2018 Grapes of Half on Saturday May 19th in Eugene and if you've never run this race, you are in for a treat. You'll start the race at the Noble Estate Vineyard on a short gravel section of the property and then you'll be on your way to an entirely paved path that will take you past the Silvan Ridge Winery before finishing at Sweet Cheeks Winery. The course is professionally measured and marked and there will be course marshals all along the course to keep you from taking a wrong turn. There will be 5 aid stations, many of which have toilets available, and they all will have water, Gatorade, energy gels, and first aid. As you may have guessed, runs that tour wineries typically use words like "rolling hills" in their descriptions, so check out the course map here if you want to know what you're in for! The course limit is 4 hours, but this should give you plenty of time to enjoy the course.
Since this is a point to point race, shuttles will be available at Sweet Cheeks and Silvan Ridge starting at 6:30AM to get you out to the start line at Noble Estate Winery. The last shuttle will leave at 7:15AM so don't be late! Vehicles parking at the finish line will first be directed to park at Silvan Ridge (across the street from Sweet Cheeks) until the lots are full and then to Silvan Ridge. After the race, those who parked at Silvan Ridge will be able to shuttle from Sweet Cheeks back to their vehicles. There will be limited parking available at the start location and there will be no shuttle service back to the start at Noble Estate Vineyard after the race.
There will be a drop bag service by the start line at Noble Estate Vineyard, and Pink Buffalo Racing will ensure that your bag is transported to the finish near the Sweet Cheeks Tasting Room. Please plan to bring a bag and clearly mark it with your name and phone number. There will be clear plastic bags as an option if you don't have your own. Since there will be no indoor space, you might want to consider wearing some layers and shedding them for your drop bag before the race starts.
If you are a wine club member at Silvan Ridge, Sweet Cheeks, or Noble Estate, give them a call to see about a $5 off code. The wineries are all going to compete with each other to see who can get the most participants. Help your favorite winery win the competition!!
After the race, refuel at the bagel bar or grab some fruit, oatmeal, and/or a KIND bar. And after seeing all those vineyards on your run, it's your chance to try the wine! Each finisher 21 and over will get a wine ticket for a complimentary glass of wine from each of the wineries. You'll also receive a finisher medal and a custom event wine glass. Age group medals will be presented to the top 3 in each age group.
The cost of the race is $50 through May 19th, with a $5 discount available for 60+ and 17 & Under, (you must be at least 15 years old to participate.) Cost goes up to $60 on race day. The short-sleeved tech shirts for the race are pretty cool this year and only an additional $16 when you register if you'd like one. It's first come first serve, so be sure to snag one before they sell out.
Details:
What: 2018 Grapes of Half
When: Sunday, May 20th, 2018 at 8:00AM (last shuttle will leave Sweet Cheeks at 7:15AM)
Where: Noble Estate Winery, 29210 Gimpl Hill Rd, Eugene) Parking will be available at Sweet Cheeks and Silvan Ridge with shuttle service to the start.
Register: Here. A printable entry form  can be mailed to Pink Buffalo, PO Box 5404, Eugene, OR 97405. Mailed entries must be post-marked by May 10th and all entrants must sign the waiver.
Registration Cost: $50 thru May 19th, $60 on race day. $5 discount for ages 60+ and 17 & Under. Short sleeve tech shirts available for $16.
Packet Pick-Up: May 19th from 2:00PM-4:00PM at Pink Buffalo Paint & Sip (222 Pol Street, Ste B, Eugene.) Race day from 6:45AM-7:45AM at Noble Estate Winery