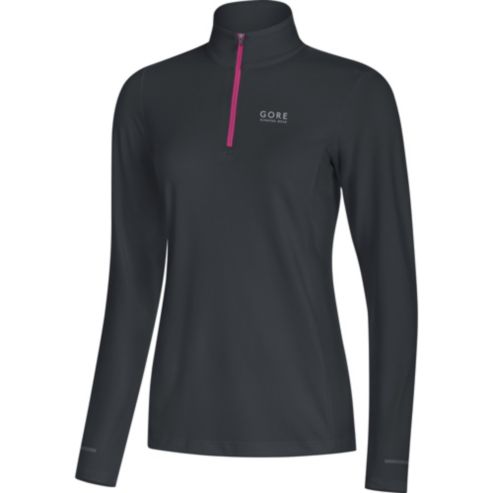 With the cooler, wetter days of fall/winter the time has come for warmer running gear. I received several items from Gore Apparel that are just right for running in the Pacific Northwest this time of year.
The Essential Lady Shirt Long is a great go-to piece. This 1/4 zip pullover is comfortable, breathable, light, and surprisingly warm. It has reflective elements on the sleeves and on the logo for visibility. While the shirt overall is simple in design, it is one of those that you'll use over and over because of the fit, feel, and versatility. One of the things I appreciate about the black/raspberry rose shirt is that it doesn't show a bit of sweat when I've finished my run. It also wicks the sweat away from me during my run so that I don't feel wet – despite my propensity for serious sweating. The only negative about this shirt was the collar. Because I don't wear my shirts zipped all the way to the top, the collar bounced around as I ran and kept hitting my jawline. I solved that issue by tucking the collar under and it didn't bother me at all after that. It is important to note that these shirts run a little small. I usually wear a medium, but I got a large and the comfort fit allows for a layer underneath without feeling too tight, but it is still somewhat fitted and not at all baggy. I am already a big fan of this shirt and am wearing this regularly as an outer layer for cooler runs.
A must-have for fall/winter running in the Pacific Northwest is a good rain jacket. I have tried countless running rain jackets that have turned out to be more like running in a sauna or only stayed dry for the first few miles. The Essential Lady GORE-TEX Jacket is the best one I've tried. It kept me totally protected from the rain and it breathed better than any rain jacket I've ever worn. While it did seem that this jacket could get too hot on a warm rainy day, it did quite well for running in a mid-40 degree deluge. This jacket has an adjustable hood – which adjusted nicely and kept the hood in place and even allowed me to turn my head to look behind me (instead of swallowing my face within the hood.)  The cuffs are adjustable and have elastic to keep the rain out of your sleeves. The zipper is protected from the inside so that no rain seeps in. This jacket also has reflective elements for safety. I got a neon yellow jacket which was great for visibility, and super cute – but that color is currently unavailable online. There are 2 zippered pockets large enough to stash your phone and still have room for more items. I have to admit, I am seriously in love with this jacket. There is no way I'll be wearing this just for running – there are many other times when I need good rain protection and the Essential Lady GORE-TEX Jacket is cute enough to wear just about anywhere. The size large in this jacket fits me perfectly even though I usually wear a medium, so I would recommend going up a size when ordering this jacket.
---
Company:
Products:
More About Gore Apparel:
We believe that runners and cyclists should be able to get out and live their passion every day of the year. Therefore we create highly functional apparel systems for every environment, every season and every kind of weather.

When creating functional apparel systems for dedicated runners and cyclists we ask ourselves one question: does this product make life easier for the athlete? If there is no clear answer we go back to the drawing board. With this experience we design unique, sport specific solutions and are always ahead of the curve. But it's also our belief that to truly develop great products it's not enough to rely solely on science, we must also understand the people who use them.

No two trails are the same, and no two roads alike. As dedicated athletes ourselves, we know. But we can always learn more. Therefore, we work in collaboration with our professional athletes. It's constant dialogue that enables us to challenge and enhance every seam, hem and pocket to face the real life situations and experience that our athletes and ourselves encounter, every day, out there in the elements. We learn by listening and sharing the pain and passion. That is how we develop function and true comfort that turns the pain into pleasure.
Thank you to GORE Apparel for providing us with a samples. Please read our transparency page for info on how we do our reviews.