We have been talking about Betabrand since August 2016, when we stumbled upon their own version of crowdfunding – prototyping designs in their crowdfunding area and determining if they become actual products given the popularity on their website. Blogger Marilyn and myself reviewed af few men's and women's casual items from their catalog shortly thereafter. As 2017 hit, and their catalog continued to grow, I thought it would be cool to showcase some cool items, with PNW sensibilities, that could be added to any wardrobe for different occasions. I wanted to see how someone could potentially wear nothing but Betabrand items from sun up to sundown.
Betabrand is an online clothing community, based in San Francisco. We design, manufacture, and release new products nonstop. Brand-new ideas spring to life on our site every day. Our fans co-design and crowdfund them into existence in a matter of weeks.

Betabrand is home to Web hits like Dress Pant Yoga Pants, Executive Hoodies, Bike-to-Workwear, Disco Hoodies, Black Sheep Sweaters, Cordarounds, and many, many, many more.

Our customers are our models.Our customers are our designers. Our customers are helping us build a brand unlike any other.
Here's what I came up with.
---
RUNNING: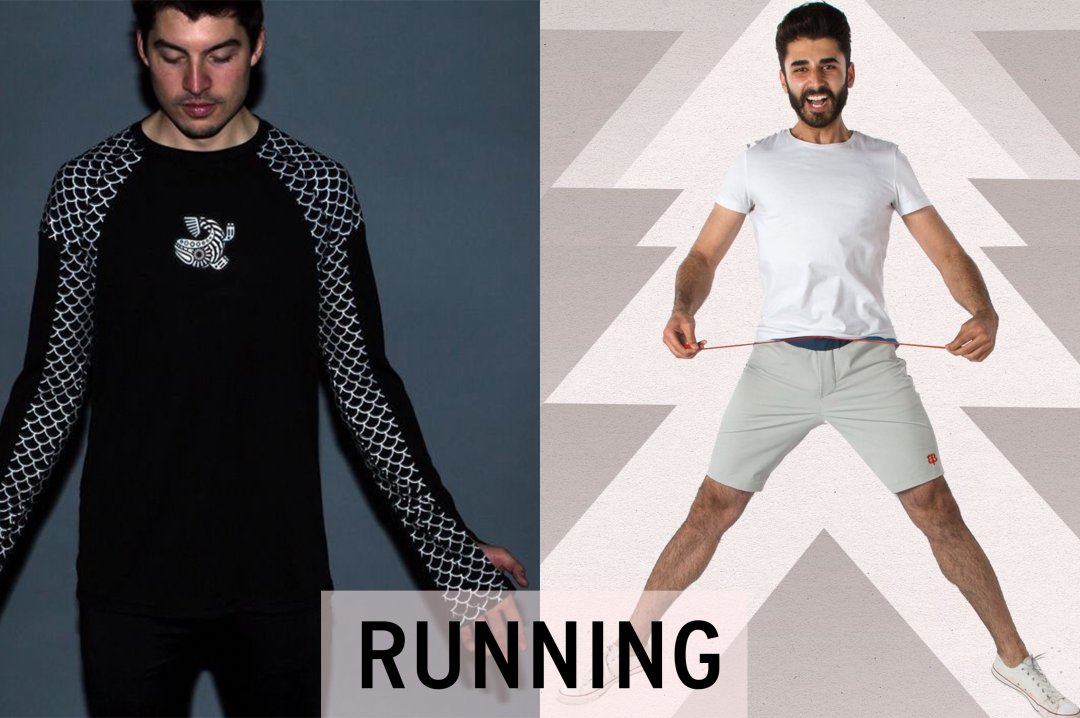 While I run a lot during my lunch break, if I had my druthers (and didn't already have to wake up at an ungodly hour, I would do it first thing in the morning. Betabrand has a couple of cool running items available. The Columbia River is ripe with Salmon, so why not stay true to our PNW routes by getting decked out in a Salmon Run Shirt, complete with reflective logo and scales. There is a small zippered pocket for valuables and moisture-wicking construction on this unique design. The Poppy Shorts are made of a quick-dry fabric and is super flexible – perfect for running and looking good while doing so. It could definitely double as a pair of shorts for the gym, beach, or even mowing your grass as well.
Items:
---
BUSINESS: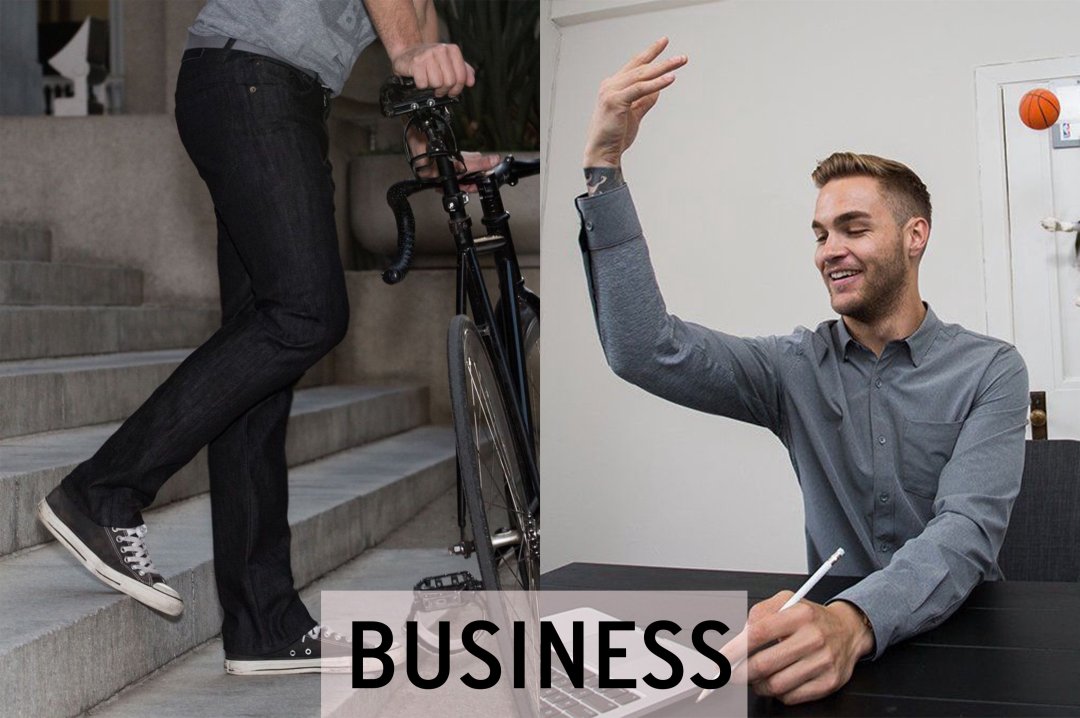 Following an early morning workout, the next step is getting to work. The Bike to Work Britches are made of a stretchier denim and are created with the bike commuter in mind. The crotch is gusseted for optimum riding comfort. Speaking of comfort, the front is a little lower to prevent you from stabbing yourself with your belt buckle, and the back is slightly higher to keep your…crack…well-covered. The pants come equipped with a U-Lock loop in the back left waistband and an internal phone pocket. There is also a rear pocket reflective flag that can be pulled out in night conditions, as well as reflective tape on the inseam and outseam of both legs!
Nothing will keep you longing for the trails more than being in clothes that are restrictive and uncomfortable. Couple the britches with the Ultimate Office Shirt, a stretch performance top with a jersey knit built into key locations – back, sides, and sleeves. While it fits and looks like a long-sleeved business shirt (get yourself a colorful tie to make it pop), it looks like it would be more comfortable than any "white-collar" apparel should dare to be!
Items:
---
POST-WORK DINNER CASUAL: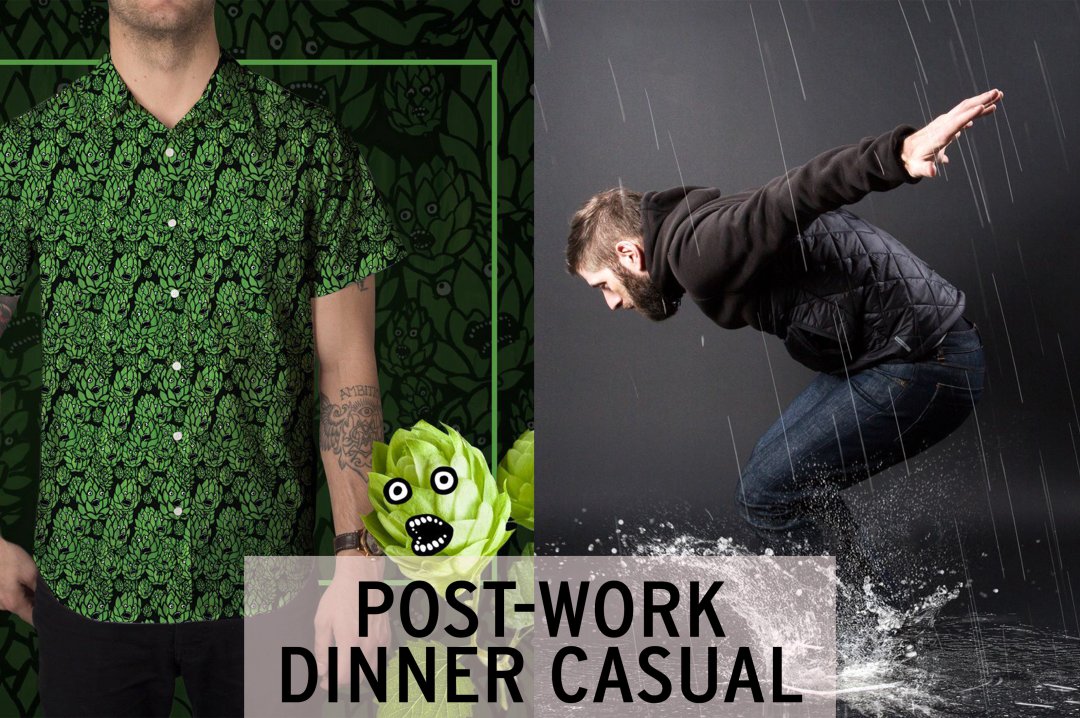 We live in Oregon and that means two things – we get rained on and we love beer. There's no way around it. The Screaming Hops Shirt is a great short-sleeved option that is sure to be the talk at any brewery happy hour you choose to hit up after work. This summer, it would also be a perfect top to wear to a Hillsboro Hops baseball game. Couple that with a pair of Rain Jeans, made of denim twill and coated with DWR (durable water-repellent). The back pockets even have flaps to keep the water out.
---
LOUNGING: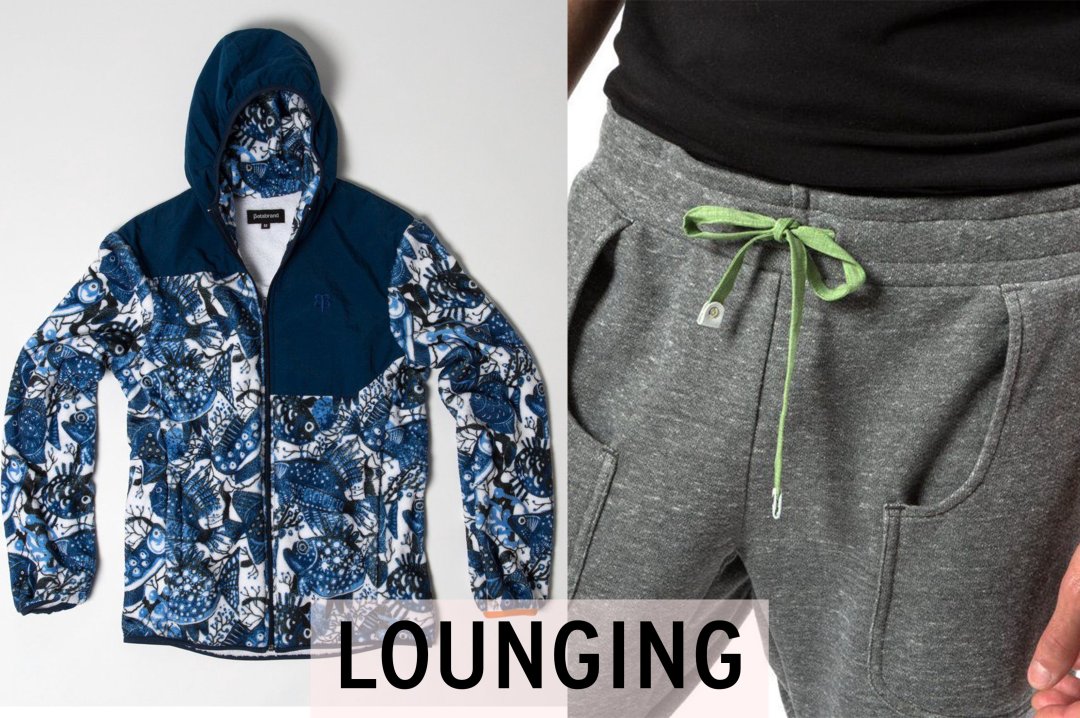 The first thing I do after I get home from work is change out of my work clothes and into some casual loungewear. While some of the items listed above may delay that process, I know that I will want to kickback and relax in something a little more reserved for the house. The Toaster is a comfy hooded fleece that is also water repellant and screams for bundling on those chilly nights. It can also be placed in a separate sack for packing or carrying, and can be used as a pillow when the situation calls (relay races anyone?). There a few amazing designs as well (my favorite is probably their standard Toaster). A great lower body option is the Sitting-Pocket Sweatpants, made of a cozy Terry and designed for lounging. It has front pockets with reverse entry – allowing you to sit and watch TV all evening and weekend without having to worry about your phone or valuables sliding out of them and getting lost.
Items:
---
I recommend that you check out all that Betabrand has to offer. Aside from the above listed items, there are really a lot of cool pieces that you just won't find anywhere else!
Thank you to Betabrand for providing us with imaging. While Run Oregon did not personally review any of our pieces, please read our transparency page for info on how we do our reviews.