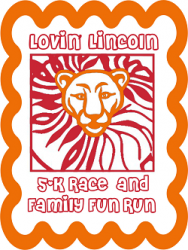 The fifth annual Lovin' Lincoln 5K, 10K and fun run offers a budget and family friendly event with a $10 5K or 10K and a $2 quarter mile fun run (or $5 for a group of 3 people) until May 19th.  Shirts are an additional $15 and if registering after May 7th, can be picked up at the Lincoln Elementary School office in Corvallis.   All proceeds from this event help funt the Lincoln Elementary PTO.
The post race activities will have plenty for the whole family to enjoy, as this event takes place in conjunction with the 8th annual Lincoln Elementary Carnival!  This fun and diverse celebration will feature music, dance, live entertainment by Lincoln students and local cultural groups, games and activities for children and families, a community resource fair, prizes, an auction and food from local businesses.
Lovin' Lincoln 10K, 5-K Race and Family Fun Run and Lincoln Carnival are put on by the Lincoln Parent Teacher Association. Proceeds from the race and the Carnival will directly support the students, teachers and programs at Lincoln School. This past year, the PTA funded field trips for every student, kept a snack closet filled so teachers did not have to buy food with their own money, and provided enrichment supplies for each classroom.
The course is described as a beautiful and  mostly flat 5-K and 10-K  which will start at Lincoln school.  The course will travel through local neighborhoods before connecting to a trail system in Willamette Park which will then lead participants to a foot bridge crossing and  then a short stair climb before heading back into the neighborhood and finish on the Lincoln soccer field.
Awards will be presented to the top three male and female finishers in each event as well as each first place participant in age and gender category.
The race asks that "for the safety of everyone, no dogs, bicycles, or roller skates/blades will be allowed in the run. Strollers allowed in the 5-K at the discretion of each participant as the stroller will have to be maneuvered up a series of stairs mid-race."
Race Details:
When:  Saturday, May 21, 2016
9:00 am – Packet pickup
9:45 am – 10K
10:00 am – 5K
11:00 am – Family Fun Run
Where:  110 SE Alexander Avenue,  Corvallis, OR
Registration and the start/finish are located at the rear of Lincoln Elementary adjacent to the playground at 110 SE Alexander Ave.
Registration:  Get me registered website offers online registration until May 19th.  $10 for 5K and 10K and $2 for the 0.25 fun run (or $5 for a group of 3)