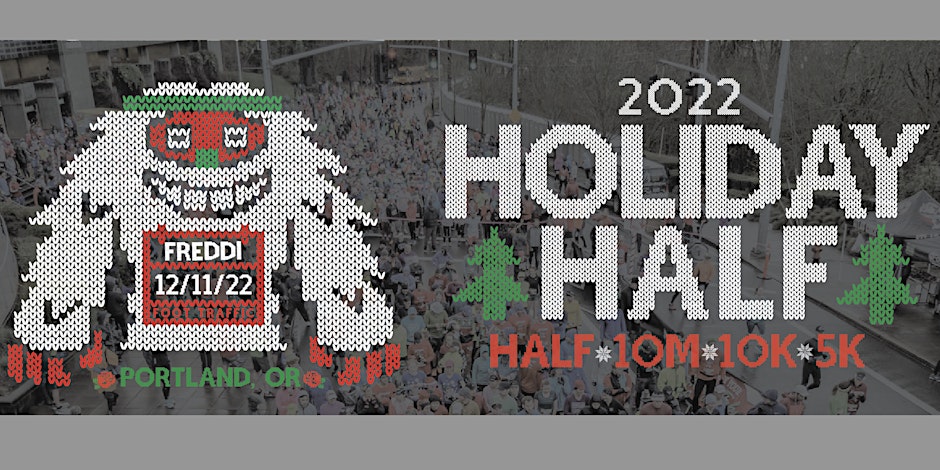 Signing up for a December race in Portland means taking a gamble with wilder odds than anything in Vegas. In my years running the Holiday Half, I've experienced downpours, frost, a smokey closure, perfect brisk sunshine, and wet snowflakes covering my cap. And I've also experienced the most well-earned gingerbread cookies ever.
The Holiday Half includes multiple distance options, including half marathon, 10-miler, 10K, and 5K options. All participants start the out-and-back course at Daimler Trucks, which means a really tough hill in the first mile and a glorious downhill when you are getting close to the finish line. That starting line also means lots of nearby parking and plenty of space to spread out before your event begins. All events use wave starts based on pace to help spread out runners and walkers in the initial turns and headed toward the hill. The full course includes beautiful views of Downtown Portland, running past the University of Portland campus, spotting St. Johns Bridge, and turning around near Pier Park.
Along the course are the regular aid stations to help keep participants supplied with hydration, gels, and port-a-potties. There are also carolers on the course to help with keeping those spirits bright. One special aid station features Santa's Cookies and a costumed crew. Runners and walkers are also encouraged to dress up. There is a costume contest at the after-party that individuals and groups can join in for a "runway" strut and chance at fun prizes.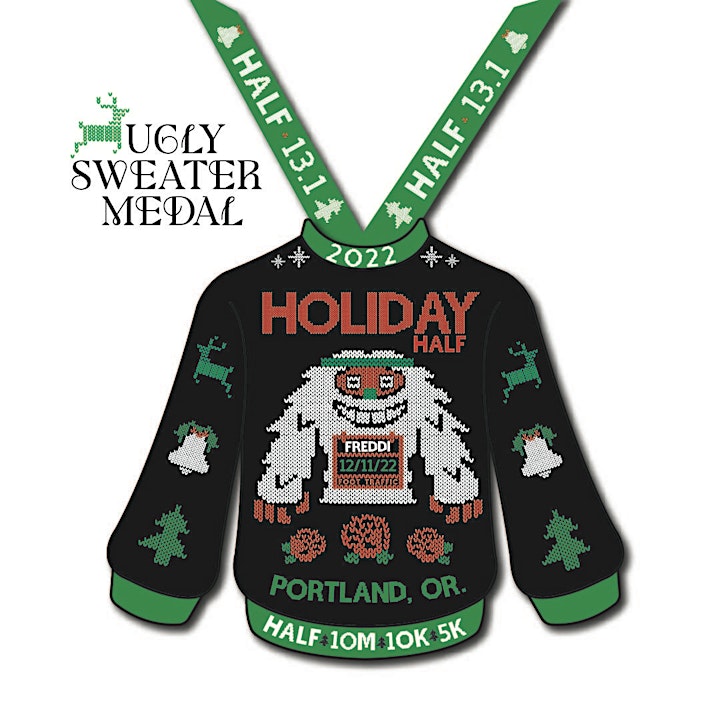 After crossing the finish line, and earning a ginormous Freddie medal, stick around for refreshments and post-race music. Brews from Rogue Brewery and hot chocolate will be available for all. Plus there will be multiple food trucks at the finish venue with options for purchase.
When: Sunday, December 11. Start waves between 7:40 and 8:29am according to distance and pace.
Where: Daimler Trucks North America LLC (4747 North Channel Avenue)
Register: Online
Packet Pick-Up:

Sunday, Dec. 4 at Foot Traffic West (13306 NW Cornell Road) from 11am-4:45pm
Wednesday, Dec. 7 at Foot Traffic Downtown (333 SW Taylor Street) from11am-4pm
Thursday, Dec. 8 at Foot Traffic Vancouver (305 SE Chkalov Drive) from 10:30am-6:30pm
Friday, Dec. 9 at Foot Traffic Southeast (1260 SE Lambert Street) from 10:30am-6:30pm
Saturday, Dec. 10 at Foot Traffic Northeast (4020 NE Fremont Street) from 10am-4:00pm
Race Day

Cost:

Holiday Half for $92.
Holiday 10-Miler for $85.
Holiday 10K for $68.
Holiday 5K for $49.
Additional virtual distance challenges described online.