The 2022 Aquafina OTC Butte to Butte is back, occurring Monday, July 4th, 2022. What a great way to ring in The 4th of July by participating in Eugene's longest running community road race since beginning in 1973!
This year, you may choose from a 10k run/walk, a 5k run, or the 4 Mile Mayor's Fitness Walk. The entire event is brought to you by the great folks at Oregon Track Club, who definitely know a million things about running. All profits from the event will support Oregon Track Club programs, such as the summer all-comers' meets for kids and maintenance of Pre's Trail, among other great things.
There is no race day registration or packet pick-up, so make sure to made room in your schedule to get your packet/bib at the 5th Street Public Market on July 2nd or July 3rd from 9:00AM to 6:30PM.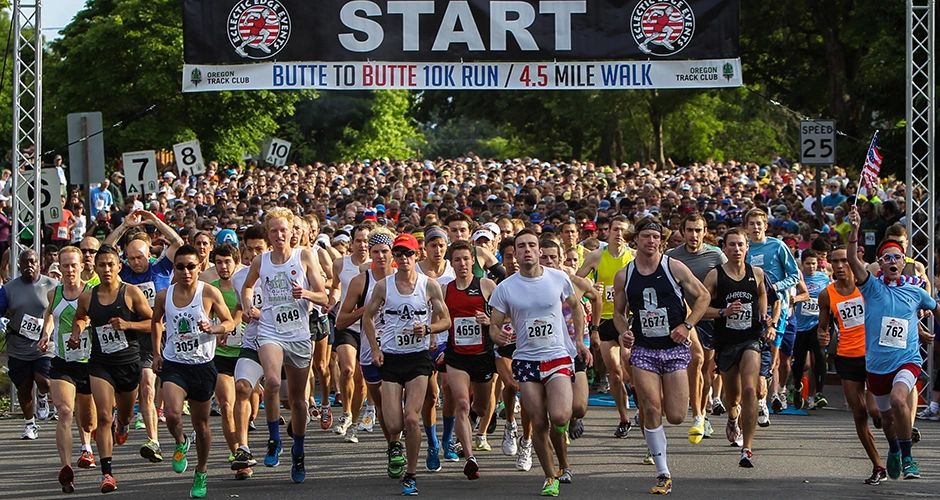 Here is the layout of the Annual Butte to Butte. The USATF sanctioned and certified 10k will begin at Spencer Butte Middle School before turning  up Donald Street, which has a pretty impressive hill to climb. Once you make it to the top, you'll cruise to the finish line via a downhill, then a flat trek to the finish line on 5th street between High and Pearl. The 5k (also sanctioned and certified) start/finish line is at 5th between High and Pearl, with and out-and-back route down High Street and Amazon Parkway, and finally looping back at 24th.  For those participating in the 4 Mile Mayor's Fitness Walk, this course will follow the flat portions of the Butte to Butte course, with a start at  Spencer Butte Middle School and heading east. The walk will finish on 5th between High and Pearl. Aid stations will be present on the various courses for participants. No dogs allowed, but strollers welcome. And teams are encouraged to participate in the team competition. Course maps can be found on the website or here.
Pre-race shuttles for the 10k and the 4 Mile Walk will depart from 6:30AM to 7:50AM from 5th & Oak. The 5k begins at 7:30AM and the 10k will begin at 8:00AM. Lastly, the 4 Mile Fitness Walk will begin at 8:30AM. There will be a finish festival health & wellness expo at 5th Street Public Marker from 8:00AM to 10:30AM. The Market is open from 7:00AM to 6:00PM and there is live music in the courtyard from 9:00AM to 11:00AM.
There are tons of awards being handed out at the event. Awards will be given to the top three male and female overall finishers in the 10k and 5k. Age division winners three deep will also be recognized for the 10k and 5k.
Make sure to get your registration in for the Aquafina OTC Butte to Butte, and kick-off the morning to your Fourth of July festivities in style!
Details:
What: 2022 Aquafina OTC Butte to Butte 10k Run/Walk, 5k Run/Walk & 4 Mile Walk  
When: Monday, July 4th, 2022
Where: 5th Street Public Market, Eugene OR
Cost: $25 thru 7/1/22
Register: Here
Packet Pick-Up: Saturday July 2nd and Sunday July 3rd from 9:00AM to 6:30PM at 5th Street Public Market (upstairs courtyard near Title Nine) at 296 E 5th Ave, Eugene.