Last month, Facebook was clearly reading my mind, because an ad popped up for a new water bottle while I was planning my three day hike to Goat Rocks. It wasn't just any water bottle, because God knows I have enough of those. It was a MODL bottle, which is made of collapsible silicone material and has multiple functions and uses. I watched the ad, and texted the link to my hiking friends. "Do I need this bottle for the hike?" I asked. The reply? "If you want me to convince you not to, you're not getting any help here, because now I want one too." Sold!
Okay, so what makes the MODL bottle so unique? The only way to really explain it clearly in an organized fashion is to give you a presentation of it's many features, so here they are.
Silicone body: As previously mentioned, the body of this bottle is made of silicone, which is much lighter in weight than many other bottle options, not to mention that this bottle can fold up onto itself. So pack it up for a trip in a small corner of your bag, take it out when you're ready to fill it, and BAM, 1.1 liters of water is ready.
GripStrips: The bottle is not perfectly round. There are two opposing flat spots so if it tips, it won't roll away. The GripStrips make it easy to hold as well.
MODs: The bottle has what's called different MODs, which comes down to dual ends, swappable caps, and maximum versatility. This is the coolest part of the bottle, in my opinion, and the thing that really makes this bottle different that anything else on the market. There is a cap on both the bottom and the top of the bottle, giving you many configuration options. And why would you need that? Well, there are a few different cap options, so you just gotta find the one that works for you. If you prefer to unscrew your cap and take a drink, there's a cap for that. If you like a bite valve, there's a cap for that. If you want a straw option, there's a cap for that. And if you want to rinse stuff off, see #4, because there's a cap for that too!
RinseMOD: As mentioned above, one of the caps has multiple holes in it, so it's essentially a sink or shower option. Squeeze the bottle over your dirty hands, your gross camping gear, or your coffee mug and you're good to go.
PureMOD: This is the water filtration system, which was another huge reason why I wanted the MODL bottle for my hiking trip. You can fill the bottle from any freshwater source and it will remove 99.9% of bacteria and protozoa. The filter has a life of 3000 liters. Even better, you can attach the filter to the outside of the bottle or the inside. So if you just want to fill the bottle from a river and go, you can do that with the filter inside, easy peasy. If you want to save room inside while filtering, attach the filter to the outside.
FlowMOD: In addition to using the bottle with a regular sip top, you can attach a long hose to it and use it just like you would with a hydration pack. Hand-free hydration, boom!!
LifeLoops for life!! The straps on the caps are removable. This means you can loop and unloop them onto backpack straps without the need for a carabiner. Or you can use them like any other bottle strap to carry the bottle by hand. You could hang the bottle from a tree while camping, or while in RinseMOD.
In addition to LifeLoops, there are SuperLoops, which are longer than the LifeLoops and you can use these to loop one end of the bottle to the other end and carry the bottle strapped to your hand. This is a GREAT option for runners who want to carry water in their hand.
Brand spanking new to MODL is the Sling MOD!! This is an adjustable strap that attaches to the bottle to make it even more portable!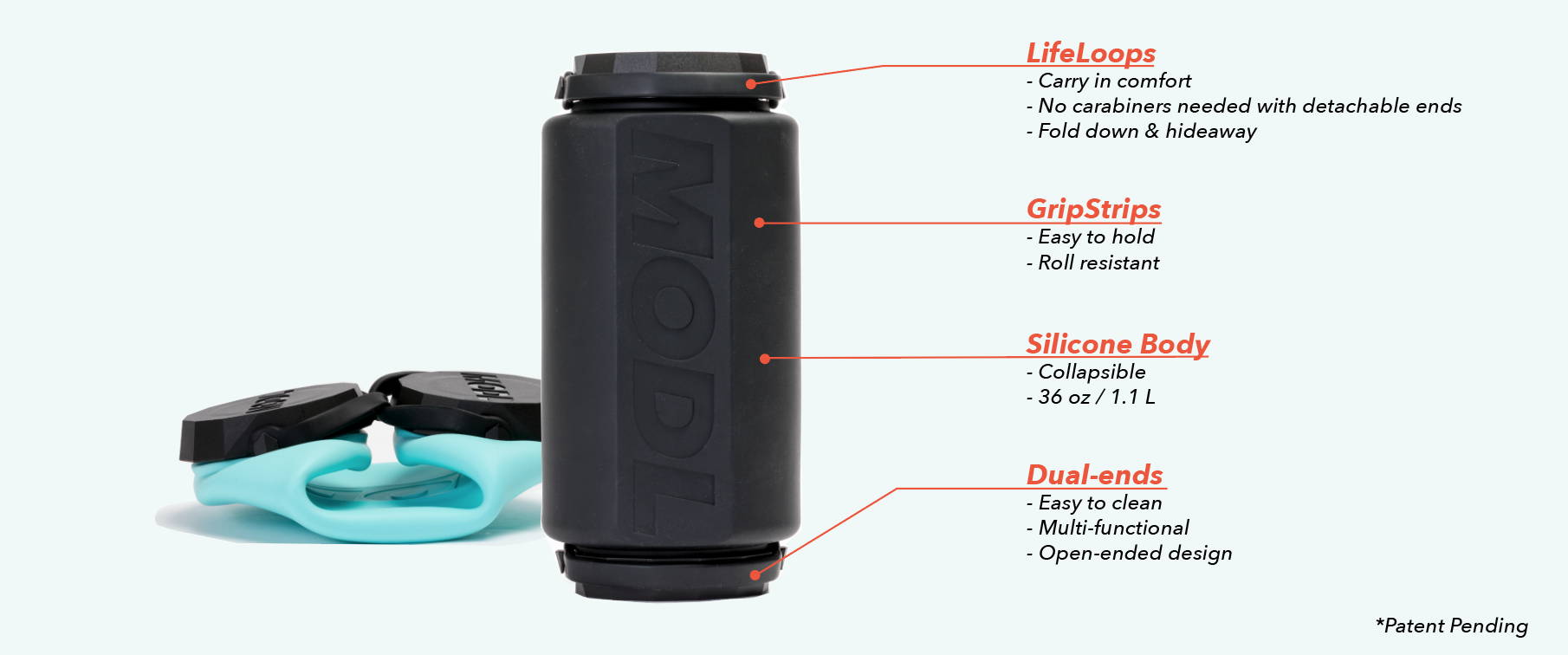 You can buy the bottle itself for $25 currently, but I highly recommend that you buy the entire system for $75. This will cover pretty much all of your needs, though you can add on the SuperLoops to have everything mentioned above. It's also available in a wide assortment of colors. I opted for the Tie-Dye color so I can always find it easily. Things disappear in my house with two young kids.
I had a wonderful conversation with one of the co-founders Justin, and they have some wonderful new things in store for MODL. They just released the new Sling MOD, which is great for hikers, walkers, runners, bikers, and anyone else trying to stay hydrated on the go. The founders also plan to have more size options, both large and small, and are working on an insulated model.  There is even a lantern option on the way. I will for sure be staying tuned for new developments. The founders are always looking for feedback and their customer service is phenominal. I love supporting small, innovative businesses like this one.
In case you hadn't figured it out already, no one was able to talk me out of buying the MODL water bottle. One of my other hiker friends ended up buying one too and loving it just as much as I did. It worked like a dream. Give in to the peer pressure, folks. This is a bottle I will be using for many adventures to come!!
Company:
Products & Price:
MODL Bottle ($25 for bottle, $75 for whole system shown below)
Specs (from website):
MODL Bottle (1 Core, 2 Basic Caps, 4 Black LifeLoops)
Materials: Food-grade silicone, 316 stainless steel, polypropylene

Volume: 36oz / 1.1 L

Weight: 13.2oz / 375g

Dimensions: 8.25 x 3.9 inches / 210 x 98mm 

Safe for frozen and boiling water *Be careful at high temperatures! Hold with a LifeLoop. 

Dishwasher-safe & BPA-free
Flow MOD (sold separately)
Materials: Food-grade polypropylene, TPU, silicone, ABS 

Weight: 1.9oz / 0.05kg

Length: 3.3 ft /1 M

Not recommend for boiling water

BPA-free & dishwasher-safe
Go & Rinse MODs (sold separately)
Materials: Food-grade silicone & polypropylene

Weight: Go = 1.6oz / 0.05kg, Rinse = 1.3oz / 0.04kg

Safe for freezing conditions and boiling water

BPA-free & dishwasher-safe
Pure MOD (sold separately)
Removes 99.9% protozoa & bacteria (E. coli, giardia, Vibrio cholerae, Salmonella typhi, etc.)

Materials: 0.1 micron hollow fiber membrane, ABS, silicone, polypropylene

Weight: 3.7oz / 0.1kg

Filter life: 3000L / 790 gallons

BPA-free

Avoid freezing temperatures and boiling water

Includes safety guide
More about MODL Outdoors:
Life should flow like water. 

Life is about living. Trusting you can go wherever nature leads. Exploring far, embracing reality, and making the world around you better for it.

That journey is why we exist – to make water easy so you can go with the flow.

And we all flow in different ways. We're not just a biker. Or a hiker. Or an adventurous dog parent. We're multi-faceted and unique. So we design gear not for specific activities, but for the humans taking part in them.

We want gear that works for all parts of life – one easy-to-use hydration system. Taking inspiration from water, we follow something we call Fluid Design.

Pillars of Fluid Design:

Adaptable: Just like water, gear should adapt to the environment. We're creating one system for water that works for everything – climbing, trekking, kayaking, or just a day in the life.
Minimal: Water wastes no space. Neither should your gear. So, we create with food-grade silicone. Made from sand, we believe this is the future of water as it's super durable and easy to squeeze in those tight spots.
Open-ended: Water has no set function. Neither does MODL. We created water's multi-tool so you can wield water however you see fit. And we're just getting started – new MODs and sizes are already in the works. If you have ideas, let's chat💡

Our Story:

MODL (modular + bottle) began with few friends on a lil camping trip in 2017. Hunkered down in our tent, we noticed just how much gear was needed simply to meet our basic need for water.

That adventure sparked a curiosity for water. We wondered… what if we could have one thing that works for everything? No more cabinets full of bladders, bottles & filters.

After many nights of dreaming, we uncovered MODL – water's first multi-tool. Since our Kickstarter launch in 2019, we've been dishing out MODLs to customers around the world. The system you see now is just the beginning, with new expansions in the pipeline.

And that brings us here, with you, on this little corner of the internet. We're stoked you found us and we wish you all the best.

Let's make waves,

– Barak, Zack, Justin & Trish