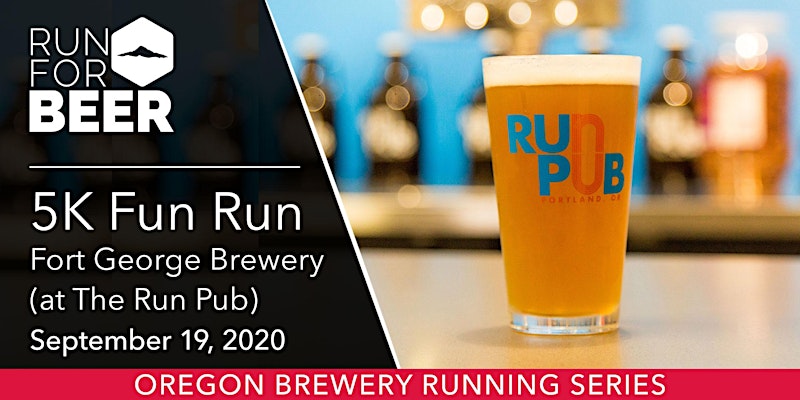 How much have you missed the OR Brewery Running Series? If you are a runner in Portland who loves beer, you've surely heard of this 5k-ish running series and hopefully been to a few. Chances are, you also know that most races have been a bit of a bust thanks to this little thing called The Pandemic.
The organizers for the Brewery Series feel your pain, and they want you to be safe AND have fun, so they've found a way to do both. Come out to the 2020 Oregon Brewery Run Series -Fort George Brewery at The Run Pub on NW Raleigh on September 19th and celebrate Fort George Brewery in Astoria from PDX! Like all Brewery Series runs, you'll get plenty for the $30 price tag .. a running route to and from The Run Pub that's casual and fun, (multiple 5k and 10k options!) a FREE craft beer provided by Fort George Brewery at the finish, a collector's pint glass or other seasonal swag, and the chance to win door prizes awarded based on drawing names every hour on the hour, (winners will be notified via email.)
As previous "races" with the Brewery Series, this will be an untimed fun run, and there will be no medals. All routes will take place on sidewalks, through parks, and along trails rather than in the streets (which are NOT closed down for these runs, so please be safe.) Hand sanitizer stations will be along the route, and everyone will be required to follow current safety protocols. Please bring your ID for your free beer at the end, and there is no bag check.
The biggest difference between this run and the typical OR Brewery Series run is that this event will be an all day event, with waves of runners starting at 10:00AM and starting every 15 minutes until the last wave at 5:45PM. It's very important that you pick your start window when registering and stick with it when you arrive, as this is the absolute best way to respect the COVID 19 safety guidelines. Please plan to arrive no earlier than 15 minutes before your start time to avoid congestion/crowds. You also MUST wear a face covering and keep 6 feet distance from others. Please bring your own water bottles, as there will not be any aid along the course. Other adjustments may be necessary, but please be patient and know that your best interests are at heart! This wouldn't be possible without the guidelines in place, so come and have a good time and celebrate your health and community!
As always, 10% of all the proceeds will support nonprofit partners the Oregon Brewshed Alliance, Dollar For Portland, and Life Vest Inside.
---
Details:
What: 2020 Oregon Brewery 5k Running Series – Fort George Brewery (at The Run Pub)
When: Saturday, September 19th, 2020 with waves starting at 10:00AM and ending at 5:45PM
Where: The Run Pub, 2258 NW Raleigh St, Portland OR 97210
Cost: $30
Register: Here