Run Oregon loves running – that's no surprise. But we also love the Pacific Northwest and all that it has to offer. Running is a part of us, but it does not fully define us. In our "Make a Day of It" feature, we aim to showcase some great local non-running events and highlight where to run and how to make the most of your experience! My family and I spent this autumn in Central Oregon and checked out Wall Street Suites in Bend.
First the Running:
Having Wall Street Suites as a basecamp for your Bend stay is nothing short of perfect. It sits just north of the downtown corridor, but is still mere blocks from the popular running route of Drake Park and just about a mile from Riverbend Park trails at the Old Mill District. As anyone who has ever run in Bend before knows, this can open up miles upon miles of running on the South Deschutes River Trail and all the additional amazing trails in the high desert SW of town.
But the real gem is that the hotel is mere steps from Pioneer Park and the North Deschutes River Trail, which is a mesmerizing 4.2 one-way miles from the door of the hotel, and comes complete with some fantastic views. If you haven't ventured this way – do it ASAP. Shoot, even if you want to get some hill work in, heading east to run up Pilot Butte is a mere 2 miles away. Wall Street Suites is truly right dab in the middle of a runner's dream landscape.
The list of Central Oregon races is too numerous, so I'll just leave you with a link to our Race Calendar for events within 25 miles.
Our Room:
Bend has a lot of great places to stay, including big name hotels and an abundance of vacation rentals. It would be easy to not know about Wall Street Suites given it's smaller size (17 rooms) and quiet location. Despite the name it's not in the downtown hustle and bustle of the downtown Wall Street, nor is it near the brewery-filled Old Mill area. But, even despite that, the hotel is ranked as the top in the city on TripAdvisor. And after our stay, it's easy to see why.
Wall Street Suites is a great combination of unpretentious luxury. From the outside, it looks like a nice and solid hotel, but it's really more than we bargained for. On the outside, there is a lot to love. From the on-site dog park (if traveling with pets), to the fire pit, to the complimentary cruiser bikes available to explore town, there's something for everyone.
And on the inside is where the magic expands. Our suite (as well as each one) has a separate kitchen and living space apart from the bed. ANd beyond that, it's just ridiculously beautiful with its wood, granite, and tile design.
Each space is insulated for sound control and comes with its own combination of carefully selected woods of Alder, Beech, Walnut, Western and Siberian Birch or Hickory with unique stone and tile such as Ming, Sandstone, Marble, Slate and Travertine, as well as variations of unique Slab Granite.
It just kinda speaks to what Bend is – a luxurious town combined with a surrounding high desert Cascade forest history. It's the perfect marriage.
Speaking of marriages, my trip coincided with my wife's birthday and the hotel staff were amazing enough to have flowers and a happy birthday card awaiting her upon arrival. It was a simple gesture that showcased their thoughtfulness and true Oregon hospitality.
Our Room, the Deschutes River Suite was outfitted with a Enso Sleep System King mattress which provided a nice night's rest, as well as a queen sleeper sofa, making it a pretty easy fit for 4 people (if you are heading over with a family or running group and want to save costs without sacrificing comfort.
They bathroom features all-natural and organic products from local hygiene company DANI Naturals, a nice and feel-good touch.
Refueling:
With downtown Bend and its myriad of breweries and restaurants walking distance away, there isn't necessarily a need to have a restaurant on site. Bend is all about the outdoors, so getting out and exploring should be on everyone's mind. That being said, sometimes a little chilled relaxation is in order and the hotel has a variety of beverages for sale at the front desk. In addition to some local craft beers, they also have other options like wine and non-alcoholic options as well.
If you are in town for a sort of business "runcation", there is a computer and printer available and a small lounge to kick back in for a bit.
Overall:

Wall Street Suites is truly a gem. It's such a departure from the busy areas of Bend, yet still just a stone's throw away from it all. They have a cool add-on option that would be perfect for if you are in town to run and then recover with a concert at the amphitheater or just in one of Bend's numerous parks:
Two Silipint Cups (Choose from Pint or Stemless Wine—yours to keep)
One Picnic Blanket Rental
Two Rental Low Back Lawn Chairs Rental
The hotel itself is also a perfect option for whatever you are in town for. If you are from the Valley, and have been hesitant to participate in some great Bend area races, you now know of a great place to stay – by yourself, with your family, or with your running crew. Save money by getting a suite here, bring food to cook in your kitchen, and take to the trails or streets (or to the ski resorts).
Highly recommended!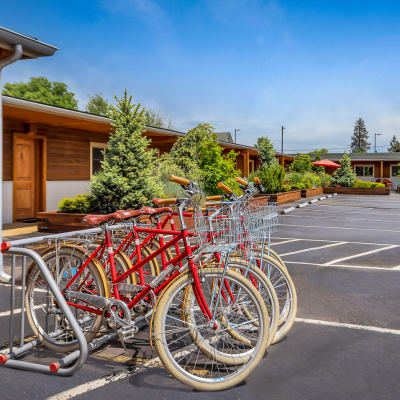 ---
Wall Street Suites Details:
Address: 1430 Wall Street Bend, OR 97703
Phone: (541) 706-9006
More about Wall Street Suites:
Wall Street Suites is a dog friendly motel near downtown Bend Oregon with 15 suites and 2 guest rooms. The eclectic and relaxed atmosphere combines natural stone showers and flooring, custom wood wainscot with hand-rubbed European hard wax oil finish and beautiful slabs of granite to create a space of peace and serenity for each of the guests. The well-maintained outdoor common area offers a place to build relationships, meet new people, experience impromptu gatherings, and breathe in the fresh air.

We welcome you to our award winning Wall Street Suites, located in downtown Bend, Oregon, ranked #1 hotel on TripAdvisor and chosen #4 out of 100 Fan Favorite Destinations in Oregon by Oregon Business, based solely on visitor reviews.

Enjoy all of Bend and come home to quiet and comfort at the jewel of downtown lodging.
---
Many thanks to Wall Street Suites for allowing us to check out their property! Please read our transparency page for info on how we do our reviews.