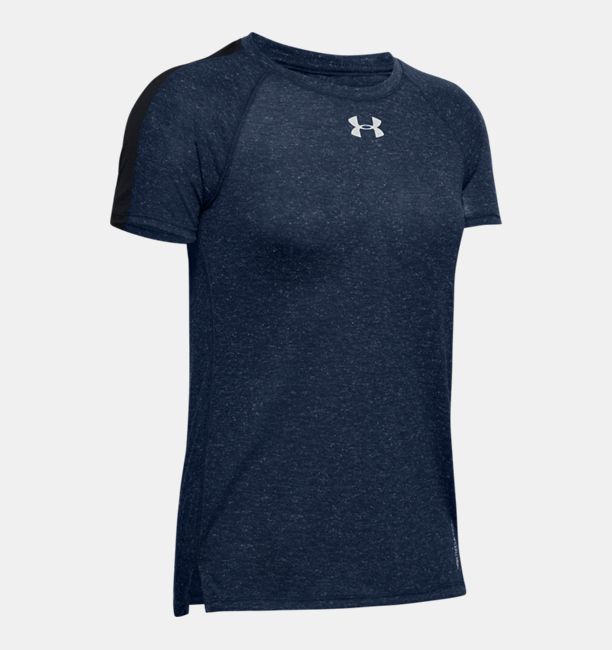 One event that we desperately want to attend is Outdoor Retailer. If you don't know about it, it's essentially a weekend's worth of panels from outdoor experts, activities and presentations, and a great spot to for outdoor sports companies to release of their latest and greatest items and technologies. We continue to watch from behind our computers, but I vow to one day make the trek to Denver to experience in in person.
At this past OR, we saw a new shirt that had some crazy awesome technology from a collab between Under Armour and GORE-TEX. This "Perfomance Fiber Technology" was so interesting and we are pumped to have received one in the mail to try out.
This fabric is pretty much everything you want in a summer shirt. It is anti-odor and intended to dry quickly after workouts/sweating – and been proved to hold beat 100% polyester tops of the same weight. The material is ridiculously light and breathable. Like CRAZY light and soft that it seems too good be true. It may be as close to running topless as a tee-shirt can be. I mean, this is like a runner's dream. Add in some reflective accents and a dropped hem for more coverage in the length, and you
Though this is a running top at it's core, it could also be a great option for a casual tee as well. However you choose to wear it, I feel you will be impressed.
Company:
Products: 
GORE-TEX Breeze shirt ($55)

Body: 90% Polyester/10% EPTFE
Mesh: 93% Polyester/7% Elastane
GORE-TEX INFINIUM™ Performance Fiber technology helps create a fabric which is super-soft, fast drying, breathable & lightweight for next-level comfort & ultimate versatility
Mesh insets for added breathability where you need it
Anti-odor technology prevents the growth of odor-causing microbes
Raglan sleeves
Reflective details for greater visibility on low-light runs
---
Thank you to Under Armour for providing us with a sample item. Please read our transparency page for info on how we do our reviews.