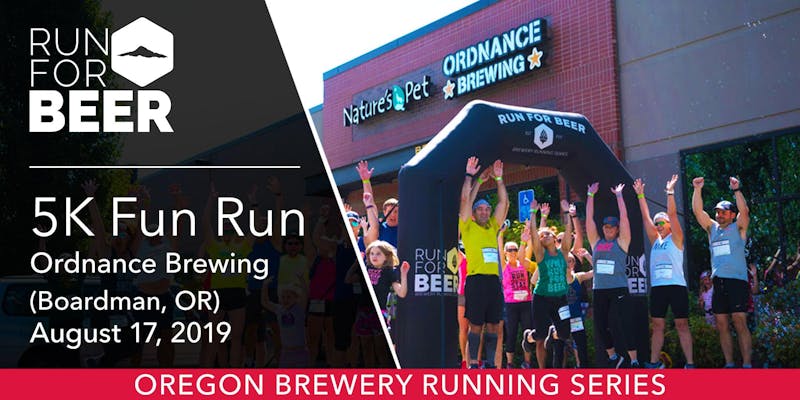 One thing that I love about the Oregon Brewery Running Series this year is their expansion to locations in Oregon and Washington. Boardman Brewing has actually hosted one of their events before, but at their taphouse in Wilsonville instead of their actual brewery in Boardman. Yes – Boardman. As I have now reached 528 breweries, it's probably not surprising that the "original" Boardman location is on that list. It was one of my more memorable brewery experiences as it was in a city not exactly known for craft beer, and a setting that isn't your "standard" PDX-based location. I love beer-sploring almost as I love run-sploring, so this spot absolutely accompished both of those at once – and with the upcoming race you can too.
Here's more about Ordnance:
With roots growing back to the early pioneers who cleared the land to grow fruit, corn, wheat and yes… hops, our founding partners come from a long line of Oregon farmers. The Coleman family landed in the Willamette Valley in1849 and soon purchased a plot of land to farm near McMinnville. After pocketing a little change from the California Gold Rush, the family purchased land near St. Paul and from there spread across the valley and up the Columbia Gorge in the following century. Cousins can be found all over the Pacific Northwest with ties to prominent hop farms including Coleman Hop Farm, 3D Farm / BC Hop Farms among others. Craig Coleman, our managing partner, grows a variety of crops in the Columbia Plateau including blueberries that can be found in our Bloops beer. Our roots run deep in hops and in Oregon, which is why you can visit and explore our beers both at the brewery in Boardman, or our taproom in Wilsonville.
While the location may be new, the format for the Brewery Series events stay the same. This is not an exact "5k" distance and it's a fun run, so there are no chips for timing.  Be sure to remember your ID if you're over 21 and would like an adult beverage, and get to the race 30 minutes early so you have plenty of time to park and get checked in. Listen to the podcast interview with co-owner Craig Coleman for some background and history.
And as always, 10% of the proceeds will help support Oregon Brewery Running Series nonprofit partners, and this race will specifically go to Made To Thrive – a local 501(c)3 in the Hermiston/Boardman area whose mission is to stop the cycle of child abuse, neglect, and poverty by bringing the physical and emotional benefits of sports, adventure activities, music, and art to vulnerable youth.
2019 Oregon Brewery Running Series 5k Fun Run/Walk – Ordnance Brewing
When: Saturday, August 17th at 10:00AM
Where: Ordnance Brewing
Cost: $30 without shirt, $40 with shirt
Register: Here