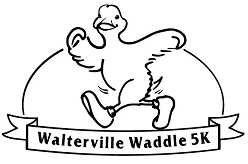 The Walterville Waddle 5K is a scenic run, beginning at the Walterville Community Hall, heads out some country roads past the local farms, and brings you back along the EWEB canal. It's mostly flat with a few sections of rough running, but it's a lovely way to spend a morning in Walterville before the fair later that day!
All proceeds from this event will be donated to the historic Walterville Community Hall for routine maintenance and to make improvements as they are needed.
Details:
When: Saturday, September 8, 2018
Time: 8:00am
Where: Walterville Community Center | 39259 Camp Creek Rd, Springfield, OR 97478
Price: $20 ages 18-55 | $15 ages 56+ | $15 ages 17 or younger
Register: Online here!