Race Preview: 2018 Monkey Face Half Marathon (Terrebonne)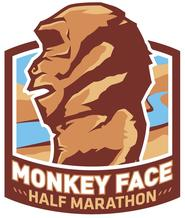 Monkey Face and Pink Buffalo. Sounds like it could be a new pop band. Or the drink that you shouldn't have on an empty stomach. Or nicknames for adorable newborn twins.
In the Oregon running world, those two names mean something else (but dibs on the band name).
Pink Buffalo Racing's upcoming event is Monkey Face Half Marathon on Saturday August 18th. The event is 100% trail and has more distance options than the title implies. There is the half marathon option (two loops on the course), plus a relay race, a 7-mile loop, or a 4-mile loop. All events include parking for participants at Smith Rock Ranch (spectators pay $5) and post-race food. All events will also have awards for top three finishers and age group awards. Half marathoners, including relay runners, also receive a finisher's medal.
With four event options, race organizers want participants to choose the distance that will give them the best opportunity to enjoy the scenery. Half marathon and relay runners must finish within 4 hours, while 7-mile and 4-mile runners have three hours (so walkers are encouraged to choose one of these distances). All participants must finish by 11am and be out of the parking area by noon (or they might be towed, which would be a horrible ending to a race morning).
Monkey Face Half Marathon (Terrebonne)
When: Saturday, August 18.
• Half Marathon and Half Relay @ 7am
• 7 mile @ 7:45am
• 4 mile run/walk @ 8am
Where: Smith Rock State Park (9241 NE Crooked River Drive)
Register: Online
Packet Pick-Up: Friday, August 17 4-6pm at FootZone Bend (845 NW Wall Street). Race Day 6-7:45am.
Cost (Discounts available for youth and senior citizens. Fees go up on race day. Tank tops $16 via pre-order)
• Half Marathon = $55
• Half Relay = $35 per person
• 7 mile = $30
• 4 mile run/walk = $20