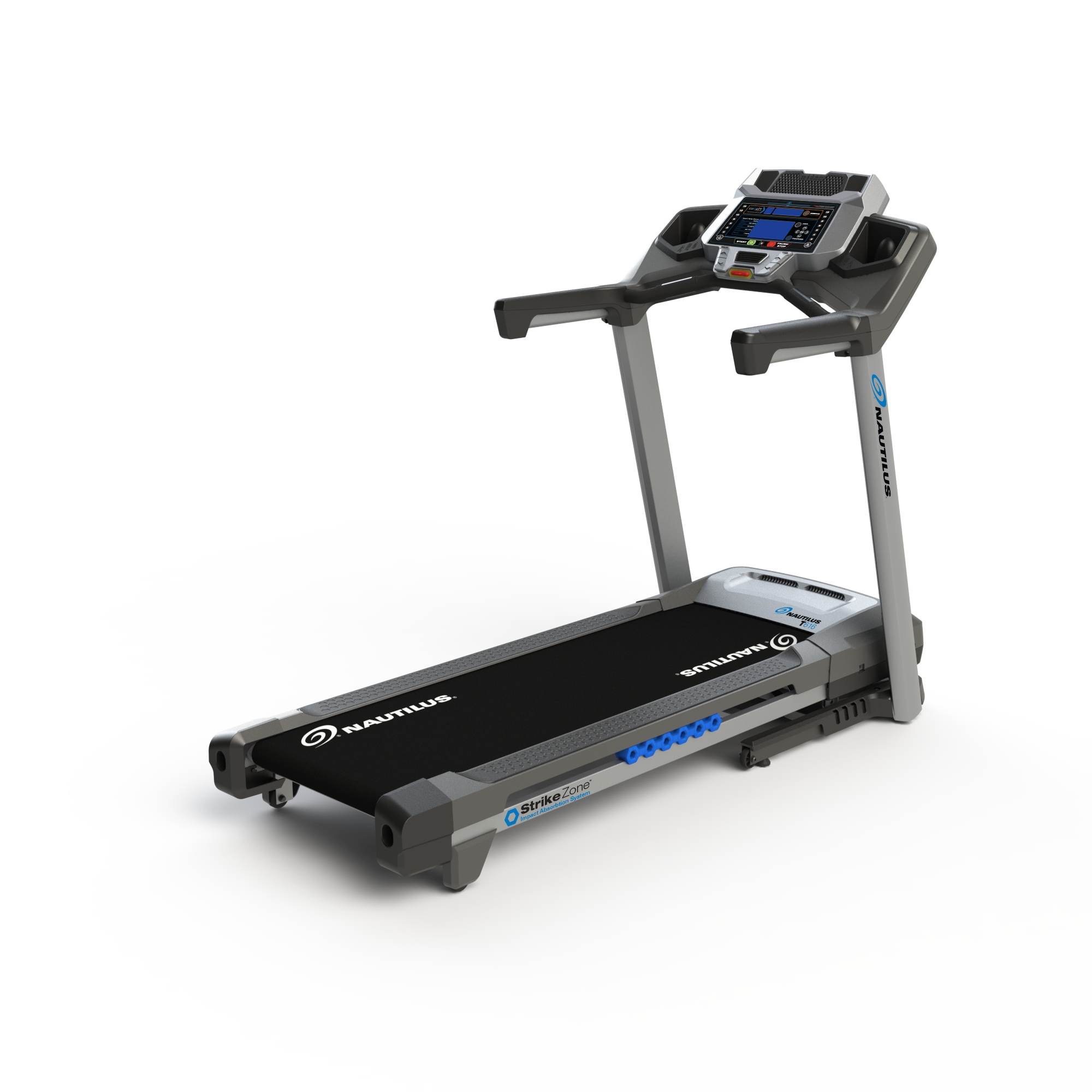 Run Oregon sometimes receives products to review. Given the wet running weather here in Oregon, we were sent and asked to review the Nautilus T616 Treadmill. Here are our impressions:
I swore I would never get a treadmill, despite our writer Tung's great blog and insistence that running on a treadmill isn't all that bad.
I mean I hail from Oregon, the land of a million running routes no matter what corner of the state you happen to be in. Oregon – where the air is smog-free and we take the care of our environment seriously. Oregon – where a simple run outside can turn into a coffee gathering, beer tasting, neighborhood parade at any time. Those are all things that can be missed out on with the convenience of a treadmill.
But as I get older, and my time becomes more valuable and added accommodation is always a plus. Enter the Nautilus T616 Treadmill – a new addition to my garage and something that I never really appreciated until now (and the 25 consecutive days of rain in December).
The T616 is near the top end of Nautilus' line, and could be operated within a fitness center or gym (i.e. keep up with frequent use and wear and tear). This is evident by the size (77.2″ L x 35.2″ W x 57.6″ H) and weight (215 lbs.) of the treadmill. The running belt is 20" x 60" – a fine size and appreciated by my 6'1 inch frame. I never felt like I was going to fall off the back, which is always a plus. Despite it's size and motor capabilities, it is suprisingly quiet, and hasn't had me going crazy with the "THUD THUD THUD" that can be present in some treadmills. I was actually happy that it felt well-put together, as I have run on light and "portable" treadmills in the past and felt like I was going to break the thing in two.
That's not to say that the T616 isn't portable – it is. It folds up and down easily with their "SoftDrop" design, but is a little awkward to move given it's size and weight (I wouldn't feel comfortable with letting my wife move it on her own). It can be moved and positioned as needed, though I envision it being more challenging to maneuver over carpet.
One of the things I actually appreciate about the T616 is its simplicity. I personally jump on a treadmill because I want to be active and run. I don't require treadmills with a billion settings, an HDTV, and a display screen that pretends I am running through the Swiss Alps. I just want a treadmill to run properly, give me accurate information, and keep it simple. The T616 definitely does that.
The screen is a basic blue with enough data points to track your progress, yet not too many to make things overwhelming and confusing. With the T616, I can easily hop on the treadmill and be off and running in seconds. There are 4 user profiles that are simple to change, allowing for everyone in my family to track their workouts separately. In fact, changing through the profiles, simply requires a press of a button on the console – it doesn't require multiple clicks or confusing navigation. The one-press button is a theme on the T616 – which I really appreciate. If I want to increase my speed from a warm-up at 5 mph to a run at 8 mph, a simple button does the trick. If I want to push myself for a bit and do a quick inline to 4, another simple button takes care of it.
All that is not to say that the T616 is basic – it clearly is NOT. It has some wonderful additions that I really took advantage of – the first being the speakers (which Nautilus calls "acoustic chambered"). The speakers are loud enough, AND the machine is quiet enough, to be able to watch movies or TV series on my Kindle Fire while I'm running.  I'm going to get caught up on Game of Thrones in NO TIME! There is a USB and cable aux port, which allows me to be able to listen to music through the speakers without dealing with headphones.
Coupled with that, the T616 has Bluetooth capability to connect your workouts directly to the Nautilus fitness app and NautilusConnect, as well as uplodad to myfitnesspal.com. I personally didn't need this, as I track my runs through another separate app, but it was awesome for my wife who is just getting back into running. As for the programs, there are 26 pre-loaded ones which range from training to weight control to interval, among others.
I have really been enjoying this treadmill exponentially with each run, even more than I thought I would. There are a few things that didn't really do it for me personally, but others may have more use for. The 3-speed fan is a nice addition, but I felt it didn't really accomplish much. Maybe it was my size or the fact that it was always pretty cold in my garage, but I never felt like it provided much relief. As summer approaches, I may have a different take on it. Additionally, while it easy easy to change speeds, the time it takes to work up to that speed is slower than I expected.
Overall, I felt the Nautilus T616 is a great combination of sturdiness, amenities, and price. It retails for $999 on Amazon, and comes with warrenties that may last you a while (10 year frame, 10 year motor, 2 year mechanical, 2 year electronics, 1 year labor). I will say that customer service with the Nautilus has been top-notch, so you can set your mind at ease if problems do come about.
Over the past few months, I have come around the belief that having a solid treadmill is a solid investment. I'm still going to seek out those Oregon trails, but I'm thrilled I have the Nautilus T616 as an option.