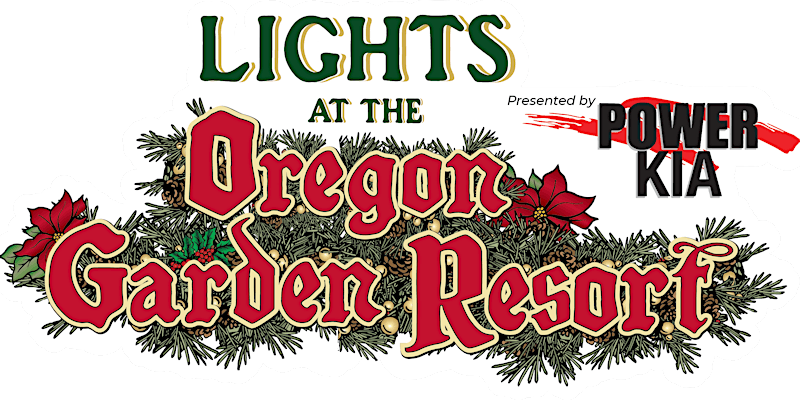 Run Oregon loves running – that's no surprise. But we also love the Pacific Northwest and all that it has to offer. Running is a part of us, but it does not fully define us. In our new "Make a Day of It" feature, we aim to showcase some great local non-running events and highlight where to run and how to make the most of your experience!
The next installment of this series is the Christmas in the Garden event at the Oregon Garden!
As with many things in 2020, companies are having to adapt to a new (temporary?) normal when it comes to putting on events. From races and group runs to dining and activities, things just look different. Though there will be changes to the 2020/2021 Christmas in the Garden Festivities at the Oregon Garden in Silverton this holiday season, it is BACK (with approval from Marion County Public Health) and there is a ton to love!
First and foremost, as we covered this summer in an overnight feature, this is a great location for a staycation. There are very solid running areas nearby, from the iconic Silver Falls to even a nice looped route on the garden grounds, you can get in your running fix. I HIGHLY recommend checking out staying at the Oregon Garden regardless of the season.
Their Christmas in the Garden is a pretty iconic holiday event here in the Mid-Valley. It's highly anticipated and, most years at least, its busy and fun every night. The lights are incredible and the atmosphere is always second to none – a small town holiday feel tucked away in a remote area – but still close to mostly everyone in the upper North I5 corridor. I, for one, always look forward to checking it out and my kids have had a blast the past few years.
Yet here we are, in a COVID-19 world, and I am stoked that this event is continuing – with some modifications. The easiest (and highly recommended) way to attend this year is to book their lodging special which includes an overnight stay, admission to the lights, and breakfast the next morning. Each week, based on hotel occupancy, they may sell a very limited number of tickets to the public, but this is not guaranteed. This will make for an amazingly intimate setting to get further in the mood for the holidays.
There will be some great new additions, as well as many great things that are beloved about the event. There will still be thousands of lights (including the candy cane tunnel) and themed displays. There will be heaters, fire pits, and covered areas to keep dry and warm (and distanced), as well as gluhwein (mulled wine) and other traditional beer and food from Germany (like sausages from nearby ,Mt. Angel Sausage Company). New this year 10 Barrel Brewing will be the beer provider and Santa will be at the light display most nights – though he will be 6 feet away.
One significant change will be that the lights are no longer located in The Oregon Garden trees, but instead will be dispersed around Oregon Garden Resort's main lodge and the paths will be set up as one-way as opposed to a free-for-all, and staff will be monitoring and assisting to reduce clumping and keeping people safely distanced. Only 50 people will be allowed in the garden at a time, so it will be a very intimate experience for all!
I personally feel this will be a very fun change and I am pumped to see it in action.
2020/2021 Event Dates: November 27, 2020 – January 2, 2021 (Closed December 24 & 25)
Cost: Purchase tickets here:
Follow the Oregon Garden on Facebook to be kept up to date on all that they have to offer!